White Chocolate Chip Peanut Butter Oatmeal Cookies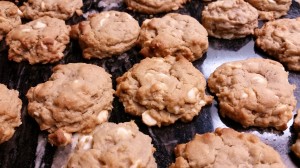 Lately, I've been learning how important it is to enjoy the simple things in life. Things like the feeling of a hot drink between two cold hands or the wonderful breathlessness after a good laugh with friends. But, making cookies is definitely in the Top Ten Favorite Things list for me. (Que that Sound of Music song. You know the one.) They are so effortless to whip up and the versatility of them is where we get the phrase "The sky's the limit." (Nah, I made that up.) Nonetheless, once you find a good basic cookie recipe, the real fun begins.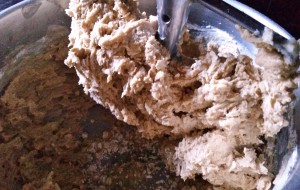 In fact, the recipe I used for these cookies is based off of a simple chocolate chip cookie recipe from a cookbook dating back to the 80's, which I've been using since I was 6 years old. All I did was use white chocolate chips instead of semisweet and toss in a healthy dose of peanut butter and oatmeal. Then POOF! Completely different cookies. The look, the texture, the taste…..and no one will ever know the secret.
Except, I just told you. So shhhh!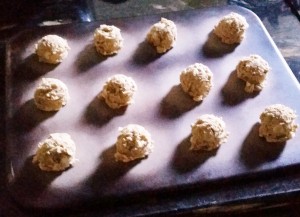 I must say…. peanut butter makes every dessert better. C'mon now. Have you ever had a dessert with peanut butter in it and said that your treat would be better without this heavenly nut spread from heaven? (Quick poll: Does peanut butter count as a condiment? That just seems weird to me.) In things like cookies, bars, and breads, I find that peanut butter acts as a softener. Like a fabric softener for food. It just makes everything melt in your mouth. I assume this is due to the oil found in peanut butter since oil makes things soft. Breaking news, right?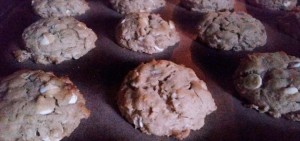 Well, let me tell you something. These cookies are the softest, fluffiest, butteriest (is that a word?) delights I've ever tasted. Just ask my mother. She said the same thing. And mommy is always right. She said that too.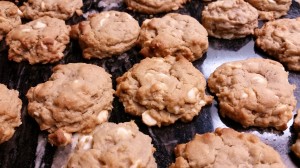 Peanut butter makes them irresistibly soft and moist, as I already covered, while the oatmeal makes them hearty and nicely textured, and the white chocolate gives you that pop of sweet that everybody needs at some point in their day. When a dessert undeniably has everything you could want in a bite, you owe yourself the luxury of trying it. Did you get out of bed this morning? Then you've earned it.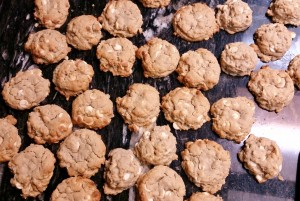 When I eat cookies as lip-smacking as these, I just have to relish at the thought of how such a wonderful creation can be made so simply and easily. Cookies like these can be mixed, baked, out of the oven, and cooling in less than 30 minutes. When food so divine can be made so effortlessly, why not bake all the time? That's my kitchen philosophy right there.
White Chocolate Chip Peanut Butter Oatmeal Cookies
Source: All Things Sweet original recipe
Yield: about 30 cookies
Ingredients:
1 cup (2 sticks) unsalted butter, at room temperature
1-1/2 cups brown sugar, packed
1 cup smooth peanut butter
2 eggs, at room temperature
2 teaspoons vanilla extract
2-1/2 cups all-purpose flour
1 teaspoon baking soda
1/2 teaspoon salt
2 cups rolled oats
2 cups white chocolate chips
Directions:
Preheat the oven to 350 degrees F.
In the bowl of an electric mixer, cream the butter and brown sugar together until light and fluffy. Add the peanut butter and mix again until combined. Drop in the eggs, one at a time, mixing well after each addition. Pour in the vanilla and stir once more.
In a separate bowl, combine the flour, baking soda, and salt. Slowly add the dry ingredients to the wet mixture, stirring on low speed until just combined. Stir in the rolled oats. With a rubber spatula, fold in the white chocolate chips until well-distributed throughout the dough.
Using a 1-inch ice cream scoop, drop rounded scoops of cookie dough onto a baking shoot, placing them 2 inches apart. Using your fingers, flatten the mounds of dough out just a little bit so they spread out nicely. Bake for 10-12 minutes until lightly browned on top. Let cool for at least 5 minutes before removing from the baking sheet to cool completely.