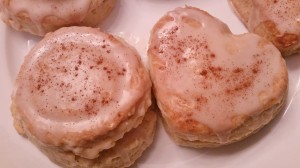 Hearts represent love. Circles represent continuity. And scones represent a magnificent thing that always looks harmoniously correct when sitting next to a steaming mug of coffee/tea. It's like someone in a bakery (probably in 1920's Paris because I just imagine that's where a lot of cool things took place) just happened to drink some hot coffee/tea while eating a scone and said, "Hey two perfect things! Let's make this the start of something great."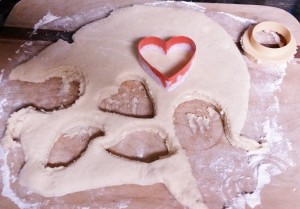 Quick poll: Do you prefer coffee or tea?
Personally, I'm weird about this subject. I only drink coffee at work. Everywhere else, it's tea for me. (Rhymage!) I chock this up to the fact that my office has a coffee maker that makes the most legit-tasting cup of coffee in 20 seconds flat. It's just too good to pass up. Otherwise, tea is my cup of . . . tea.
So that happened.
Anyway, chai tea is what I'm all about. The spiciness of it is just so comforting and luscious. Putting it in a scone simply makes perfect sense. It also makes things more efficient. Think scone and tea at the same time. It's all in one vehicle. (Get it? Am I right??)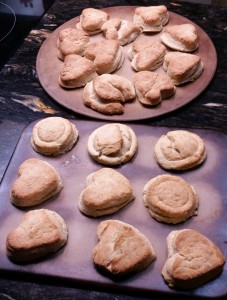 This scone recipe is a great all-purpose one. It's basically loads of flour mixed with piles of butter and then you add eggs and cream before tossing in whatever extra-special flavors and goodness you think would make a scone taste like happy. (Think Pharell Williams.)  It's also very simple and takes minimal time. When you bake as much as I do, this is an especially appealing recipe characteristic. Actually, with life in general, it's just an appealing characteristic. And these scones are just appealing.  Appealing . . .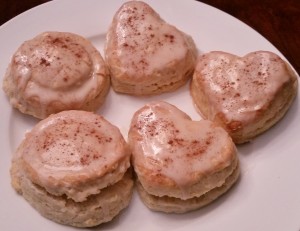 The secret to super light, flaky scones? Butter. Lots of cold butter. Here is where we get all scientific (if I had my glasses near me I'd put them on because that's how you know I'm about to say some facts): When the hot oven air hits the cold butter in the scone dough, steam rises which is what gives the scones their signature flakiness. Note: It's only good to be flaky if you're a scone. Or a pie crust. Baking can teach you about life in this way.
Now, back to the awesomeness of chai tea. It's one of the secret ingredients here. I used the same stuff that I pull out of my fridge and drink every single morning. Boxed chai tea latte concentrate. Included in the scones themselves, as well as the glaze on top, the tea gives these scones a most excellent spicy, sweet flavor. Plus, with the help of both a vanilla bean AND vanilla extract, they also have that specific mellow taste that just brings people comfort. The same comfort that comes from an amazing bowl of vanilla ice cream. You know the one.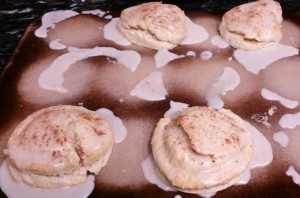 The last extra-special touch comes from a sprinkling of cinnamon on top. Another favorite thing of mine. In oatmeal, hot cocoa, on toast, it just makes everything taste warmer and deeper; which is why it's the perfect thing to make an appearance in a scone next to a cup of coffee or tea. An ultimate feel-good experience.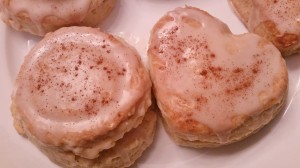 As evidence that these scones are irresistible, I took them to work with me and left them in the office kitchen. I walked by again after 5 minutes and every single scone had been abducted. Even though it's always sad to see an empty plate with only scattered crumb remains as proof that something delicious once lied there, as a  baker, it's a good feeling to know that your creation served its purpose. It brought joy.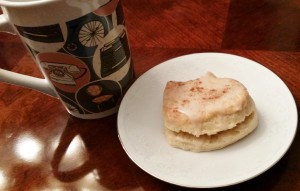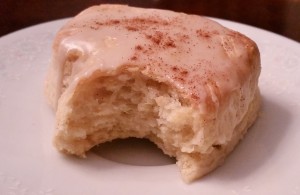 Vanilla Chai Scones
Source: All Things Sweet original recipe
Yield: 23-25 scones
Ingredients:
4 cups all-purpose flour
1/4 cup sugar
2 tablespoons baking powder
2 teaspoons salt
1-1/2 cups (3 sticks) cold, diced unsalted butter
4 eggs
3/4 cup cold heavy cream
1/4 cup liquid chai tea latte concentrate (such as Oregon Chai)
1 tablespoon vanilla extract
1 vanilla bean
For the glaze:
1-1/2 cups confectioners' sugar
1/4 cup liquid chai tea latte concentrate
1/2 teaspoon vanilla extract
Ground cinnamon, for sprinkling
Directions:
Preheat the oven to 400 degrees F.
In the bowl of an electric mixer fitted with a paddle attachment, mix 4 cups of flour, 1/4 cup sugar, the baking powder, and salt. Add the cold butter and mix on low speed until the butter is about the size of peas. Whisk together the eggs, heavy cream, chai tea, and vanilla extract. Cut a vanilla bean in half lengthwise and scrape the seeds out using the back of a knife; add them to the egg mixture. With the mixer on low speed, slowly pour the egg mixture into the flour and butter mixture. Mix until just blended. The dough will look wet!
Dump the dough onto a well-floured surface and knead it into a ball. Flour your hands and a rolling pin and roll the dough 3/4-inch thick. You should see small bits of butter in the dough. Keep moving the dough on the floured board so it doesn't stick. Flour a 3-inch round plain or fluted cutter and cut circles of dough. Place the scones on a baking sheet. Collect the scraps neatly, roll them out, and cut more circles.
Bake for 20 to 25 minutes, until the tops are browned and the insides are fully baked. The scones will be firm to the touch. Allow the scones to cool for at least 15 minutes and then whisk together the confectioners' sugar, chai tea, and vanilla extract and drizzle over the scones. Sprinkle with ground cinnamon to finish them off.