Icing-Dipped Oatmeal Cookies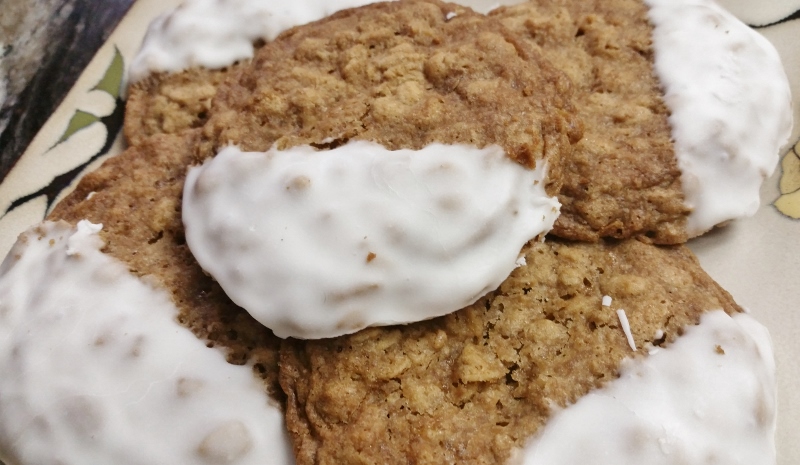 My anthem for this summer has definitely been the song "Classic" by MKTO. I've been listening to it so much that I even have the rap part of the song down. Like I could bust it out right now if I wanted to. In fact, I often do when I'm driving in my car.
That being said, these oatmeal cookies are definitely a true classic. They are super chewy and very comfort-food-esque. I decided to actually dip them in icing instead of spreading it on with a knife because, let's face it, dipping things is fun. Dipping fries into milkshakes, dipping pretzels into cheese sauce, dipping chips into . . . um dip.
You get the picture.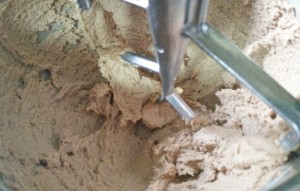 To start, cream together some butter, vegetable shortening, and lots of dark brown sugar. This gives the cookies their chewy-ness and richness. So don't forget it. Then, mix in 2 eggs and some vanilla.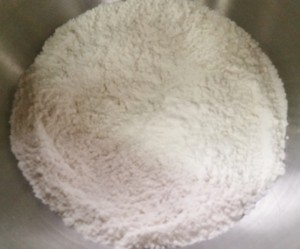 In a separate bowl, toss together some flour, baking soda, and salt.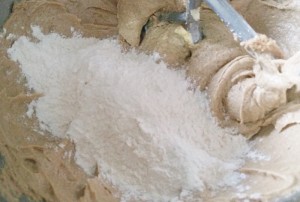 Gradually add the dry ingredients to the wet ingredients and mix until just combined. Secret: I hate having to mix flour slowly. I'm impatient with this part. Which is probably why I always end up with flour all over my clothes, the counter, and the ceiling.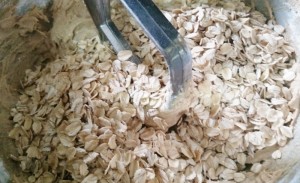 Grab the old-fashioned oats that you eat for breakfast every morning (if you're like me), and mix 3 cups into the dough.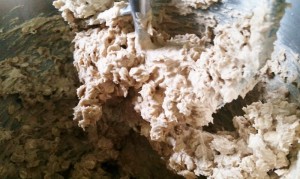 Does anyone else agree that oatmeal cookie dough is the best to eat raw?
Plop scoops of dough a few inches apart on a greased cookie sheet because these things like to spread and, if they're spaced too closely, you'll end up with one giant rectangular cookie. Which no one ever said was necessarily a bad thing.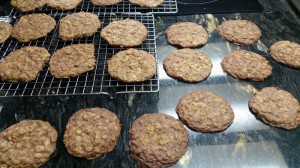 Bake at 350 for about 15 minutes until deep-brown and chewy lookin'. Then let them cool completely on a wire rack. Until you run out of room on your wire rack, then let them cool on the counter.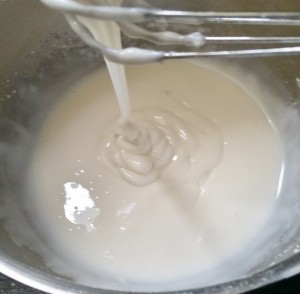 To make the icing, just whisk together a bunch of powdered sugar with a lil' bit of milk and an even lil'-er amount of vanilla until it's thick but still really runny.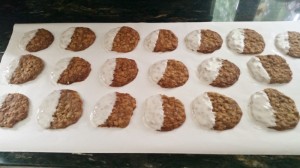 Dip the cooled cookies about halfway into the icing and then let the excess run off. Place on a greased piece of wax paper to let set.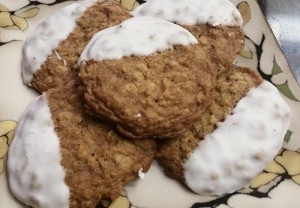 These are seriously one good cookie. They are a great dessert in themselves.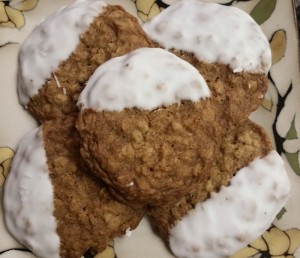 I actually believe that one of these cookies is not enough. Two does it better. My only question for you: do you eat the iced end or the un-iced end first?
Icing-Dipped Oatmeal Cookies
Source: All Things Sweet original recipe
Yield: 24 cookies
Ingredients:
1/2 cup unsalted butter, at room temperature
1/2 cup vegetable shortening, at room temperature
2 cups dark brown sugar, packed
2 teaspoons vanilla extract
2  eggs
1-1/2 cups all-purpose flour
1 teaspoon salt
1 teaspoon baking soda
3 cups old-fashioned oats
Preheat the oven to 350 F.
In the bowl of an electric mixer, beat together the butter, shortening, and brown sugar until fluffy. Beat in vanilla. Add eggs, one at a time, scraping the bowl after each one.
Mix together the flour, salt, and baking soda in a separate bowl. Gradually, add it into the creamed mixture, mixing it until just combined. Stir in the oats until just combined.
Use a cookie scoop (or spoon) to drop portions of dough onto a greased baking sheet, spacing them a couple inches apart. Bake for about 15 minutes or until dark and chewy.
Let them cool slight on the pan after removing from the oven, then transfer the cookies onto a wire rack to cool completely.
Icing:
2 1/2 cups powdered sugar
3 – 4 tablespoons milk
1/2 teaspoon vanilla extract
Whisk together all the ingredients in a medium bowl until smooth. You can add a little more milk if it's too thick or more powdered sugar if it's too runny. Dip the cookies, one by one, about halfway into the icing. Place the dipped cookies on greased parchment paper and let sit until the icing is set.