Coconut-Pretzel Toffee Bars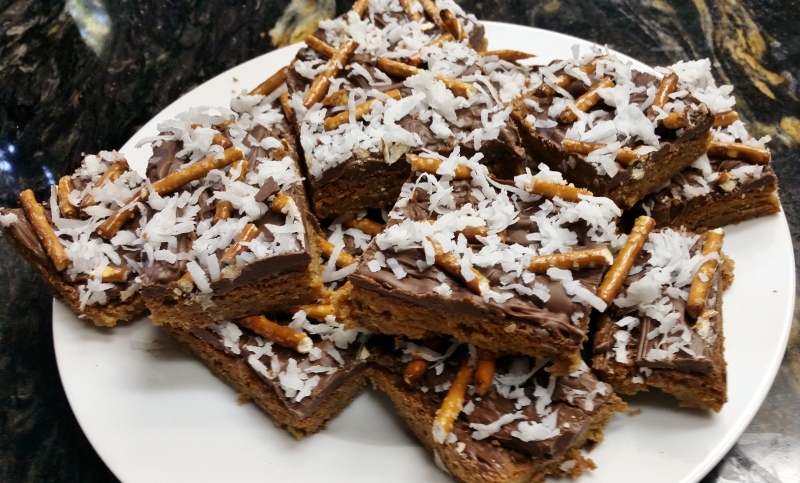 Good things are happening here. I made a treat that has two of my all-time favorite flavors in it: brown sugar and coconut. A plate of these bars with a glass of milk = perfection. I swear I can hear the Disney song "When You Wish Upon a Star" playing in my head every time I take a bite. And with browned butter and cinnamon making them even more dreamy and luscious, I've concluded that I must share their existence with the entire free world.
First, melt 1 1/2 sticks of butter in a large pan over medium heat until the butter turns foamy and deep amber brown. Keep an eye out! This stuff can over-darken in a flash. In fact, the butter in this picture may or may not have been my second batch. Pour it in a mixing bowl to cool to warm.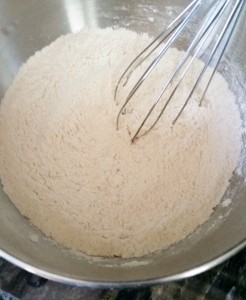 Meanwhile, combine flour, baking powder, cinnamon, and salt. I use a whisk. What do you use?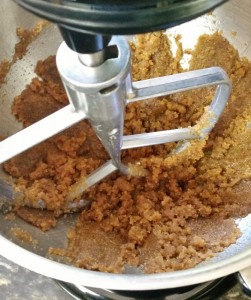 Then, mix 2 cups of brown sugar in with the butter until crumbly. I feel like this mixture over ice cream would be to-die-for.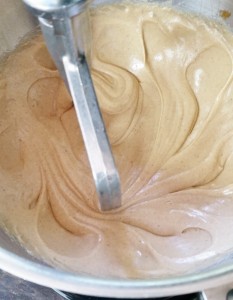 Drop in 3 eggs and some vanilla, then beat on medium speed for about 3 minutes until light and thickened.
Sprinkle on the flour mixture and mix it in by hand. Sometimes, I wonder if the fact that I always stir with my right hand means that one day I'll end up with one super-strong arm and one regular arm. Does anyone else wonder about this?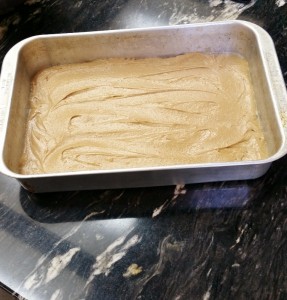 Spread the batter into a very-well-greased-and-floured 9 x 13 pan. Quick note! These bars like to stick to pan edges so make sure to cover your bases!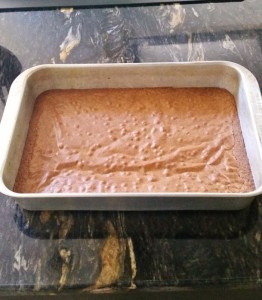 Bake at 350 for 35 minutes until nutty brown and slightly wrinkled. Let cool completely. Where do you think those bubblies in the surface come from?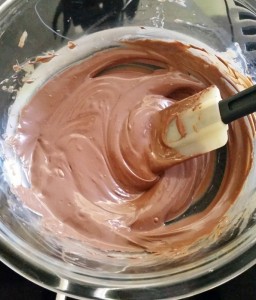 Now for the extra-good stuff! Melt 2 cups of milk chocolate chips in a bowl over simmering water until smooth. Warm, melted chocolate>regular chocolate>basically everything.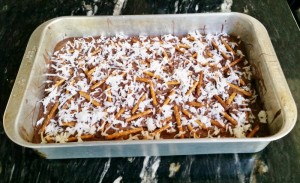 Splatter and drizzle the chocolate all over the bars. Then, sprinkle on halved pretzel sticks and sweetened, flaked coconut until the surface is nicely covered with amazingness. Then, let sit at room temperature until the chocolate hardens up.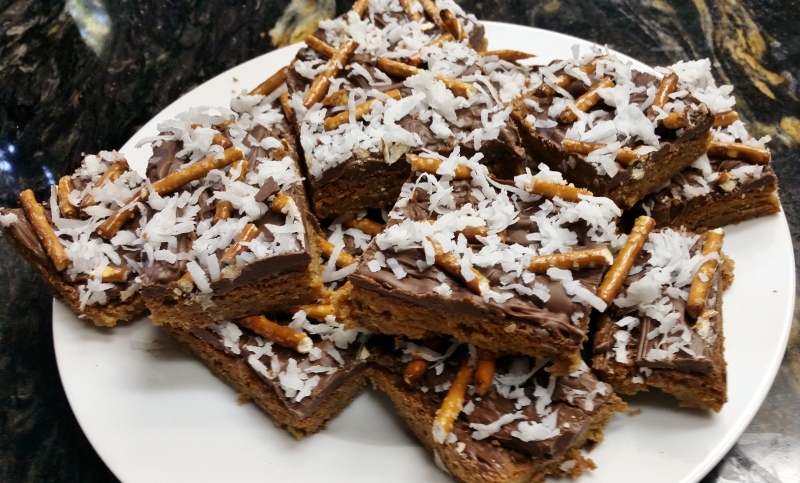 Use a sharp knife to cut the bars since they are super dense and chewy, which adds to their irresistible-ness.
I dare you to make these and NOT want to eat the whole plate! It is not an easy feat, let me tell you.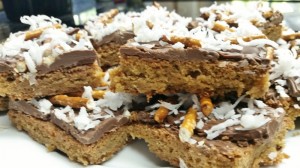 My friends, all I can say here is: put the consumption of these babies on your bucket list. Somewhere toward the top. Like #6.
Coconut-Pretzel Toffee Bars
Source: All Things Sweet original recipe
Yield: 18-20 bars
Ingredients:
3/4 cup (1 1/2 sticks) unsalted butter, plus more for the pan
1 3/4 cups all-purpose flour
1 tsp. baking powder
1/2 tsp. ground cinnamon
1/2 tsp. sea salt
2 cups brown sugar, packed
3 eggs
1 1/2 tsp. vanilla extract
2 cups milk chocolate chips
Halved pretzel sticks
Sweetened flaked coconut
Preheat the oven to 350 degrees.
Generously butter and flour a 9-by-13-inch baking pan.
Heat a large skillet over medium heat, add the butter, and cook and stir until the butter foams and turns deep amber brown, 3 to 5 minutes. Pour the butter into the bowl of an electric mixer and set aside until just warm.
Meanwhile, combine the flour, baking powder, cinnamon, and salt together in a bowl.
Combine the brown sugar with the butter and mix until combined. Add the eggs and vanilla, and mix on medium speed until smooth, thick and light, 3 to 5 minutes. Stir in the flour mixture and mix by hand until incorporated.
Pour the batter into the prepared baking pan and spread it into an even layer, smoothing the top.
Bake until a toothpick inserted comes out clean, about 35 minutes. Let cool completely, at least 2 hours.
Meanwhile, melt the chocolate chips in a large heat-proof bowl over simmering water, stirring until smooth. Drizzle the chocolate all over the cooled toffee. Sprinkle on the pretzel sticks and coconut. Let sit at room temperature until the chocolate hardens before cutting into 2-inch bars.