I've noticed the recent baking trend that has emerged amongst several desserts in which bakers are mixing savory things into their desserts. And I like it. It's fancy. So, because one of my particular favorite sweet-and-savory flavor combos is balsamic vinegar and fruit, I thought making a pie inspired by this sounded like a very good thing to do on a sunny Saturday afternoon.
Bee-tee-dubs, if the idea of putting vinegar in a pie sounds kind of freaky deaky to you, no worries! After being mixed with all the other sweet ingredients, all that's left of the vinegar is just a hint of tangy tartness.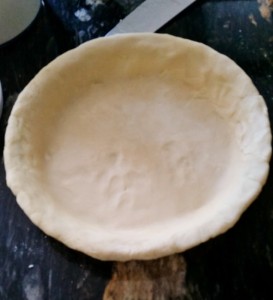 Beginning with the crust is usually a good idea. Mix together some flour, salt, and sugar in the bowl of a food processor. Then, dice up a stick and a half of cold butter and 1/3 cup of cold vegetable shortening. Throw them into the flour and pulse until their pea-sized. With the processor running, slowly pour in 1/2 cup of ice water through the feed tube until a big dough-ball forms. Pull it out, cut it in half, roll one-half out onto a floured board and stick it in a 9-inch pie pan, trimming any excess. Then, place it, along with the other dough-half into the fridge for 30 minutes.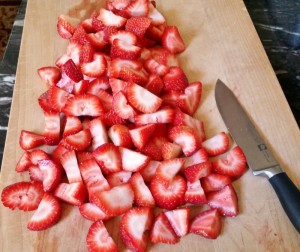 Now, hull and quarter 2 pounds of fresh strawberries. Put them in a bowl, sprinkle 3 tablespoons of sugar over them, mix, then let them macerate for 30 minutes while the pie crust chills.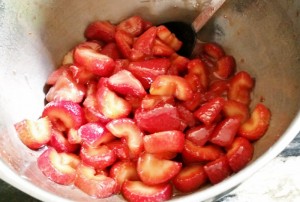 When the strawberries are done macerating, drain them of any excess liquid. Then, sprinkle on some balsamic vinegar, Cognac, sugar, brown sugar, flour, black pepper (it goes well with strawberries too! Promise!), and salt.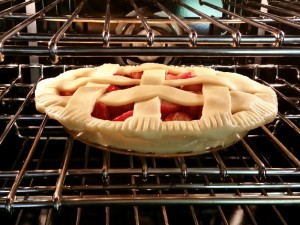 Pour the filling into the prepared, chilled crust. Then, roll out the other half of the chilled dough, cut it into strips to lattice the top of the pie, crimp the edges of the crust with a fork, and bake it at 425 for 20 minutes. Lower the heat to 375 and bake for 35 more minutes, placing a sheet of foil over the top after the first 20 minutes. I think watching pies bake has become one of my new favorite hobbies.
It should be just perfectly golden brown! Now here's a note: the filling will look runny when you first take it out of the oven, so let the pie cool for 2-3 hours before cutting because the filling will thicken up a lot as it cools.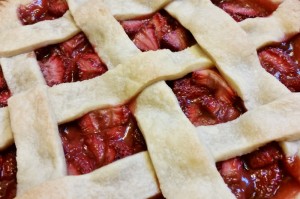 Now here is a question! Shouldn't pie-making be an art form? They're just so darn pretty!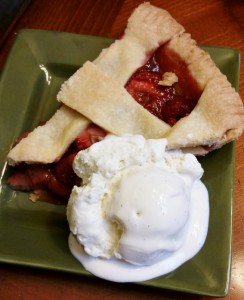 This is one amazing summer dessert! Balsamic strawberries are a great twist and give this pie tons of flavor. I can't wait to try other sweet and savory dessert combinations. In fact, I hear lemon and rosemary is a big hit too!
Balsamic Strawberry Pie
Source: crust from Barefoot Contessa's Perfect Pie Crust
Yield: serves 8-10
Crust:
3 cups all-purpose flour
1 teaspoon salt
1 tablespoon granulated sugar
12 tablespoons (1 1/2 sticks) cold unsalted butter
1/3 cup cold vegetable shortening
1/2 cup ice water
Place the flour, salt, and sugar in the bowl of a food processor fitted with a steel blade and pulse a few times to mix. Dice the butter and shortening and add them to the flour mixture. Pulse 8 to 12 times, until the butter is the size of peas. With the machine running, pour the ice water down the feed tube and pulse the machine until the dough begins to form a ball. Dump out on a floured board and roll into a ball. Wrap in plastic wrap and refrigerate for 30 minutes.
Filling:
2 pounds fresh strawberries, hulled and quartered
1/4 cup plus 3 tablespoons granulated sugar, divided
2 1/2 tablespoons balsamic vinegar
2 teaspoons Cognac
3/4 cup brown sugar, packed
1/4 cup all-purpose flour
1/8 teaspoon black pepper
1/2 teaspoon kosher salt
Preheat the oven to 425 degrees F.
Place the strawberries in a medium bowl and sprinkle 3 tablespoons of the granulated sugar over them. Stir gently to combine and allow the fruit to macerate at room temperature for 30 minutes. Drain the strawberries of excess liquid..
Sprinkle on the balsamic vinegar, Cognac, the remaining 1/4 cup granulated sugar, brown sugar, flour, black pepper, and salt.
Assembly:
Cut the chilled dough in half. Roll one piece on a well-floured board into a circle, rolling from the center to the edge, turning and flouring the dough to make sure it doesn't stick to the board. Fold it in half, place in a pie pan, and unfold to fit the pan. Trim any excess dough that overhangs the pan and press to make sure it is fitted to the pan. Pour the filling into the pan and spread out evenly. Roll out the other half of the dough, exactly as the first. Cut it into 6 strips and lattice the top of the pie with them. Crimp the edges of the pie crust with a fork. Place the pie on a rimmed baking sheet and bake for 20 minutes. Lower the oven temperature to 375 degrees and bake for another 35 minutes, placing a sheet of foil over the top of the pie after the first 20 minutes. Let cool completely before slicing, as the filling will thicken as it cools.