Mint Chocolate Chip Truffles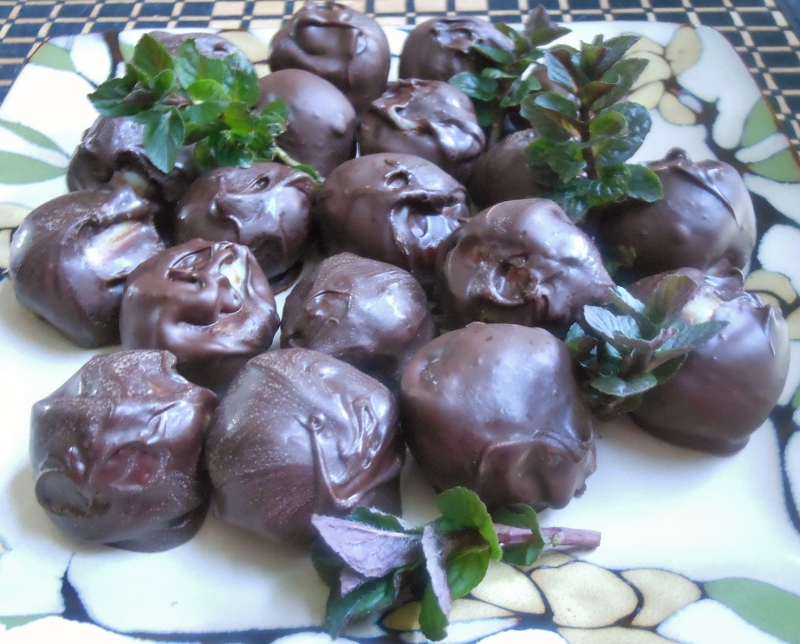 Easter is on it's way, one and all. Now, as wonderful as it is to get to celebrate the resurrection of our Lord and Savior, I also get excited about the promise of delicious sweet treats (hence the existence of this blog). So, being in the midst of a candy-making craze, I came up with these irresistible truffles that are also way simple to throw together. Just make sure to do them ahead of time since they need several hours to set up.
Begin by tossing about 1/2 cup of heavy cream into a medium saucepan over very low heat until it gets hot. Then, pour in 12 ounces of white chocolate chips along with a tablespoon of butter and stir until it's all melted. Remove from heat and stir a teaspoon or two of mint extract and a drop of green food coloring.
Let cool to room temperature, then stir in a 1/4 cup of mini chocolate chips. Pour into a bowl and let sit for at least 6 hours or overnight until set.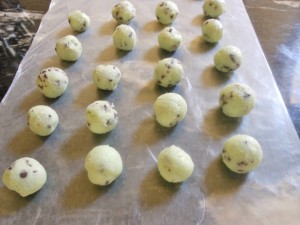 When the mixture is set, scoop out spoonfuls and form into 1-inch balls. Set them aside on wax paper while preparing the dark chocolate coating.
Microwave a cup of dark chocolate chips for 20 second intervals, stirring in between, until completely melted. Then, throw in a 1/4 cup of more dark chocolate chips and stir until those are all melted.
Now, I don't have a pic of this next step as my camera decided to suddenly exhaust its battery life before I could take one, but no worries! It's the easiest step of all. Take two spoons, scoop some chocolate into each of them, pick up a ball of mint-chip filling and toss it back and forth between the spoons so that it gets evenly coated with dark chocolate. Place the truffle back on the wax paper and repeat the process with the rest of the truffles. Let sit at room temperature until hardened, or you can put the truffles in the fridge to speed up this process. Just make sure to serve at room temperature. In the end, they should look like this!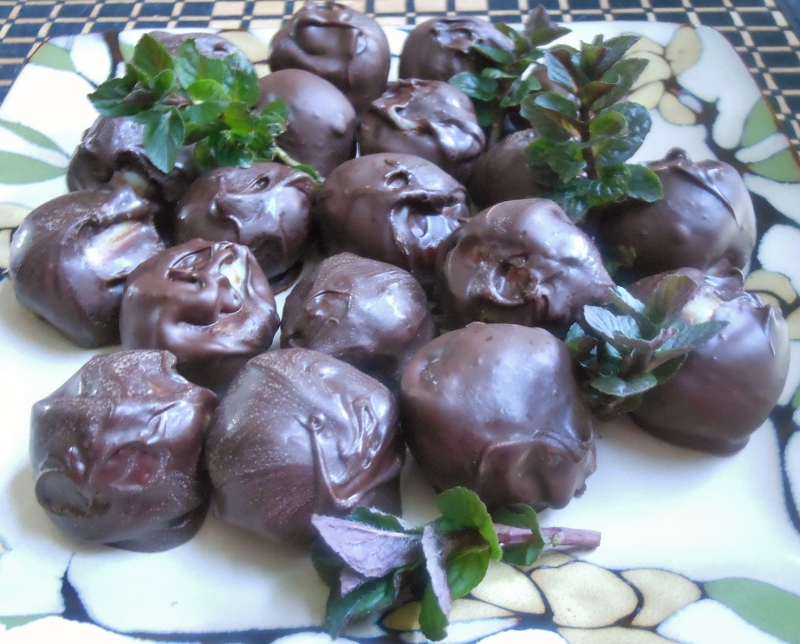 Very homemade and awesome-looking! These truffles are uber-creamy and delicious and minty-sweet. They would make a great addition to an Easter basket or served after Easter dinner or basically eaten any time possible.
Mint Chocolate Chip Truffles
Source: All Things Sweet original recipe
Yield: 16-20 truffles
Ingredients:
12 oz. white chocolate chips
1/2 cup heavy cream
1 tbsp. unsalted butter
1-2 tsp. mint extract
1-2 drops green food coloring
1/4 cup miniature chocolate chips
1 1/4 cups dark chocolate chips, divided
In a heatproof bowl set over simmering water, heat the cream until hot to the touch and turn off the heat. Add the white chocolate chips and butter to the hot cream, and stir until the chocolate melts. Stir in the mint extract and food coloring. Once the chocolate mixture has cooled completely, stir in the miniature chocolate chips. Set aside at room temperature for at least 6 hours or overnight to set.
Using a 1 1/4-inch ice cream scoop or spoon, scoop balls out of the mint-chocolate mixture, roll them around in your hands to shape, and place them on wax paper.
To make the tempered chocolate coating, place 1 cup of dark chocolate chips in a small bowl in the microwave for 20 seconds. Stir the chocolate and continue to microwave for 20 seconds at a time, stirring in between, until the chocolate is smooth and shiny. Add the remaining 1/4 cup of the chocolate and stir until smooth.
With 2 small spoons, pick up each ball and cover it with tempered chocolate. They can look a little messy. Place the truffle back on the wax paper. Continue to coat each of the balls until they're all coated with dark chocolate. Allow to sit for a few minutes until the chocolate hardens. You can also refrigerate them to speed up the hardening process. Serve at room temperature.