Cinnamon Chip Oatmeal Cookie Pancakes with Buttermilk Icing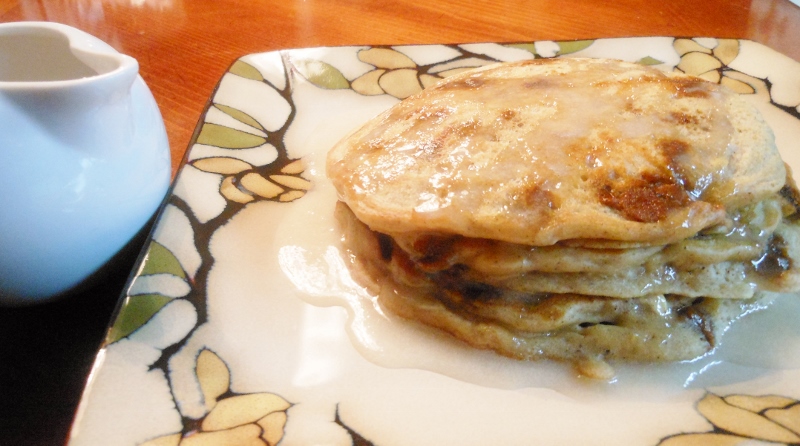 I'm definitely a carbs-for-breakfast kind of girl. A year or so ago, I had a stint where I would make huge batches of pancakes and eat them all week for breakfast. Well now, I'm on an oatmeal stint. Every day. Every morning. I want oatmeal for breakfast. What can I say? I like a routine.
Well, these pancakes are a perfect mix-up of the two. And then there's the cinnamon chips and buttermilk icing that completely pushes them over the top and makes them an instant crowd-pleaser. That and the fact that these really do taste like oatmeal cookies!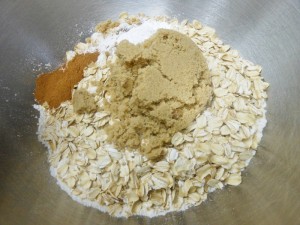 Start by tossing flour, rolled oats, brown sugar, cinnamon, baking powder, and baking soda in a bowl.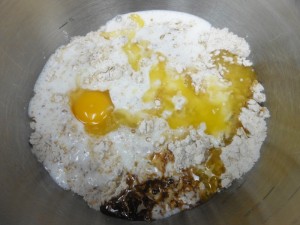 Mix the dry ingredients together, then plop in buttermilk, an egg, vanilla, and melted butter. Grab a whisk and mix it all together 'til the ingredients turn into one, unified batter.
Toss in a pile of cinnamon chips, meanwhile forgetting about all those chips that missed the bowl and somehow landed in your mouth. Oops! 😉 And stir again.
Heat a grill or a large pan or some other thing that's flat and conducts heat, grease it with butter or cooking spray, and pour the batter in about 1/3 cup portions onto the grill. Then, as it has always been for the last thousand or so years, flip them when bubbles form on top and cook for another minute or so. Keep them warm on a plate covered with foil while you make the icing.
Do this by simply whisking together powdered sugar, buttermilk, a dash of salt, some regular milk, and some maple syrup. After the 60 seconds that it took you to do all that, pour it in a sauce boat or creamer and drizzle, or dump, it all over your pancakes!
Now doesn't that remind you of those old-fashioned oatmeal cookies with the icing on top? Honestly, I'd choose these flapjacks over them anytime! They are decadent, fluffy, and uber-flavorful.
And now that I can get my pancakes and my oatmeal all in one, I'll be UNSTOPPABLE!!!!!!!
Cinnamon Chip Oatmeal Cookie Pancakes with Buttermilk Icing
Source: All Things Sweet original recipe
Yield: 4 servings
Pancakes:
1 1/4 cups all-purpose flour
3/4 cup rolled oats
1/4 cup brown sugar, packed
1 tsp. baking power
½ tsp. baking soda
½ tsp. salt
1 tsp. cinnamon
1 egg
2 tsp. vanilla
1 1/2 cups buttermilk
4 tbsp. (1/2 stick) unsalted butter, melted
2/3 cup cinnamon chips
In a medium bowl, combine the flour, oats, brown sugar, baking powder, baking soda, salt, and cinnamon. Add the egg, vanilla, buttermilk, and butter; whisk until smooth, then stir in the cinnamon chips. Heat a large, greased pan or grill over medium heat. Spoon about 1/4 – 1/3 cup of the batter at a time onto the grill to form the pancakes. When the tops of the pancakes form bubbles, flip and cook them for another minute or two. Remove to a plate and keep warm with a sheet of foil.
Buttermilk Icing:
2 1/2 cups powdered sugar
Dash of salt
1/2 cup buttermilk
2 – 3 tbsp. milk
2 tbsp. maple syrup
In a small bowl, combine all ingredients and whisk until smooth. Serve in a sauce boat or creamer.