Orange Raspberry Yogurt Loaf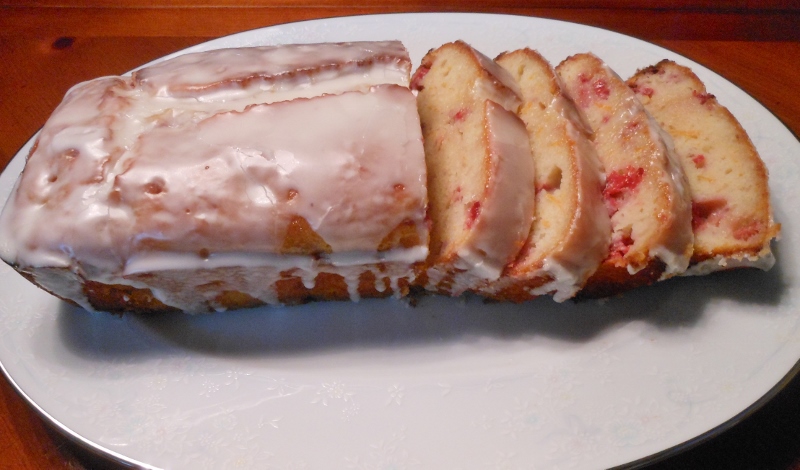 I love food in "loaf" form. Bread loaf. Meat loaf. And get this: the other day I saw a commercial for a "cheese loaf."
I MUST HAVE THIS.
But today, I made a yogurt loaf. In other words, a pound cake made with yogurt and baked in loaf-form. Yogurt loaf. You have now been educated. You're welcome.
And to make this loaf pretty and amazing and pretty amazing, I threw in lots of orange flavor and raspberries with all their color and sophistication. This may just be my favorite loaf yet!
Now to get my hands on that cheese loaf . . .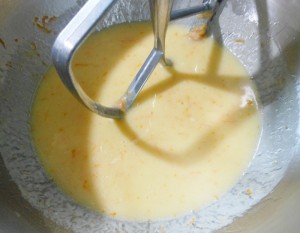 The first step in getting loafed is to mix together yogurt, sugar, eggs, orange zest, vanilla, and vegetable oil. Gettin' pur-ty already.
Drop in some flour, baking powder, and salt. Stir it all together until the white stuff has disappeared into the batter. In other words, is combined.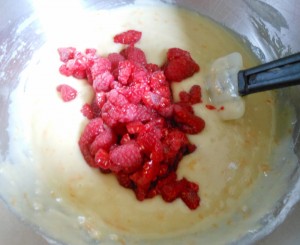 Chop up some raspberries, toss them on top, and fold them on in. This just looks like a big bowl of fanciness.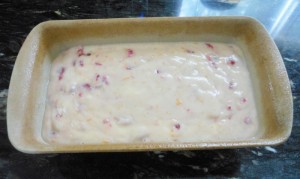 Pour the batter into a greased 9×5 inch loaf pan. You could also make this batter into muffins or cupcakes. But then it wouldn't be a loaf now, would it?
Come to think of it . . . is a muffin really just a cupcake that hasn't been frosted? Life's mysteries . . .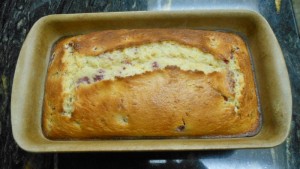 Bake it at 350 for 50 minutes until it's lovely and golden brown and absolutely perfect. Let it cool for 10 minutes before taking it out of the pan. Meanwhile, in Gotham City . . .
. . . or in your kitchen, dissolve some sugar in freshly-squeezed orange juice over medium heat to make the orange syrup to further infuse the loaf with ooorrrraaannnggeeee goodness.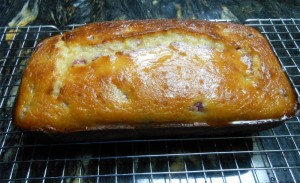 Then, as soon as you take the warm loaf out of the pan, poke a bunch of holes into the top and sides of the loaf with a toothpick. Brush the orange syrup all over the loaf, let it absorb for a minute, then brush it again. Repeat until all the syrup is used and the loaf is now a shiny, glossy, fabulous loaf!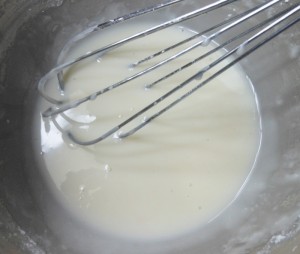 But the fun doesn't stop there! Whisk together powdered sugar and a smidgen of orange juice to make the orange glaze. I almost kind of wish that this was actually colored orange just to go with the name. "My wish . . . for you . . . "
Now take the glaze and pour it slowly and dramatically all over the top of the cake, letting it run down the sides, until it's all covered. Someday I will figure out how I can hold the loaf over my face with my mouth wide open while I do this step. But not today. Today, my fancy paper towels get to have all the fun.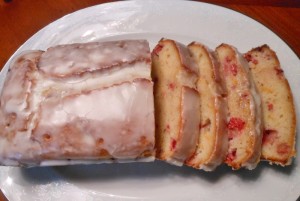 Let the glaze harden completely, then slice her into . . . um . . . slices. Or him. I am not gender-biased. Although this does look like a girly loaf.
This loaf is packed with tangy, sweet flavor and is surprisingly light! I think it's the yogurt that does it since it replaces the usual mountain of butter that I normally use in my recipes. Not that that's going to change. Pfffftttt. Could you imagine??
I could SO see eating a nice, thick slice of this with a giant mug of coffee or tea to go with it. A perfect dessert as we head on in to February!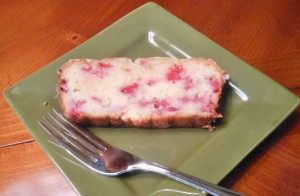 Orange Raspberry Yogurt Loaf
Source: All Things Sweet original recipe
Yield: One 9×5-inch loaf
For the Loaf:
1 1/2 cups all-purpose flour
2 teaspoons baking powder
1/2 teaspoon salt
1 cup plain whole-milk yogurt
1 cup granulated sugar
3 eggs
1 tablespoon grated orange zest (approximately 2 large oranges)
1 teaspoon vanilla extract
1/2 cup vegetable oil
1 1/2 cups fresh raspberries, roughly chopped
For the Orange Syrup:
1/3 cup freshly squeezed orange juice
1/3 cup granulated sugar
For the Orange Glaze:
1 1/2 cups powdered sugar, sifted
2 to 3 tablespoons freshly squeezed orange juice
Preheat the oven to 350 degrees F. Grease bottom and sides of one 9 x 5-inch loaf pan.
In a medium bowl, mix together flour, baking powder and salt; set aside.
In the bowl of a stand mixer, mix the yogurt, sugar, eggs, orange zest, vanilla and oil until well-combined. Slowly stir the dry ingredients into the wet ingredients until just combined. With a rubber spatula, fold the raspberries very gently into the batter.
Pour the batter into the prepared pan and bake 50 to 55 minutes, or until a toothpick inserted in the center of the loaf comes out clean. Let cool in the pans for 10 minutes before removing loaf to a wire rack on top of a baking sheet.
While the loaf is cooling, make the orange syrup in a small saucepan over medium heat. Stir together the orange juice and sugar until the sugar is completely dissolved. Once dissolved, continue to cook for 3 more minutes. Remove from the heat; set aside.
Use a toothpick to poke holes in the tops and sides of the warm loaf. Brush the top and sides of the loaf with the lemon syrup. Let the syrup soak into the cake and brush again. Let the cake cool completely.
To make the orange glaze, in a small bowl, whisk together the powdered sugar and 2-3 tablespoons of the orange juice. The mixture should be thick but pourable. Add up to another tablespoon of orange juice if the mixture is too stiff. Pour the orange glaze over the top of the loaf and let it drip down the sides. Let the orange glaze harden, about 15 minutes, before slicing and serving.