Peach Crisp with Honey Cream Sauce
Now I know I'm not alone on this . . . but there are definitely days, especially in the dead of winter when the weather outside is frightful and oh so NOT delightful, when a girl just needs some warm dessert to provide the sort of comfort that only good food can give. Wait . . . am I alone on this?
DIDN'T THINK SO.
That's where a crisp comes in to play! Add the fact that peaches are such a happy color and then you splash on a cold honey cream sauce that's basically like pre-melted ice cream, every little thing suddenly becomes all right.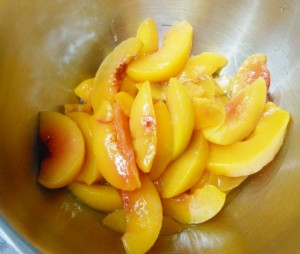 Start by tossing a bunch of peeled, sliced peaches into a bowl with ALL the juices. See what I said about the happy color? It's like a sunrise in a bowl! Que music from the opening scene of The Lion King.
Douse the peaches in flour, sugar, cinnamon, nutmeg, some salt, and a drizzle of honey. Whoops, sunrise gone.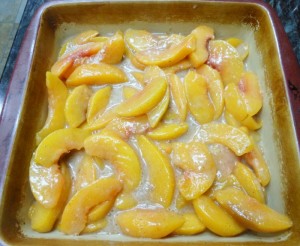 Stir it all together and pour the peach filling into a 9-inch square baking dish. While you go on to prepare the crumble part, the peaches will just marinate in all their juices and flavors and become extra amazing.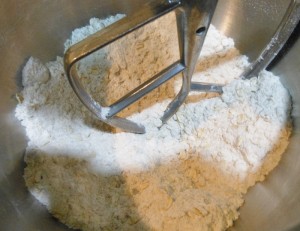 So! Make the crumbly crisp part by combining flour, sugar, brown sugar, old-fashioned oats, and salt in the bowl of a mixer.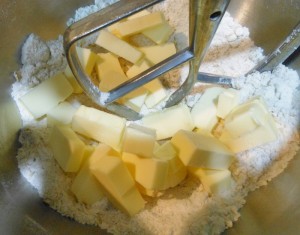 Pile in lots of cold diced butter. This is the secret ingredient that makes the crumble part super glorious so no skimping!
Mix on low speed until the mixture becomes crumbly. Hence the term . . . crumble. And, if you're like me, then you like lottttttttssss of crumbles.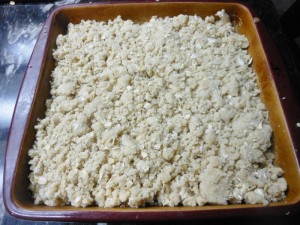 Pile the crumbles on top of the peach filling, pressing down slightly to make a flat surface. Then cover with foil and bake at 350 for 15 minutes. Remove the foil and let it go 20 minutes more.
To distract you and help the time pass more quickly, make the honey cream sauce! It's a cinch. Just stir together heavy cream, lots of honey, and a little corn syrup over medium heat until it thickens and becomes slightly golden. Then, chill it until ready to serve. It's sooo decadent and you could make it in your sleep. That is, if you're the kind of person who can stand over a hot stove and stir during your REM cycles. Which I do NOT recommend for reasons of safety. And sanity. And sleepwalkers kind of freak me out.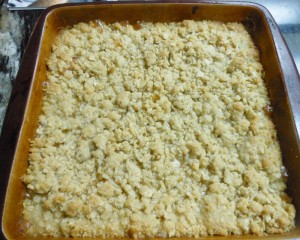 When the crisp has become golden-brown and, well um, crispy, it's done! Grab a giant spoon!
Plop a nice little gooey pile in a bowl, smell the wafting aroma, hear the Hallelujah chorus . . .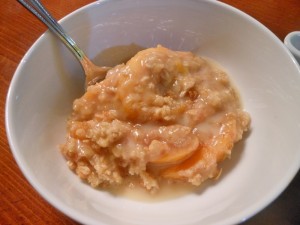 . . . and drizzle, or pour, or drown it in the cold honey cream sauce. Then take the bowl with you to the table, or the couch, or the bed, or stand at the counter and eat it because even taking one step would take too long and you just need your fix NOW.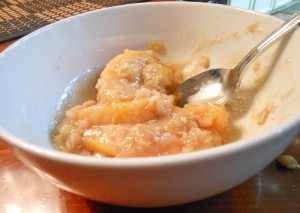 This crisp is hands-down one of my favorite comfort foods. If I could write it a love letter describing how much it means to me, that it's always there for me when I need it, that just looking at it makes me feel good, I might think about doing that before realizing that if anyone found out about it, things would get whispered about me and then the awkward, eyebrow-raised glances would come. So I think I'll stick with just eating it. That works plenty.
Peach Crisp with Honey Cream Sauce
Source: cream sauce adapted from Pioneer Woman's Maple Cream Sauce
Yield: about 8 servings
Peach Filling:
2-3 pounds peeled peach slices
1/4 cup all-purpose flour
1/4 cup granulated sugar
1 tsp. cinnamon
1/2 tsp. nutmeg
1/4 tsp. salt
2 tbsp. honey
Oatmeal Crumble:
1 1/2 cups all-purpose flour
3/4 cup granulated sugar
3/4 cup brown sugar
1 cup old-fashioned oats
3/4 tsp. salt
1 cup (2 sticks) cold unsalted butter, diced
Preheat the oven to 350 degrees.
In a medium bowl, combine the peach slices, flour, sugar, cinnamon, nutmeg, salt, and honey. Pour into a 9-inch square baking dish and set aside.
For the oatmeal crumble, in the bowl of an electric mixer, combine the flour, both sugars, oats, and salt. On low speed, mix in the diced butter until crumbly. Pour the crumble over the peach filling, pressing down lightly to flatten. Cover with foil and bake for 15 minutes, then remove the foil and bake for 20 minutes more.
Honey Cream Sauce:
1 1/2 cups heavy cream
6 tbsp. honey
3 tbsp. light corn syrup
In a small saucepan over medium heat, combine all ingredients. Cook and stir until thickened and slightly golden in color, about 15 minutes. Let chill. Serve cold over the warm crisp.