Brownies with Eggnog Frosting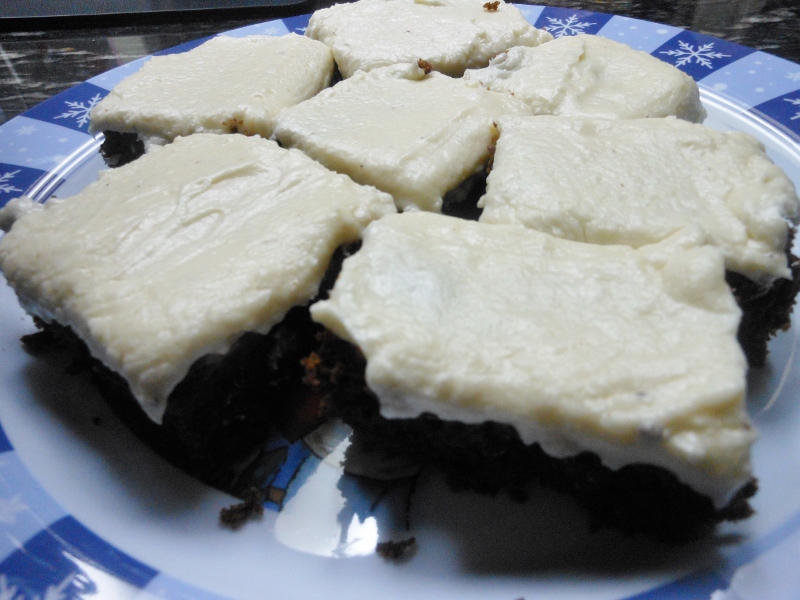 Happy New Year ladies and gents! As tradition goes, before we all crack down on health and exercise starting the 1st of the year, we gotta get in our last affair with junk food before the clock strikes midnight. That is why I spent my New Years' Eve afternoon in the kitchen concocting these goodies for the sendoff of 2013 and the welcoming of 2014!
Start by melting 4 ounces of unsweetened chocolate in a bowl for 30 second intervals in a microwave until it's perfectly melted. Be careful not to stick the spatula in your mouth because you forgot that the chocolate was unsweetened like a certain someone always does!
Set the chocolate aside and cream some butter and sugar together with an electric mixer, then mix in 4 eggs.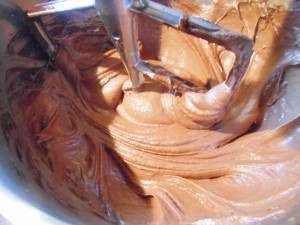 Then, slowly drizzle in the melted chocolate along with some vanilla. This is the time where it's safe to stick your finger in and taste the chocolatey goodness. It's okay now.
Drop 1-1/4 cups of flour on top and mix it in until it's just combined. Here's a fact bee-tee-dubs: less flour = more fudginess.
Sprinkle on a cup of chocolate chips and fold them in with a rubber spatula until they're nicely distributed through the batter. Here's another fact: chocolate + more chocolate = never too much chocolate.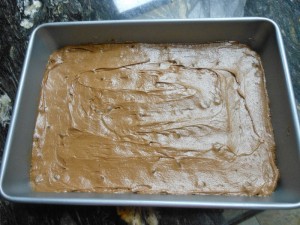 Dump the batter into a greased 9 x 13 baking pan and spread it out until it's absolutely smooth and perfect-looking because you like to pretend you're an artist. Bake the brownies on 325 for 30 minutes.
Let them cool completely to room temperature while you spend time contemplating doing the dishes or not before you remember you have a yummy frosting to make! And then make it.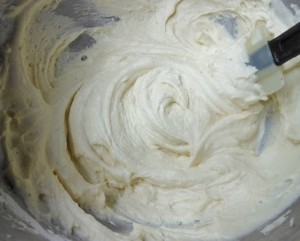 Do that by whipping together butter, powdered sugar, vanilla, a little salt, store-bought eggnog, and some nutmeg. I actually used the eggnog I had leftover from Christmas morning, tee-hee.
Sh-mear the frosting all over the top of the cooled brownies, again making sure to be artistic about it so you can feel good about yourself and your abilities.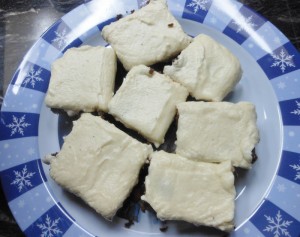 Then, cut them into bars! I think these brownies are simply perfect and pretty. Also, the white creamy frosting does a good job of cutting through the rich chocolate so you don't get bombarded by one flavor. In short, these are really, really good brownies for a holiday party.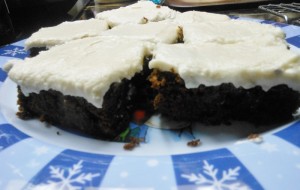 Here's to a great 2014 everybody!
Brownies with Eggnog Frosting
Source: Adapted from Pioneer Woman's Mocha Brownies
Yield: 16-20 servings
Brownies:
4 ounces unsweetened chocolate, chopped
1 cup butter, at room temperature
2 cups granulated sugar
4 eggs, at room temperature
1 Tbsp. vanilla extract
1-1/4 cups all-purpose flour
1 cup semi-sweet chocolate chips
Eggnog Frosting:
1 cup butter, at room temperature
5 cups powdered sugar, sifted
1/4 tsp. salt
1 Tbsp. vanilla extract
1/2 cup prepared eggnog
1/4 tsp. ground nutmeg
Preheat the oven to 325 degrees F. Spray a 9 x 13 inch baking pan with nonstick baking spray.
For the brownie batter: Place the chocolate in a microwave-safe bowl. Melt the chocolate in the microwave in 30-second increments, stirring between each interval. Set it aside to cool slightly.
In an electric mixing bowl, cream the butter and granulated sugar. Beat in the eggs. With the mixer on low speed, drizzle in the melted chocolate. Add the vanilla extract and mix. Add the flour to the bowl and mix just until combined; do not over mix. Fold in the chocolate chips.
Pour the batter in the prepared baking pan. Spread it to even out the surface. Bake until the center is no longer soft, about 30 minutes. Set the brownies aside to cool completely before frosting.
For the frosting: In an electric mixing bowl, combine the butter, powdered sugar, salt, and vanilla. Mix until slightly combined, then add the eggnog. Whip until the icing is light and fluffy then mix in the nutmeg. Frost the cooled brownies, then cut into bars.