Butterscotch Whiskey Balls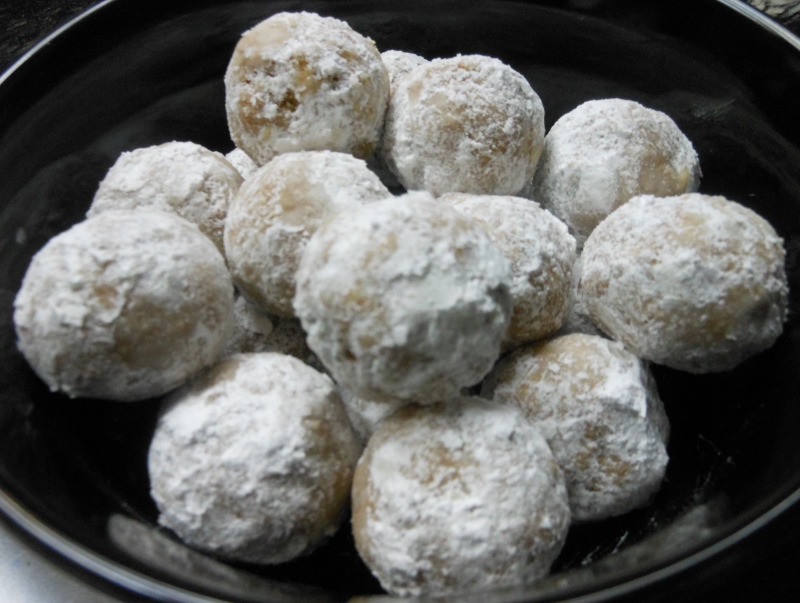 Don't get me wrong, people. Christmas is totally the happiest, jolliest time of the year. But, if you haven't noticed, it can also be a very busy, stressful time every now and again. There's the shopping (people can be pushy!), the decorating (ornament hooks can cause tetanus, ya know!), the cooking (I have a waistline to keep, thank you very much!), and finally there's all the other Christmastime musts: drinking peppermint mochas, singing Christmas songs, watching Christmas movies, perfecting your wish list and then checking it twice (wink!) to make sure you included that professional set of piping tips that you MUST have, and including time to actually talk to your family members! That's why it's a huge blessing when you find a scrumptious treat to make that's just downright simple and fast. Hello Butterscotch Whiskey Balls!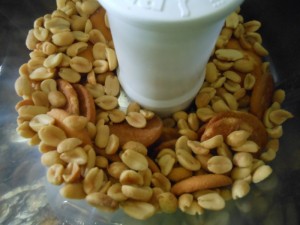 Start by tossing a cup and a half of vanilla wafer cookies and a cup of peanuts into a food processor.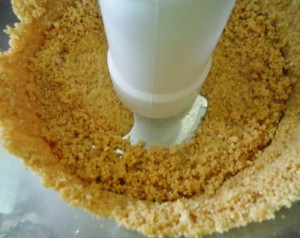 Grind them all up until they've been obliterated into fine crumbs. Broken a sweat yet? To me, this looks like a really yummy topping for a bowl of oatmeal or a cup of yogurt. But that's just me. Pour the crumbs into a medium bowl and set aside.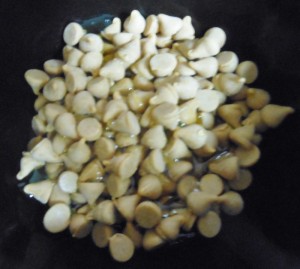 Then, place half a cup of butterscotch chips into a microwaveable bowl with two tablespoons of honey. My sweet tooth senses are tingling!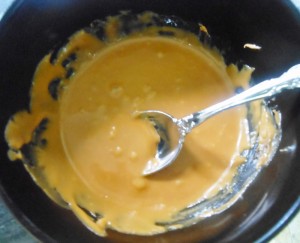 Microwave it in 30 second intervals, stirring between intervals until it's smooth with no lumps. Don't be a spoon-licker like me, friends. Or do. Hey, it's your life.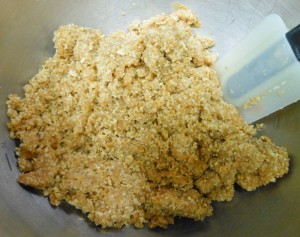 Immediately pour the warm butterscotch mixture into the crumbs, add 3 tablespoons of whiskey, and combine well until it becomes very thick and crumbly. This WILL be on top of my oatmeal one day!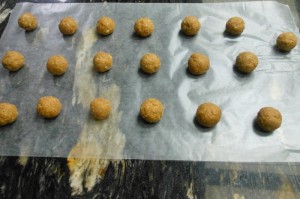 Now, as if you are working with Play-Doh, squeeze and mold tablespoonfulls of the mixture in the palm of your hand until it's pliable. Then, roll into balls and unnecessarily spend lots of time making sure each ball is absolutely perfect with no unsightly dents or bulges like I always find myself doing. Just kidding. Don't follow my lead on that one.
Finally, roll them in powdered sugar to finish them off and give them that extra kick of sweetness that we all search for in life.
 These make a great little treat to put out at parties or just to have around to pop in your mouth whenever you darn well feel like it. After all, you've worked hard this holiday season! It's deserved. These candy balls are a great combo of nutty, crumbly, chewy, and sweet, making them totally satisfying when dealing with the chaos of the holidays. They fill all the vices!
Butterscotch Whiskey Balls
Source: Adapted from Sprinklebakes' Five Minute Bourbon Balls
Yield: 1 1/2 dozen
Ingredients:
1 1/2 cups vanilla wafers (such as Nilla Wafers)
1 cup shelled peanuts
1/2 cup butterscotch chips
2 Tbsp. honey
3 Tbsp. whiskey
Place the wafers and peanuts in the bowl of a food processor. Grind up until the mixture becomes find crumbs. Pour crumbs into a medium bowl and set aside.
Place butterscotch chips and honey into a microwaveable bowl. Microwave in 30 second intervals, stirring in between, until smooth with no lumps. Immediately pour the warm butterscotch into the crumb mixture, along with the whiskey. Combine until the mixture is very thick and crumbly. Press tablespoonfulls of the mixture in the palm of your hand to make it pliable, then roll into balls. Roll in powdered sugar to finish them.