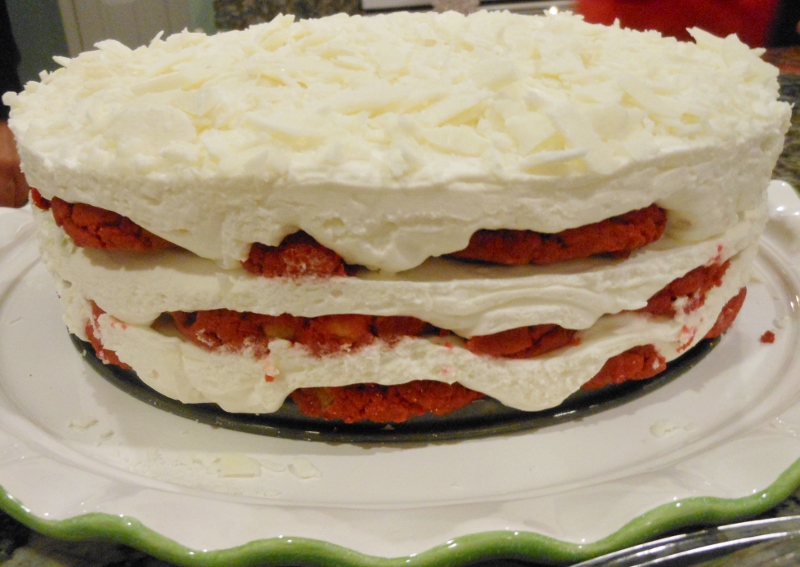 Now that I'm outta school, have a tree and a decorated house, and siblings are coming home from out yonder, I can officially say "I'm excited for Christmas!" Therefore, Christmas baking is much needed as my food cravings adapt from season to season. (Don't yours?) And this cake is the perfect fix! It's basically red velvet cookies layered between a creamy whipped filling. Both easy, pretty, and well . . . you just can't say no!
Friends, we start by making the cookies. It's a cinch. Combine flour, cocoa powder, cornstarch, baking powder, and salt in a bowl.
And then prepare the wet mixture. Butter, vegetable shortening, sugar, eggs, white vinegar, vanilla, and red food coloring. Ya know, the usual cookie protocol. Or not. But just for these. Now, mix in the dry ingredients until just combined.
Pour in a cup of white chocolate chips and fold them in until the dough is nicely dotted with white. I can hear the silver bells!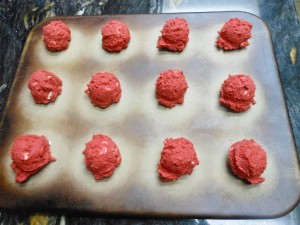 Scoop rounded mounds of dough onto a baking sheet, pop it into the oven at 375 and watch 10-12 minutes of your favorite Christmas movie while they bake.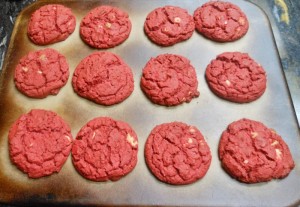 Time's up! Awww, right when he gets the BB gun! (Name that movie!) Now, it may be tempting to forget the rest of the recipe and just devour these cookies. But I promise, they serve a greater purpose!
Sometime while you're baking up the rest of the cookies, whip up the cream! In an stand mixer with a whisk attachment, whip together heavy cream, cream cheese, sugar, and vanilla. This filling is basically like if whipped cream and cream cheese frosting had a baby. It's the perfect combo!
Here's the fun part now. Layer the cookies and the cream in a 9-inch springform pan like this: cookies first, then cream, cookies, cream, cookies, and finish with cream on top. Break apart some cookies to fill in any bare spaces.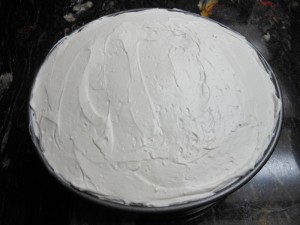 Once all the layers are together and accounted for, smooth the top, cover it with plastic wrap, and stick it in the fridge to chill overnight so it can set. Dream of it while you sleep!
After you wake up in excitement, pop the collar off the springform pan and see all the pretty layers! It's a Christmas miracle!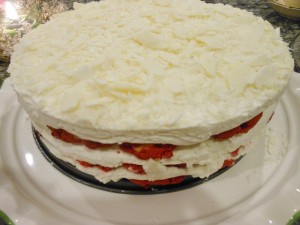 This is optional, but I sprinkled some shaved white chocolate on the top to give it that extra flourish. It also looks like snow!
Not the pur-tiest inside of a cake I ever did see, but oh well! This is such a soft, creamy, and surprisingly light cake which is also very unique and is most definitely a crowd-pleaser. If you wanted to make it even more Christmasey, you could add a few drops of peppermint extract to the cream and maybe sprinkle some crushed peppermints on top. Either way will be delicious and will have you singing "Falalalala!!" soon enough.
Red Velvet Icebox Cake
Source: cookies adapted from jujugoodnews.com
Yield: One 9-inch cake
Red Velvet Cookies:
2 1/4 cups all purpose flour
2 Tbsp. cocoa powder
1 1/2 tsp. cornstarch
3/4 tsp. baking soda
1/2 tsp. salt
7 Tbsp. unsalted butter, at room temperature
6 Tbsp. vegetable shortening, at room temperature
1 1/2 cups granulated sugar
1 egg
1 egg yolk
1 1/2 tsp. white vinegar
1 1/2 tsp. vanilla extract
1 Tbsp. red food coloring
1 cup white chocolate chips
Whipped Cream Filling:
2 cups cold heavy cream
12 oz. cream cheese, at room temperature
1/2 cup sugar
1 tsp. vanilla extract
Shaved white chocolate, for decoration
Preheat oven to 375 degrees F. In a mixing bowl, whisk together flour, cocoa powder, cornstarch, baking soda, and salt; set aside. Add butter, shortening, and sugar to the bowl of a stand mixer and mix on medium speed until very light and fluffy, about 2 minutes. Add egg and egg yolk and mix until combined. Add vinegar, vanilla, and food coloring and stir until well blended. Gradually add in the dry ingredients and mix until just combined. Fold in white chocolate chips. Scoop heaping tablespoons of dough onto a baking sheet and bake for 10-12 minutes. Allow to cool for several minutes before transferring to a wire rack to cool completely.
In the bowl of an electric mixer fitted with the whisk attachment, combine the heavy cream, cream cheese, sugar, and vanilla. Mix on low speed to combine and then slowly raise the speed, until it forms firm peaks.
To assemble the cake, arrange red velvet cookies flat in a 9-inch springform pan, covering the bottom as much as possible. (I break some cookies to fill in the spaces.) Spread a third of the whipped cream evenly over the cookies. Place another layer of cookies on top, lying flat and touching, followed by another third of the cream. Continue layering cookies and cream until there are 3 layers of each, ending with a layer of cream. Smooth the top, cover with plastic wrap, and refrigerate overnight.
Remove the sides of the pan. Sprinkle the top with shaved white chocolate, cut in wedges, and serve cold.