Strawberry Milk Cookies for the Cause!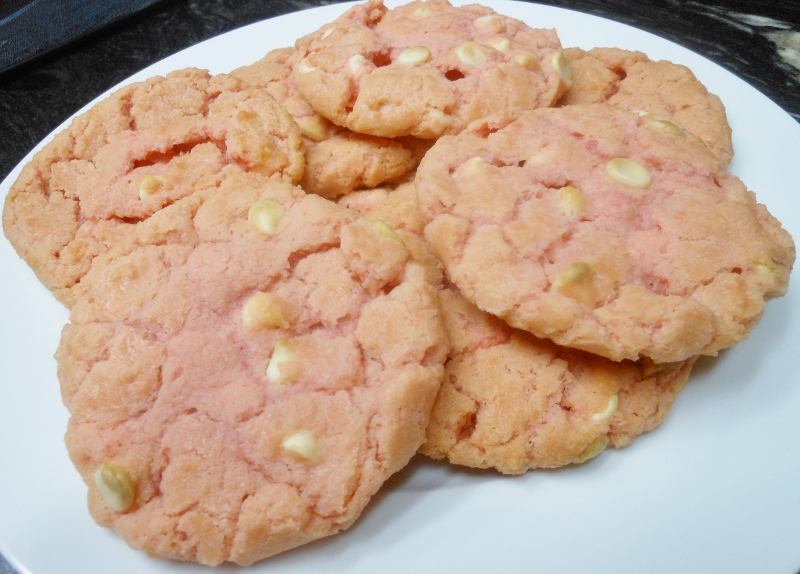 Cookies for a cause! What a great concept! The friend of a friend was diagnosed with a cancerous tumor and recently had it removed (thank goodness!) and is now in recovery. So, to raise money for her, a fundraiser was graciously organized and part of it included a bake sale! To help support the cause, I whipped up these happy pink cookies!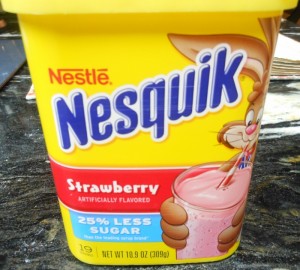 Remember this stuff??? I LOVE THIS STUFF. Get some of this stuff.
Beat together vegetable shortening and sugar. Then, stir in eggs and vanilla. Grab that delicious pink stuff, sprinkle it on top, and delight in watching it get swirled and mixed into the wet mixture and turn it all pink!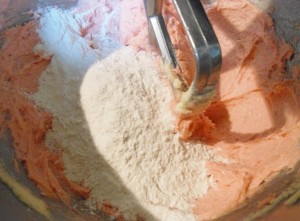 Stir together some dry ingredients (flour, baking soda, salt) and shake 'em on in on top of the pink mixture. Then, stir, stir, stir until just combined.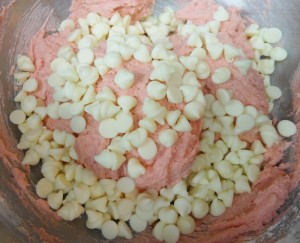 Measure out a cup of white chocolate chips, or just toss in how ever much you darn well please, and fold them in. I can't stand how cute this cookie dough looks!
Scoop out some balls of dough and place them on a baking sheet. I used my large scoop so these would be nice and big! Is it just me or do these balls of dough look like the mushrooms from Super Mario?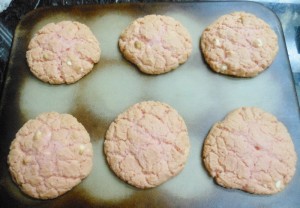 After baking them at 375 for 14 minutes, they are big and happy and pink and delicioso!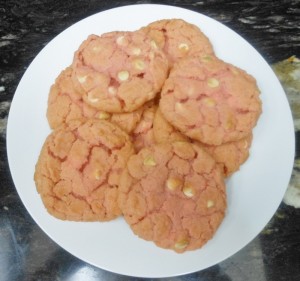 These cookies are awesomely sweet, flavorful, and chewy! They are definitely an attention-getter and they did a great job bringing in donations for our friend in need! In fact, these cookies would be great for putting a smile on anyone's face =)
Strawberry Milk Cookies
Source: All Things Sweet original recipe
Yield: 12 – 15 large cookies
Ingredients:
1 cup vegetable shortening, at room temperature
1 1/2 cups granulated sugar
2 eggs, at room temperature
1 tsp. vanilla extract
1/2 cup strawberry drink powder (recommended: Nesquick)
2 cups all-purpose flour
1 tsp. baking soda
1/2 tsp. salt
1 cup white chocolate chips
Preheat oven to 375 degrees F.
In the bowl of a mixer fitted with a paddle attachment, beat together the shortening and sugar until light and fluffy. Add the eggs, one at a time, then the vanilla; stir until combined. Add the strawberry powder and mix until well-incorporated. In a separate bowl, stir together the flour, baking soda, and salt. Gradually add the flour mixture to the strawberry mixture and mix until just combined. Pour in the white chocolate chips and fold them into the dough using a rubber spatula.
Using a large ice cream scoop, form balls of dough and place them onto a baking sheet about 3 inches apart. Bake for 14-15 minutes until just lightly browned. Let cool for about 5 minutes before removing to a wire rack.