Double Chocolate Double Mint Cookies
Is anyone else like me where you just REFUSE to get into the Christmas season until after Thanksgiving has passed? Why does everyone go straight from Halloween to Christmas? Thanksgiving is important too, ya know! Well okay, so I broke my rule a little bit today because I found THESE in the store: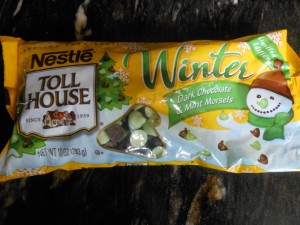 BUT, in my defense, these do not say Christmas! They say winter. And, okay, so it's not winter yet either. But I love chocolate and mint so judge me all you want because I have these magical, scrumptious cookies so I don't feel bad!
I just looooove cookies. They are so quick and easy to make. Just beat together some butter, sugar, and brown sugar until it's completely pulverized. Sometimes I like to take out my aggressions on the butter and sugar. This is for being so delicious and making me eat too much of you! Raaaaaggghhhhhh!!!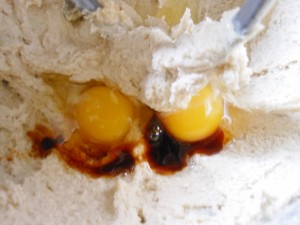 Drop in two eggs and a splashety-splash of vanilla. They look like scary eyes! Quick, pulverize them too!
So, while the beater is fighting the evil egg-vanilla eyes, whisk together some flour, cocoa powder, baking soda, and salt. Okay, let me take a moment to shout out to my dad who is being a gent and taking the last batch of cookies out of the oven for me while I write this so I don't lose my focus. And so I don't have to get out of my comfy chair. And because I told him that, if he did, I would say something nice about him in my post. Way to help a girl out, Dad! Now back to the cookies. Add the flour mixture to the wet mixture and slowly stir. If you try to pulverize the flour, it might fly out into your face and momentarily blind you. Yeah, it's a fighter.
Then, mix in about half to a whole teaspoon of mint extract depending on how much you like the stuff (Me: a lot!). Take the bowl off the mixer and, using a rubber spatula, fold in the dark chocolate/mint chips. I tend to start with half a bag, stir it in, then wind up using the whole bag because I always find a barren spot in the dough that I feel could use some more chips. Besides, extra chocolate never hurt anybody! And I like my cookies to be very chippy! But go with whatever your heart tells you.
When the chips are evenly distributed in the dough, scoop rounded tablespoons of the dough and plop them on a baking sheet. Don't try to throw them up in the air and catch them in your mouth because you will likely just embarrass yourself. Bake them at 350 for 15 minutes instead.
Bibbitty-Chocolately-Boop! They're done! Let them cool for 5 minutes before sliding them onto a wire rack. Or just take them off the sheet and insert them directly into your mouth when no one is watching. I won't judge.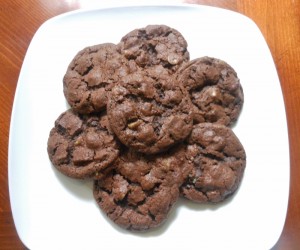 The best thing about these cookies is the way they have a crisp outside to them and a super-soft, chewy inside. And the other best thing is the way you can't really see that there's mint in them from the outside so, when you bite into them, you're like, "Am I suddenly standing on a mountain top?" Yes, embrace it.
Double Chocolate Double Mint Cookies
Yield: 30 cookies
Ingredients:
1 cup (2 sticks) unsalted butter, at room temperature
1 cup granulated sugar
1 cup brown sugar, packed
2 eggs, at room temperature
1-1/2 tsp. vanilla extract
2 cups all-purpose flour
2/3 cup unsweetened cocoa powder
1 tsp. baking soda
1/2 tsp. salt
1/2 to 1 tsp. mint extract, to taste
2 cups dark chocolate and mint chips
Preheat oven to 350 degrees F.
In the bowl of an electric mixer, fitted with a paddle attachment, beat together the butter and both sugars until fluffy. Add the eggs and vanilla and mix until combined.
In a separate bowl, whisk together the flour, cocoa powder, baking soda, and salt. Gradually add the flour mixture to the wet mixture, stirring slowly until combined. Add the mint extract and mix one more time. Remove the bowl from the mixer and, using a rubber spatula, fold in the chips until well dispersed in the dough.
Scoop rounded tablespoons of dough onto a baking sheet, evenly spaced apart. Bake for 15 minutes. Let cool on the sheet for 5 minutes before transferring to a wire rack to cool completely.