Pumpkin Mousse Ginger Cookie Parfaits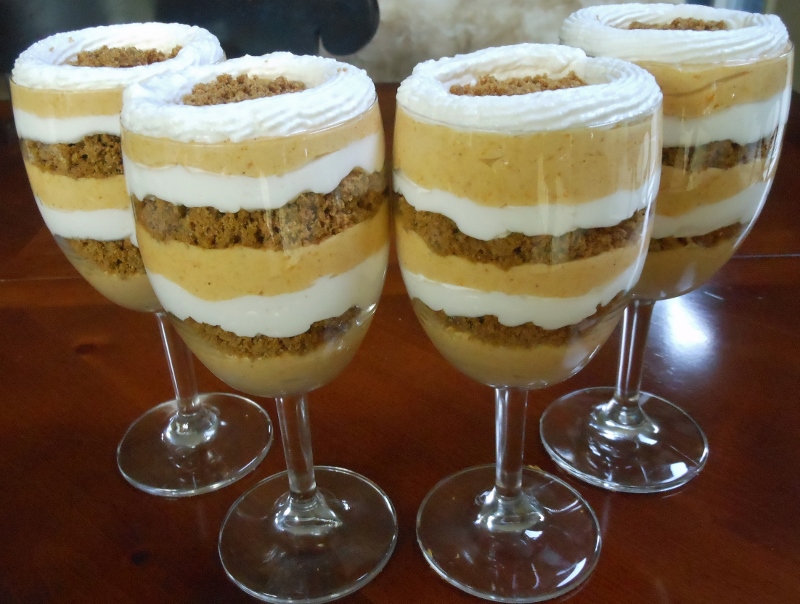 Here's a not-so-surprising fact that everyone has realized: Fall is here! That means a shift takes place in both fashion AND food. I've already started dawning sweaters and boots, now it's time to break out the pumpkin and gingerbread! I was able to knock out both in one fell swoop with these lovely, layered concoctions.
I used the recipe for my favorite Ginger Crinkles to start things off, but you could always use store-bought cookies if you want to save time. To make the dough, you just mix shortening, brown sugar, molasses, and an egg with a flour-ginger-cinnamon-ground cloves combo.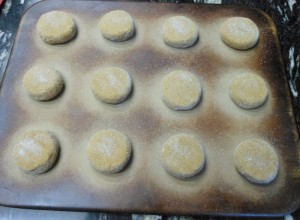 Now for the fun part: scoop some dough into your hands, roll it around until it forms a ball, and roll the ball in sugar. Place the sugar-coated ginger balls all over a cookie sheet, then press them down slightly with your hand until the tops are flat. And finish 'em off with another sprinkling of sugar!
See why they call ginger crinkles, Ginger Crinkles? They have crinkles. Or cracks. Or crackles. Ginger Crackles? Anyways, they're pretty. AND pretty tasty. I make them every Fall just to eat them by themselves because they make one soft and ginger-y cookie.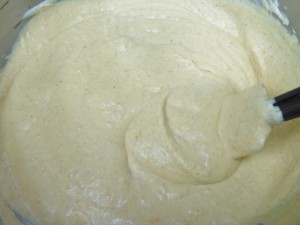 After you've made the cookies, whip up the mousse. Or make the mousse first and then do the cookies while it's chilling. Either way, the kitchen is your oyster. The mousse is made with pumpkin (duh!), sugar, brown sugar, orange zest, egg yolks, cinnamon, nutmeg, rum, gelatin, and whipped cream. I was surprised by how easy it was to make. This picture doesn't do the orange color justice but it pops a lot better when the parfaits are built!
Now the only other thing you need is sweetened whipped cream, which you can either make yourself or buy in a can, either way you still need it. Oh, and crumble up the cookies, too, so you can sprinkle them.  To assemble, you go like this: pumpkin mousse, crumbled ginger cookies, whipped cream. Pumpkin, cookies, cream, pumpkin, cookies, cream. Got it? Just make sure you end with pumpkin and then decorate the top with more whipped cream and ginger cookie crumbs. Now isn't dessert art fun , everybody?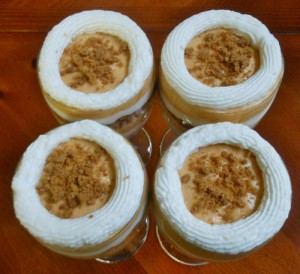 I'm not sure how you could get a Fall dessert that's much better than this. They are creamy and spicy with the perfect amount of pumpkin flavor and, my personal favorite part, the great hit of rum that's hidden inside the mousse. I think these desserts would be perfect for a small get-together with friends or just cozied up on the couch in front of a fire by yourself, catching up on New Girl and The Big Bang Theory. Either way, if you want the perfect Fall dessert, this is THEEE one.
Pumpkin Mousse Ginger Cookie Parfaits
Source: Pumpkin mousse adapted from Ina Garten's Pumpkin Mousse
Ginger cookies from Better Homes and Gardens Cookbook (1981)
Yield: 5-7 parfaits
Ginger Crinkles:
2-1/4 cups all-purpose flour
2 tsp. baking soda
1 tsp. ground ginger
1 tsp. ground cinnamon
1/2 tsp. ground cloves
1/4 tsp. salt
1 cup packed brown sugar
3/4 cup shortening
1/4 cup molasses
1 egg
Preheat oven to 375 degrees F.
Stir together the first 6 ingredients. In a separate bowl, combine all remaining ingredients, then add the dry ingredients to wet mixture, beating until well-combined. Form 1-1/2 inch balls. Roll in granulated sugar and place on a cookie sheet. Press lightly on top to flatten. Bake for 10-12 minutes.
Pumpkin Mousse:
1/4 cup rum
1 packet (2 tsp.) unflavored gelatin powder
1 (15 oz.) can pumpkin
1/2 cup granulated sugar
1/2 cup brown sugar, packed
2 egg yolks
2 tsp. orange zest
1/2 tsp. ground cinnamon
1/4 tsp. ground nutmeg
1/2 tsp. salt
1 1/2 cups cold heavy cream
2 tsp. vanilla extract
Place the rum in a heat-proof bowl and sprinkle gelatin over it. Set aside for 10 minutes for the gelatin to soften.
In a large bowl, whisk together the pumpkin, granulated sugar, brown sugar, egg yolks, orange zest, cinnamon, nutmeg, and salt. Set the bowl of gelatin over a pan of simmering water and cook until the gelatin is clear. Immediately whisk the hot gelatin mixture into the pumpkin mixture. In the bowl of an electric mixer fitted with a whisk attachment, whip the heavy cream and vanilla until soft peaks form. Fold the whipped cream into the pumpkin mixture. Let chill until cold.
Sweetened Whipped Cream:
2 cups cold heavy cream
3 tbsp. sugar
2 tsp. vanilla extract.
Place all ingredients in the bowl of an electric mixture fitted with a whisk attachment. Whip, first on low, then on high speed until stiff peaks form.
Assembly:
To assemble, spoon some of the pumpkin mixture into parfait glasses, add a layer of crumbled cookies, then some sweetened whipped cream. Repeat, ending with a layer of pumpkin. Decorate with whipped cream and cookie crumbs to finish. Keep chilled until serving.