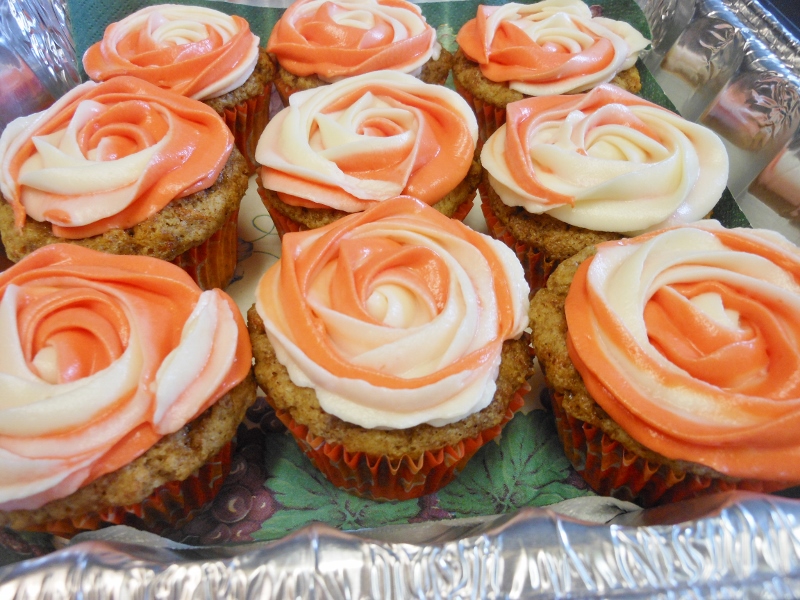 Recently, I was given a school assignment in my Professional Sales class to shadow a salesperson to observe what they do all day. I ended up shadowing a salesman last week from Tom James Clothiers, which is a clothing company that makes really nice custom business attire. What does this have to do with cupcakes, you ask? Well . . .
I just so happened to mention to this salesman that I was a dessert blogger. And he just so happened to mention that he was a sucker for carrot cake. Soooo, I took this in as a mental note. I had a lot of fun that day and it was a very cool experience, so afterward I decided that I would send him some carrot cake cupcakes as a thank you for letting me breathe down his neck all day. And guess what. He was stoked to receive them!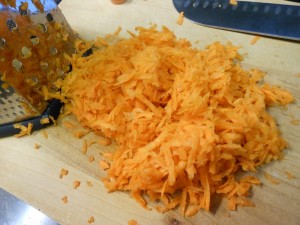 So, first you start with a nice pile of the good orange stuff. In other words, grate some carrots.
Throw them into a mixture of oil, sugar, eggs, flour, and cinnamon. Oh yeah, and there's some chopped walnuts in there too. Why does batter have to look so weird a lot of times? Not that that stops me from continually licking the spatula.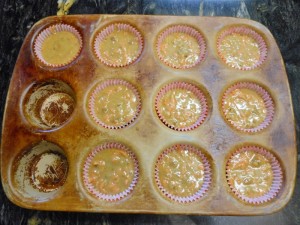 Plop the batter into cupcake liners inside a muffin pan. Like my weather-beaten old stone pan? I guess you should know by now that I got 10 cupcakes out of this batter. Nine for the gift box, one for the house (aka me!). Throw them in a 400 degree oven for 10 minutes, then reduce the heat to 350 and bake 'em again for 15 minutes.
While your waiting around for the oven to Beep! make the cream cheese frosting. I've probably made this 100 times but that doesn't make it any less delicious! And come on, these are carrot cakes after all. Just beat some cream cheese, butter, and powdered sugar together until it's smooth and creamy, dreamy-looking.
Here's the fun part: take half the frosting out and put it in a separate bowl. Drip in some orange food coloring (red and yellow makes orange by the way, in case you forgot) and stir it all together until it's the shade you want. I pretty much went for orangey orange orange.
Here's the beauties! Like my orange liners? Yeah, I thought they went with the theme. Ahhh I could get lost in those golden, crackled tops.
Enough spacing out, back to the frosting! Okay, okay yeesh. So stick a piping bag into a tall glass and fill half of it with the white frosting, half with the orange. Don't worry if it's uneven! It's all about the flooooow here.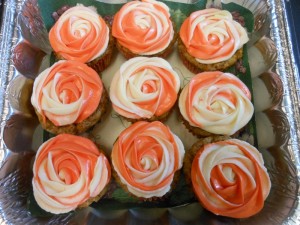 Now, swirl the frosting all over the cupcakes and Bada-bing! you have one amazing group of cupcakes! These are perfectly moist, nutty, and spicy little things. I wish I could decorate my house with cupcakes because these are just too cute! But they do make an awesome gift.
Carrot Cake Cupcakes
Source: All Things Sweet original recipe
Yield: 9-11 cupcakes
Cupcakes:
1 cup sugar
3/4 cup vegetable oil
1 tsp. vanilla extract
1 whole egg, at room temperature
1 egg yolk, at room temperature
1 cup all-purpose flour
1 tsp. ground cinnamon
1 tsp. baking soda
3/4 tsp. salt
1 1/2 cups grated carrots
1/2 cup chopped walnuts
Preheat the oven to 400 degrees F.
Beat the sugar, oil, and vanilla together in the bowl of an electric mixer fitted with a paddle attachment. Add the egg and egg yolk, one at a time. In another bowl, stir together the flour, cinnamon, baking soda, and salt. With the mixer on low speed, add 1/2 of the dry ingredients to the wet ingredients. Add the grated carrots and walnuts to the remaining flour, mix well, and add to the batter. Mix until just combined.
Line muffin pans with paper liners. Scoop the batter into muffin cups until each is 3/4 full. Bake at for 10 minutes then reduce oven temperature to 350 degrees F and cook for a further 15 minutes, until a toothpick comes out clean. Cool on a rack.
Cream Cheese Frosting:
1/4 pound cream cheese, at room temperature
1/2 cup unsalted butter, at room temperature
3-4 cups powdered sugar, sifted
1/2 tsp. vanilla extract
Orange food coloring, if desired
Cream the cream cheese, butter, and vanilla in the bowl of an electric mixer fitted with a paddle attachment. Add the sugar and beat until smooth. If using food coloring, put half the frosting into a separate bowl then add food coloring until you reach the desired shade. Fill a piping bag, half with white frosting, half with orange. Squeeze the bag until the frostings swirl together. Pipe swirls of frosting onto cupcakes.