Peanut Butter 'Nanna Cake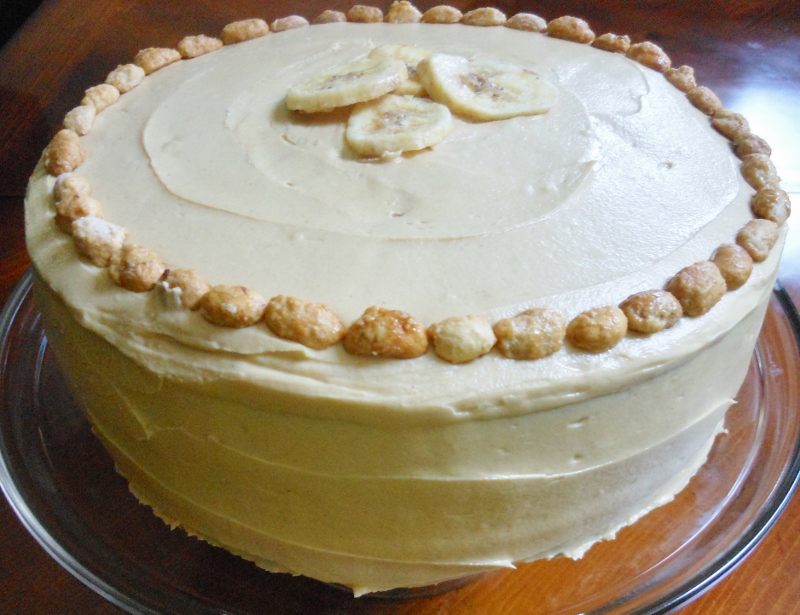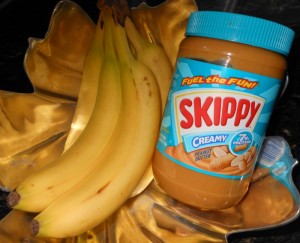 What's the one thing that acts as a perfect compliment to bananas? Besides a cute little monkey? Peanut butter! I mean we see them together in sandwiches or just acting together as a healthy snack. I think they're a perfect couple. So, to further this culinary marriage, I decided to combine them into a cake. How could that not be amazing?? Take a banana cake, which is always super-moist and flavorful, and wrap it in a blanket of peanut butter frosting, (which needs no explanation!) it would have to create something magical! And it did.
The batter is pretty much the same type of thing you'd use to make banana bread. You know, mashed bananas and all. Except this batter has buttermilk in it, too, to make it extra rich and, if that's not enough, I stirred in peanut butter chips to give it that extra peanut-y kick. Weird as it looks in the picture, it turns out wonderful! It's like the caterpillar before it turns into a butterfly! The lesson here, ladies and gentlemen, is that something may look strange to begin with but there's a good chance it will change into something awesome (like going through puberty) and you'll be kicking yourself for questioning it in the first place. This has been a public service announcement. Now back to cake!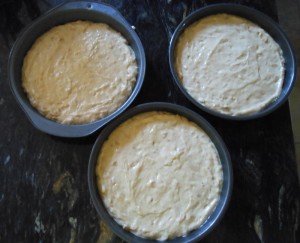 Because this is a triple-layer cake instead of a double-layer cake, you will need 1.5 times more cake pans. That's called math people. So, pour the batter evenly among the pans, smooth it out, and then STOP! Just kidding. Throw 'em in the oven for 25 minutes and get to work on the frosting.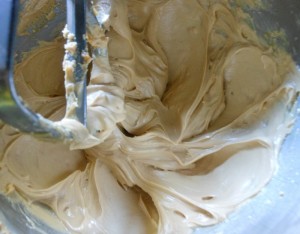 THIS is the creamy, dreamy peanut butter frosting. It would basically be good on anything. For that reason, I think it's a great, all-purpose frosting recipe to keep on hand. Just butter, peanut butter, powdered sugar, and milk. And then, in the words of Michael Jackson, "Beat it!" until it's fluffy and smooth.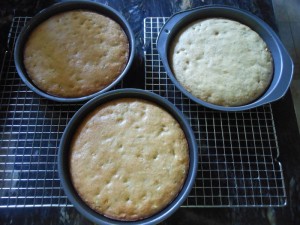 When the cakes are done, and one is a weirdly lighter color than the others, let them cool for ten minutes, turn them out by smacking the pans HARD on the bottom like I do, then let them cool completely before frosting.
I decorated mine with peanuts and banana chips, but that's just me. You can decorate it however your heart desires; pipe flowers, write your name, stick on a monkey topper, whatever floats your baker boat.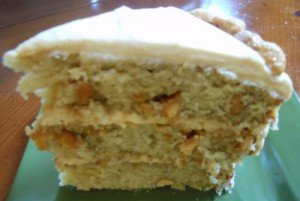 I'm so glad I chose to try this cake out. It is thick, nutty, and banana-y with the perfect amount of richness and heartiness. It was extremely easy to make too! It's gonna be hard to keep from snacking on it all day as it sits on the kitchen counter taunting me. Curse the temptation of dessert!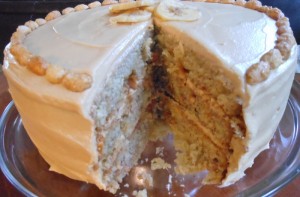 She's a pur-ty cake. It's hard not to lose yourself between those layers. Don't be surprised if you suddenly get the urge to go to the zoo or play Donkey Kong after eating this cake. It gives you monkeys on the brain! Now that I think of it, it would be interesting to see if a chimpanzee would like this cake. Someone buy me a chimp so I can throw it a birthday party please!
By the way, this was my mom's piece. We smothered ours in chocolate and peanut butter syrup because we're gluttonous adventurous. It was VERY good that way though. I'd highly recommend it.
Peanut Butter 'Nanna Cake
Source: All Things Sweet original recipe
Yield: One 9-inch cake
Banana Cake:
1 cup unsalted butter, at room temperature
1 cup granulated sugar
1 cup brown sugar
3 eggs, at room temperature
3 medium bananas, mashed
3 cups all-purpose flour
1 1/2 tsp. baking powder
1 1/2 tsp. baking soda
1/2 tsp. salt
1 cup buttermilk
2 cups peanut butter chips
Preheat the oven to 350 degrees F. Grease three 9-inch round cake pans and line them with circles of parchment paper, then grease the parchment. Set aside.
In the bowl of a stand mixer, fitted with a paddle attachment, cream together the butter and both sugars until fluffy. Stir in the eggs, one at a time, then add the mashed banana and mix until well-combined. In a separate bowl, stir together the flour, baking powder, baking soda, and salt. Mix in the dry ingredients alternately with the buttermilk, beginning and ending with the dry ingredients. With a rubber spatula, fold in the peanut butter chips until well-distributed in the batter.
Pour the batter evenly among the cake pans and smooth the tops. Bake for 25-30 minutes or until a toothpick inserted comes out clean. Let cool for 10 minutes before turning out. Let cool completely.
Peanut Butter Frosting
1/2 cup unsalted butter, at room temperature
1 cup creamy peanut butter
4 cups powdered sugar, sifted
1 tsp. vanilla extract
6-8 tbsp. milk
In the bowl of a mixer, combine the butter and peanut butter until well-mixed. Gradually add the powdered sugar and stir until crumbly. Add the vanilla then the milk, one tablespoon at a time, until you reach the desired consistency. It should be fluffy and creamy.
To frost the cake, place one cake layer face-down on a cake stand so the top is flat and spread a big dollop of frosting out to the edges. Using a serrated knife, slice off the top of a second cake layer and place it face down on top of the already-frosted layer. Spread another dollop of frosting on top of the second cake layer, then place the third cake layer, face up, on top. Frost the top and sides of the cake with the remaining frosting and decorate with peanuts and banana chips, if desired.