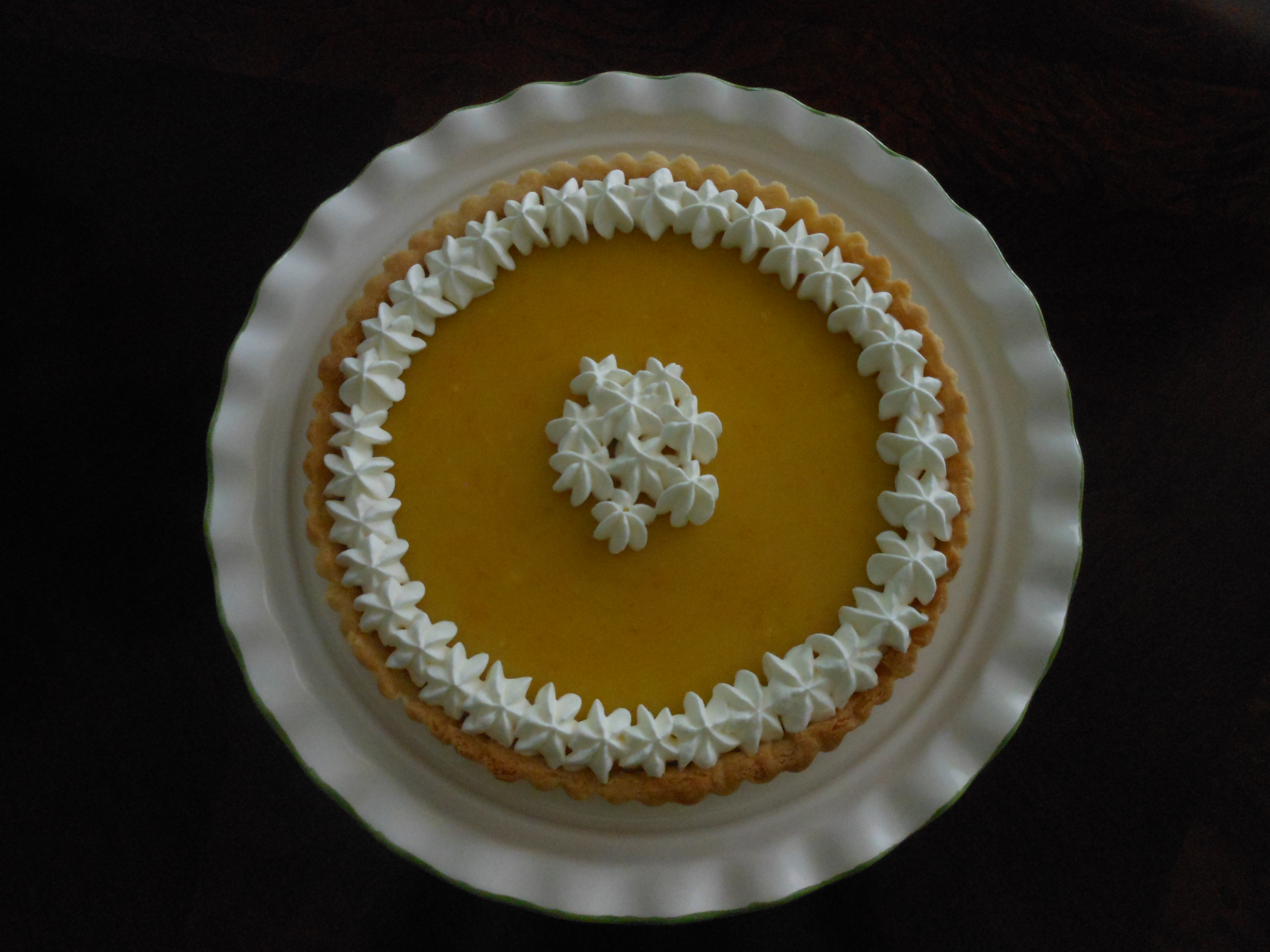 I feel bad for oranges. Let's face it: every time someone makes some sort of citrusy tart or pie, it's always lemon or lime. Of course, those desserts are perfectly good but oranges are a citrus too, ya know?! So, I took a shot and gave orange a chance here, making a new fruity, creamy tart using homemade orange curd. It was new and surprising but it did NOT disappoint me.
First, you make an unbelievably simple shortbread-like crust with butter, sugar, vanilla, flour, and salt. I could make this with one hand tied behind my back. It took me all about 2 minutes. Try it at home and time yourself!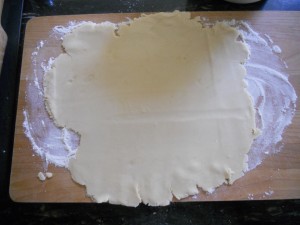 Next, roll it out very roughly, meaning don't worry one bit about straight edges or even if it's completely smooth. The important part is just getting it into the tart pan . . .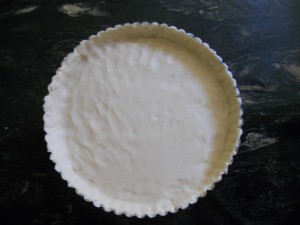 Which I managed to do! The crust might tear as it travels from the board to the pan but fret not because you can just mush it together and press the dough around until it looks nice and uniform in the pan.
Now this next part is interesting. You have to put foil over the dough and fill it with dried beans or rice and bake it for 20 minutes. This part of the baking process is essential to keeping the crust from puffing up. I think it looks like some weird science project. Or you could fool people and pretend you're just baking beans.
At this point, it'll just barely be starting to set. So you take off the foil and beans and stab the crust all over with a fork to kill any dreams it has of puffing up in the pan in case the beans didn't get the point across. Then throw it back in the oven for another 15-ish minutes annnnd . . .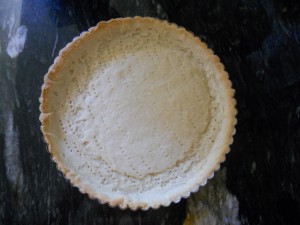 You end up with this golden beauty! Now let it cool. The crust's story is over and the curd's story is about to begin.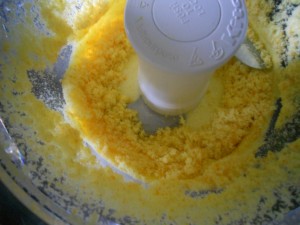 For the curd, zest 3 oranges and throw the zest and some sugar into a food processor and grind it all up until it looks like something you wanna squish between your hands, like wet sand.
Now, mix the sugar and zest with butter, eggs, and orange juice. It should appear sort of curdled and grainy. But we're only halfway done!
Pour it into a pan and cook it on the stove over medium-low heat. This part is critical. You have to cook it until it is very thick; it might have to boil lightly to get to this stage. The first time I tried to make this, it didn't get thick enough because the heat was too low so my tart ended up being a sad, runny mess. The sugar should be completely dissolved and the curd shouldn't be runny at all. Once it cools to warm, it's ready to go!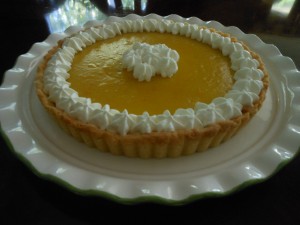 So you pour it in the crust, chill until set, top it with whipped cream (if your heart desires), and cut yourself a big ole slab because you deserve it after all your hard work! That's what I told myself anyway.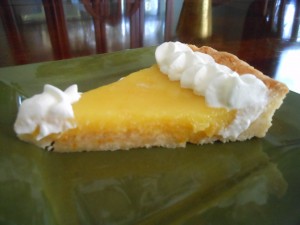 My oranges did me proud. Their juice and zest helped me make a tangy, sweet tart that is pretty and pretty amazing. However, if you absolutely MUST have that all-familiar "zing!", go ahead and throw in a little splash of lemon juice. Take my word for it though: oranges may be more mellow, but they are a force to be reckoned with.
Orange Curd Tart
Source: adapted from Barefoot Contessa's Lime Curd Tart
Yield: One 9-inch tart
Tart Shell:
3/4 cup unsalted butter at room temperature
1/2 cup sugar
1/2 tsp vanilla extract
1 3/4 cups all-purpose flour
Pinch of salt
Preheat the oven to 350 degrees F.
In the bowl of an electric mixer fitted with a paddle attachment, mix the butter and sugar together until they are just combined. Add the vanilla. In a medium bowl, stir together the flour and salt, then add them to the butter-and-sugar mixture. Mix on low speed until the dough starts to come together. Dump onto a surface dusted with flour and shape into a flat disk. Press the dough into a 9-inch-round false-bottom tart pan, making sure that the finished edge is flat. Chill until firm.
Butter one side of a square of aluminum foil to fit inside the tart and place it, buttered side down, on the pastry. Fill with beans or rice. Bake for 20 minutes. Remove the foil and beans, prick the tart all over with the tines of a fork, and bake again for 12-15 minutes more, or until lightly browned. Allow to cool to room temperature.
Filling:
3 oranges
1 1/2 cups sugar
½ cup unsalted butter, at room temperature
4 eggs, at room temperature
1/8 tsp salt
Zest the oranges and put the zest in a food processor fitted with a steel blade. Squeeze the oranges to make 1/2 cup of juice and set the juice aside. Add the sugar to the food processor with the zest and process for 2 to 3 minutes, until the zest is very finely minced. In the bowl of an electric mixer fitted with a paddle attachment, cream the butter with the sugar and orange zest. Add the eggs, one at a time, and then add the orange juice and salt. Mix until combined.
Pour the mixture into a 2-quart saucepan and cook over medium-low heat, stirring constantly, until thickened and slightly bubbling, about 10 minutes. Remove from the heat and set aside.
Fill the tart shell with warm orange curd and chill for a couple hours until set. Decorate with sweetened whipped cream, if desired, and serve cold.