Well, it's official, school is on again. Back to spending hours reading textbooks, writing papers, and studying for exams. At busy times like this, easy recipes are a baker's best friend. And guys, this one is easy. You know, easy like ABC, 123, and doe-ray-mee. Baby you and me, girl. Basically, a kid could do make these delicious, magical milkshakes. Sorry Mr. Ice Cream Man, I think I've got you beat here. The best thing about these shakes is that there are whole miniature cinnamon rolls in them, so, when you slurp them up, you can taste the miniscule cinnamon-ey crumbs that they were obliterated into. Therefore, what I say next is pretty validated. Warning: This is no ordinary milkshake . . .
All it takes is these three ingredients: Ben & Jerry's Cinnamon Buns ice cream, International Delight Cinnabon coffee creamer, and mini cinnamon rolls. See a theme here? I basically just looked for anything with a picture of a cinnamon roll on it and said, "It's going in!"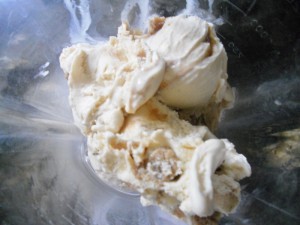 It's hard to think of anything less complicated here. Throw all the ice cream into your mouth into a blender . . .
Toss in two cinnamon rolls. They are the essence of these shakes.
Pour in the creamer, making sure to soak the cinnamon rolls in it so they get all soft and ah-mazing like that.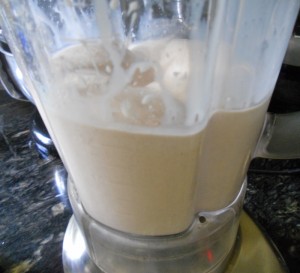 Blend, blend, blend 'til ya can't blend no mo! Orrrr, until smooth but still thick.
Like this! You should be left with a thick, creamy pool of milkshake-ness. If it's too thick you can add more creamer. You're supposed to pour it in a tall glass now, or you could just drink it straight from the blender like I did a certain blogger I know did.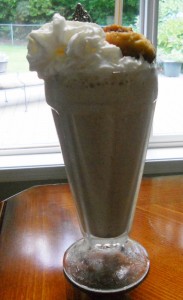 Ahhhh exactly what I need to get me through my studying. And the extreme sugar rush will help me with those late nighters! Enjoy my fellow learners! And anyone else who loves milkshakes (basically everybody)!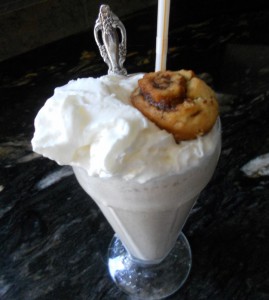 Cinnamon Roll Milkshakes
Source: All Things Sweet original recipe
Yield: 1-2 servings
Prep: 5 minutes
Ingredients:
1 pint Ben & Jerry's Cinnamon Buns ice cream
2 miniature cinnamon rolls
1/4 cup International Delight Cinnabon coffee creamer
Place the ingredients in a blender and blend until smooth but still thick, about 30 seconds. Pour into a tall glass and serve immediately with a spoon or straw.