Reese's Puffs Peanut Butter Cheesecake Bars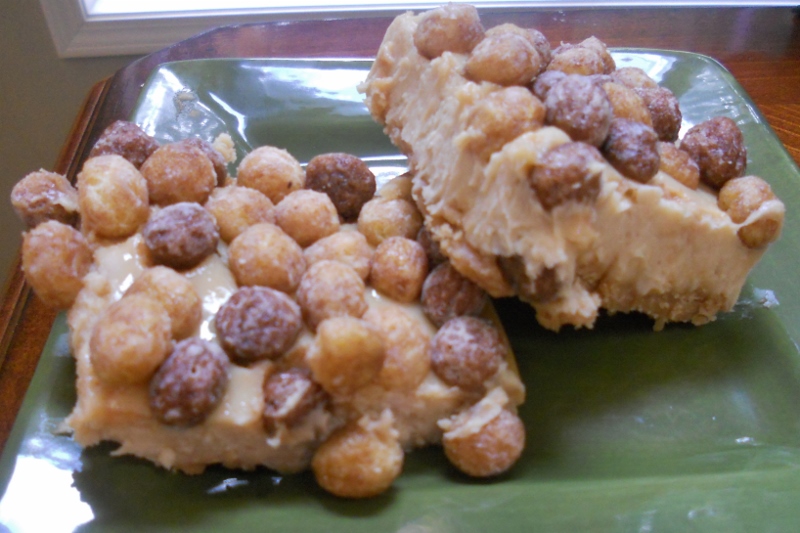 This week has been a painful one for me. Literally. I got my wisdom teeth pulled Friday and I've been icing my swollen, aching chipmunk cheeks ever since. But between doing that and being knocked out by my pain meds for hours at a time, I was able to come up with a great, easy dessert that was actually soft enough for my throbbing mouth to consume.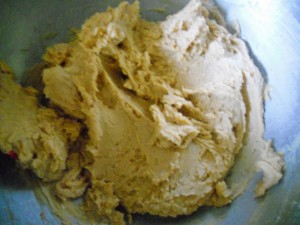 I had made peanut butter cheesecake before, but this time I decided to convert it into bars, using my favorite peanut butter shortbread as a crust (see that dough up there?). Then, when deciding what to use as a topping, I remembered one of the greatest things to be put on the grocery store shelves since Pop Tarts: Reese's Puffs cereal!! Now, don't get me wrong, I'm actually a Cinnamon Toast Crunch lover first. I have pictures of me camping with my family when I was 4 with my arm stuffed into a box of that delicious stuff. But for these treats, Reese's Puffs were the only option. So(!), you start with the peanut butter shortbread dough . . .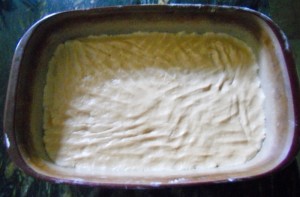 Press it into a 9 x 13 pan using floured hands. Now when you have an amazing dough such as this, it can take everything in your soul not to just eat it all with a big spaghetti spoon (or your hands, like me). However, keep in mind that these bars will never be able to exist without a stable structure to live on. It's for the greater good.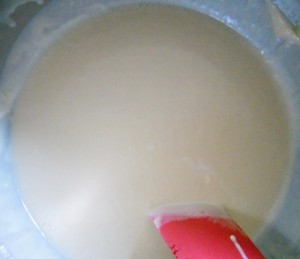 So, while you bake the crust in the oven for about 8 minutes to set a little bit, get to work on that heavenly cheesecake filling. You'll be surprised at how fast and easy it is to make cheesecake filling. In other words, there's no excuse not to make these 😉 Unless you're lactose intolerant or allergic to peanuts. Then, you probably shouldn't make these. But I digress . . .
Pour the cheesecake batter over the crust and bake in a very weird fashion. By that I mean bake it for 10 minutes at 325 degrees then again for 45 minutes at 260 degrees. Raise your hand if you don't have a 260 degrees mark on your oven dial. Me! Me! Me! So just put it slightly past 250.
Then, stick the baked cheesecake in the fridge to chill for 4+ hours or overnight. The sprinkle lots and lots of Reese's Puffs cereal over the top of the bars (not your mouth), pressing them in lightly. At this point, you should cut them into bars and serve them. OR cut them into bars first and sprinkle the cereal onto each one individually. This is critical because, after a day, the cereal will get soggy. So, I would suggest cutting them into bars first and using the cereal as you eat them. OR eat the bars plain while you have a bowl of Reese's Puffs on the side. That sounds like a happy morning to me!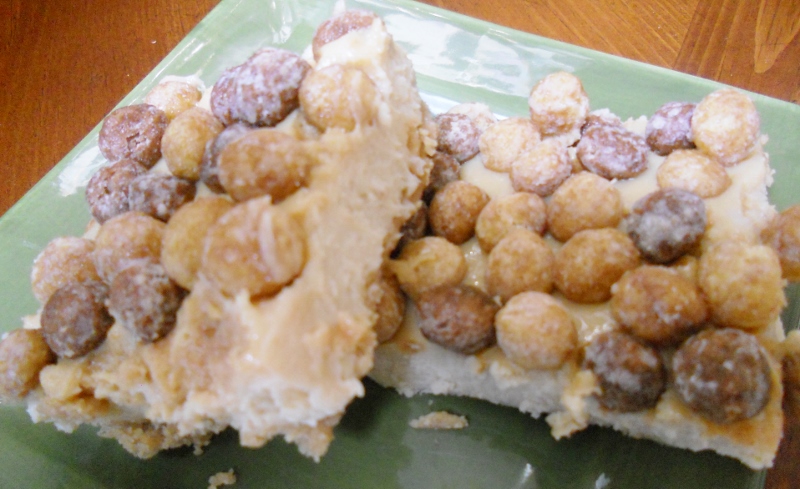 These bars are super-creamy and peanuty that nothing could stop me from running into my parents' bedroom at 9 pm with the spoon still in my mouth and shouting "Ehr meh gerd, my bars are SOOOO good!" That's the best kind of end to a baking experience in my book.
Reese's Puffs Peanut Butter Cheesecake Bars
Yield: about 15 bars
Source: cheesecake portion adapted from Buns in my Oven
Crust:
1/2 cup unsalted butter, at room temperature
3/4 cup granulated sugar
1/2 tsp. vanilla extract
1 egg, at room temperature
1 cup creamy peanut butter
1 1/2 cups all-purpose flour
1/2 tsp. baking powder
3/4 tsp. salt
Preheat the oven to 350 degrees F. Grease a 9 by 13 by 2-inch cake pan and set aside.
In the bowl of an electric mixer fitted with the paddle attachment, cream the butter and sugar on medium speed until light yellow. With the mixer on low speed, add the vanilla, eggs, and peanut butter and mix until all ingredients are combined.
In a small bowl, stir together the flour, baking powder, and salt. With the mixer on low speed, slowly add the flour mixture to the peanut butter mixture. Mix just until combined.
Place the dough into the prepared cake pan and press evenly into the bottom of the pan using floured hands. Bake for 8 minutes until it's just started to set. Let cool for a couple minutes. Turn the oven down to 325 degrees.
Cheesecake Filling:
Two (8 0z.) packages cream cheese, at room temperature
1 cup granulated sugar
1/2 cup creamy peanut butter
3 tbsp. all-purpose flour
4 eggs, at room temperature
1/2 cup milk
Reese's Puffs cereal, for topping
In the bowl of a stand mixer, beat together the cream cheese, sugar, peanut butter, and flour until smooth and creamy. Beat in the eggs, one at a time. Stir in the milk. Pour the batter onto the prepared crust and gently spread it out evenly. Bake for 10 minutes at 325 degrees.
After 10 minutes, reduce heat to 260 (I put the oven dial just past 250) and bake for 45 minutes or until the center is just slightly jiggly.
Cool on the counter top for 30 minutes then move to the refrigerator to cool for another 4+ hours. After they've chilled, either sprinkle the cereal over the top before cutting or cut them into bars first, then sprinkle on the cereal, pressing in lightly. Serve immediately.