This weekend my family celebrated my grandma's 78th birthday. We had dinner and everything but I'm just gonna cut to the chase here and say that my grandma is really, really, really cool and is lookin' really, really, really good. While trying to decide what kind of dessert she wanted, we traveled back through time and discussed desserts that my great-grandma used to make. We particularly remembered a white cake that she made with cherries, walnuts, and coconut frosting. Sadly, we couldn't find the original recipe she used, so I just decided to try to recreate it myself. It worked out really, really, really nicely.
Basically, you just start with a simple white cake batter; you know, butter, sugar, egg whites, flour, etc. Just read the recipe people. It's super duper easy.
Then, the fun and pretty part! Chop up a bunch of maraschino cherries. Try not to squirt cherry juice all over yourself like I did. And fold them on in.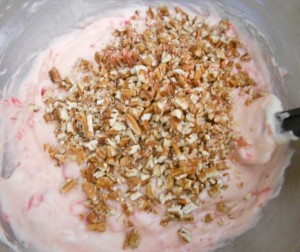 Once the batter is nice and pink, fold in lots of chopped nuts. Here's a funny story by the way: while at the grocery store, my mother dearest guaranteed me that we already had walnuts at home, so we didn't need to buy any. But guess what. We got home and there was nary a walnut to be found. Thanks mama. But, we did have tons and tons of pecans. So, they had to do.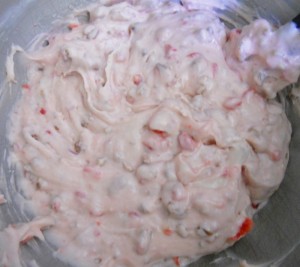 This is what the batter should look like. In short, pale pink and very, very lumpy. But that's just from all the fun going on inside, right? Right.
Pour it into two greased cake pans. I like to cut out rounds of wax paper and stick them on the bottoms of the pans because it helps ensure a non-sticking baking experience. I've had the sticking experience too many times without the paper and it's a surefire way to ruin a person's day and make you wanna hole up in a corner and quit everything in life. But wax paper helps get em' out every time. Insurance, people, insurance.
Perfect looking cakes! If I do say so myself. I am a sucker for all things pink 😉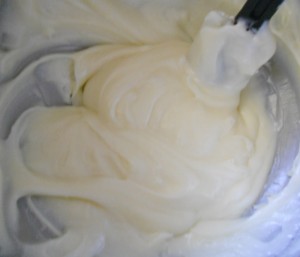 Then, the frosting. I just made a basic cream cheese frosting since it seems to just naturally go with coconut and it's always on coconut cakes and yadda yadda yadda. Hey, by the way, is coconut actually in the nut family? I know it has "nut" in its name but this was a major debate at the dinner table (I think my family is nuts, pun pow!) and we couldn't reach a conclusion, so someone please leave me the answer in the comments! I'm sure you all are very credible sources.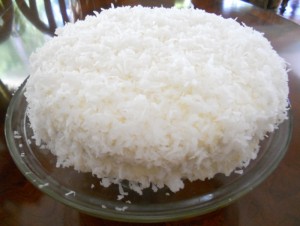 And once you frost the cake and press on the coconut, you get this fluffy, round beauty! I think one of my fave things about coconut cake is how it just looks like a furry snowball and that makes my heart smile for some reason. I just must love fuzzy, furry things. You should see my cat. But I would've also liked to have placed maraschino cherries along the top of the cake to make it look even cuter. But, I used them all. Next time!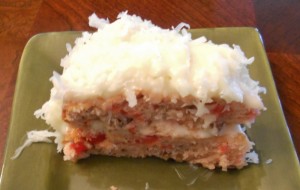 In the end, this cake was a perfect update on great-grammy's classic. It was perfectly dense and moist like a fruity cake should be and the  birthday girl loved it. I loved it. My mom loved it. All us girls loved it. (I say that because my dad turns his nose up at coconut. But I'm trying to coax him out of that. I'll break him down one day. One day.) Anyway, this cake is so happy looking and will make cherry-lovers everywhere go nuts. Pun pow, again!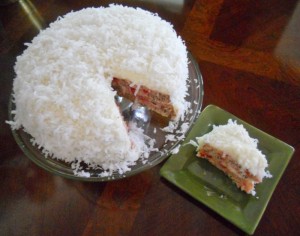 Cherry Nut Cake
Yield: One 9-inch cake, about 12 servings
Source: All Things Sweet original recipe
Cake:
1/2 cup unsalted butter, at room temperature
1 1/2 cups granulated sugar
4 egg whites, at room temperature
2 tsp. vanilla extract
1 tsp. almond extract
2 cups all-purpose flour
1 tsp. baking powder
1/2 tsp. baking soda
1/4 tsp. salt
1 1/3 cups sour cream
One 10-oz. jar maraschino cherries, drained and chopped
1 cup chopped nuts of your choice
Preheat oven to 350 degrees F. Grease two 9-inch round baking pans and line with circles of wax paper, then grease the paper. Set aside.
In a large mixing bowl, cream butter and sugar until light and fluffy. Add egg whites, one at a time, beating well after each addition. Beat in vanilla and almond extract. Combine the flour, baking powder, baking soda, and salt. Add to creamed mixture alternately with the sour cream, starting and ending  with the dry ingredients. Fold in the chopped cherries and nuts using a rubber spatula. Spread evenly into the prepared cake pans and bake for 30-35 minutes until a toothpick inserted comes out clean. Cool for 10 minutes before turning cakes out onto a wire rack. Let cool completely.
Coconut Frosting:
1/2 pound cream cheese, at room temperature
1/2 cup unsalted butter, at room temperature
4 cups powdered sugar, sifted
1 tsp. vanilla extract
1/2 tsp. almond extract
One 14-oz. package sweetened flaked coconut
In the bowl of a stand mixer fitted with a paddle attachment, combine the cream cheese and butter. Mix in the powdered sugar until smooth then stir in the vanilla and almond extract. Place one cake layer onto a cake plate with strips of wax paper placed underneath it. This just ensures that the cake plate will stay clean. Frost the top of the cake layer with a generous amount of frosting then place the second layer on top. Frost the top and sides of the cake with the rest of the frosting. Press the coconut onto the frosted top and sides of the cake until well-covered. Carefully remove the wax paper from underneath cake before serving.