Raspberry Mousse Shooters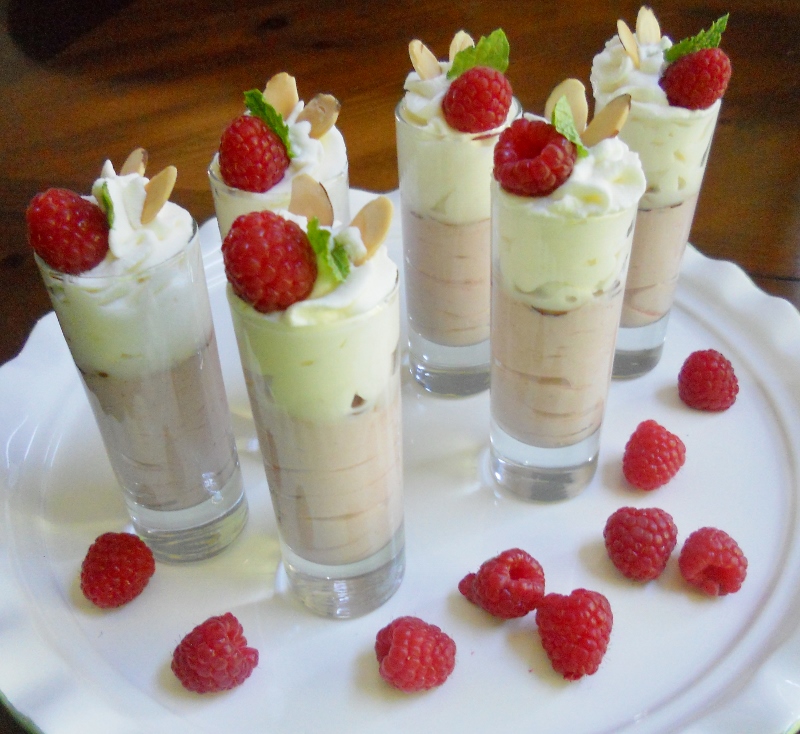 I am pleased to announce that I am FINALLY done with my summer classes and can officially say that my summer break has started!!! *Happy dance time* The bad news: it's only gonna last 3 weeks. Poo. But that just means I gotta live it up while it lasts, right? "Right!" Thanks, I thought so. Anyhow, in that spirit, I decided to make an easy, light, summery dessert. Remembering how amazing my chilled mango bisque turned out, I wanted to try something a tad similar: a light, airy, fruity mousse; all starting with my favorite homemade raspberry sauce (look down!).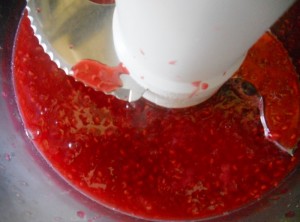 But for the purpose of having a perfect, silky mousse where you're not crunching on hard seeds, I strained them out. Then, after a good few minutes of talking myself out of just pouring this sauce over ice cream, I then stirred it into some egg yolks that were whisked with sugar until they were thick and pale yellow (picture not included because I'm spacey like that). And, after the sauce and yolks are combined together in one velvet harmony, you have your base! Pat yourself on the back, it's all just gravy from here. No it's not, it's mousse!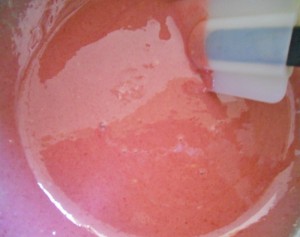 Now you just whip up some cream . . .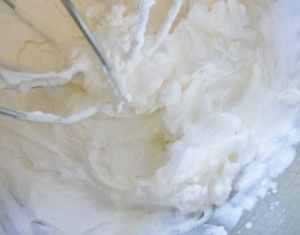 And fold its big, puffy pillows into the raspberry base until you have a thick, delicious bowl of raspberry mousse. Try not to dive head-first into it. You have to make it look cute now!
So, to give the mousse that lil' extra somethin' somethin' (or crunchy, hearty goodness) I toasted some sliced almonds in a pan until they were warm and browned. Everyone listen up right now. Nuts always have more flavor when they're toasted. Hear me? It doesn't matter what type of nuts or how you're serving them, just make sure you toast them. M'kay? Glad we're all on the same page now.
Then, I whipped up some extra cream for extra creaminess. Now the fun part! Fill some shooter glasses about 2/3 full with mousse, sprinkle on some toasty almonds, then top with sweetened whipped cream (I used a piping bag for this, but you can use a spoon if you want). And, because dessert should always always always be adorable, I decorated the tops with raspberries, almonds, and some mint springs, so they'd look exactly like this.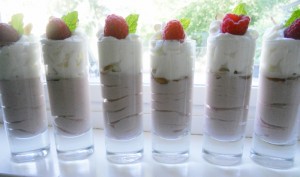 And the tops would look like this.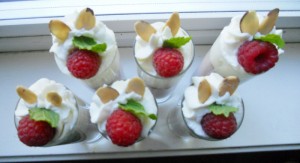 Now, you have a dessert that is super-light, creamy, refreshing, and summery. What more could a person want to eat on a sunny day? And they're extra-awesome because of how easy they are to hold and nobody likes walking around, holding a heavy plate of dessert that could potentially spill all over you and make you cry. Plus, I think shooters are just too cute and perfect. Which these are. So, I will enjoy slurping these down and having a relaxing (albeit short!) summer break.
Raspberry Mousse Shooters
Yield: 12 mini parfaits
Source: All Things Sweet original recipe
Raspberry Mousse:
1/2 cup fresh raspberries, plus extra for assembly
1/2 cup granulated sugar, divided
2 tbsp. water
1/2 cup seedless raspberry jam
2 tbsp. Framboise liqueur
2 egg yolks
1 1/2 cups heavy cream
Place the raspberries, 1/4 cup granulated sugar, and water in a small saucepan. Bring to a boil, lower the heat, and simmer for 4 minutes. Pour the cooked raspberries, the jam, and Framboise into the bowl of a food processor fitted with the steel blade and process until smooth. Pour raspberry sauce through a fine mesh strainer to remove seeds. Let cool to room temperature.
In a medium bowl, whisk the egg yolks and remaining 1/4 cup sugar until very pale and thick and have doubled in size. When the raspberry sauce has cooled, whisk it into the egg mixture.
In the bowl of an electric mixer fitted with a whisk attachment, whip the heavy cream to medium peaks. Using 1/3 of the whipped cream at a time, fold the cream into the raspberry mixture. Repeat this process until all the cream is incorporated. Chill the mousse for at least one hour.
Sweetened Whipped Cream:
1 1/4 cups whipping cream
3 tbsp. sugar
1/2 tsp. vanilla extract
In the bowl of an electric mixer fitted with a whisk attachment, combine the whipping cream, sugar, and vanilla and whip until stiff peaks form. Keep chilled while the mousse chills.
Assembly:
1/4 cup sliced almonds
Mini parfait glasses (I used 2.5 oz glasses)
Fresh raspberries
Mint sprigs
Place the almonds in a dry pan and toast on medium heat until lightly browned. Using either a spoon or a piping bag, fill the parfait glasses about 2/3 full with mousse. Sprinkle about a teaspoon of toasted almonds on top, then fill the glasses the rest of the way with sweetened whipped cream. Top with fresh raspberries, toasted almonds, and mint sprigs. Serve cold.