Baked Red Velvet Doughnuts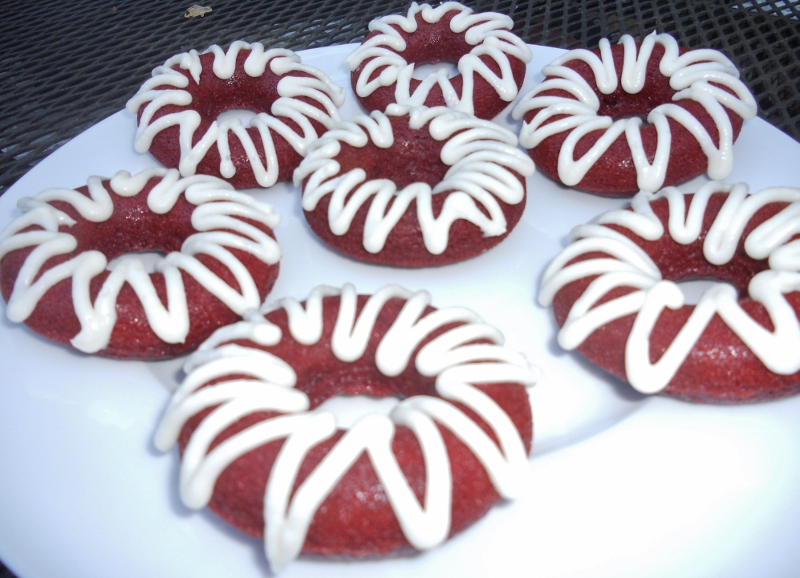 Let's face it, people. Red velvet is red hot right now. I've seen red velvet cakes, cookies, brownies, pancakes, etc, which leads me to two conclusions:
1.     I spend too much time on Pinterest.
and
2.     Red velvet is basically taking over the world right now and can be made into almost anything.
Well GUESS WHAT.
I saw baked doughnuts being made on TV the other day and instantly knew I would have to try them for myself. So, when I was deciding what kind of doughnuts to make, well . . .  you know . . . the whole red velvet invasion? It took over my mind at that moment! It's a sneaky little devil but, as good as it tastes, I think I'll stay under its spell.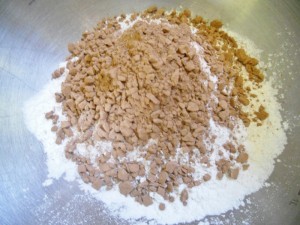 If you haven't yet been enchanted by this dessert flavor and want to know of its origin, well, see that cocoa mixture above this sentence? You start with that.
Then, you concoct a wet mixture with the secret (shh!) ingredient (it's not really a secret): red food coloring! Are you shocked? Not really? That's okay, I wasn't either. But it is the most important!
And when you stir the dry cocoa mixture with the red wet mixture, you get this here red cocoa mixture! By the way, (fun question!) how do you think red and chocolate came together? Actually, now that I think of it, there is a movie called Blood and Chocolate. Hmmm. Nahh that's too gross. I'm gonna go with the fact that roses and chocolate are always together (hear that, men!). Yeah, that's probably it! Okay, rant over. Onward!
That funny looking pan right there is an actual DOUGHNUT pan!!! Finally! Doughnuts right at my finger tips!! So, just pour your delicious red batter into your mouth into the doughnut-shaped molds and toss it in the oven. Actually, don't toss it. You'd lose the batter and you and I would both cry. Set in the oven gingerly and wait 13 minutes. Meanwhile, let me tell you about Red Velvet's sidekick . . .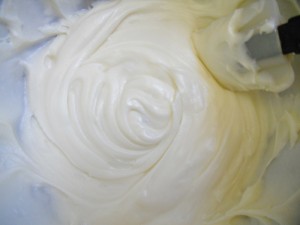 Meet Cream Cheese Frosting! There's Batman and Robin, Rocky and Bullwinkle, Milo and Otis, and now there's this shining duo! Everywhere you see Red Velvet, Cream Cheese Frosting is right alongside it. So, while the doughnuts are baking, whip this up really fast. You can't have one without the other!
Tah-dah! We have doughnuts! Now, all you gotta do is tap them out of the pan, let them cool for 5 minutes, top them with the frosting, and you'll get . . .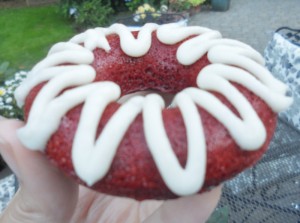 THIS!!
These doughnuts are soft, spongey, chocolatey, and just so darn beautiful. They require a few steps but they're each really simple and you won't even remember them once you're holding these babies in your hands! Like I said, red velvet is an enchanting thing. Once you have it, be prepared to take a tumble down the rabbit hole. Or in this case, the doughnut hole!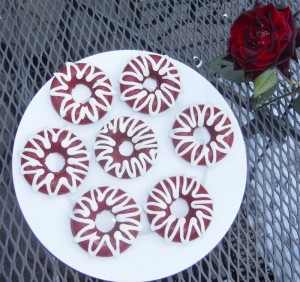 I told you: chocolate and roses 😉
Baked Red Velvet Doughnuts
Yield: 20-22 doughnuts (I got 21)
Source: All Things Sweet Original recipe
Doughnuts:
1 3/4 cups all-purpose flour
1/4 cup cocoa powder
1 1/2 cups sugar
2 tsp. baking powder
1/2 tsp. salt
1 egg, lightly beaten
1 1/4 cups milk
2 tbsp. unsalted butter, melted
1 tsp. vanilla extract
2 tbsp. liquid red food coloring
Preheat the oven to 350 degrees. Grease a doughnut pan well with cooking spray.
Into a large bowl, stir together the flour, cocoa powder, sugar, baking powder, and salt. In a small bowl, whisk together the egg, milk, melted butter, vanilla and food coloring. Stir the wet mixture into the dry ingredients until just combined.
Spoon the batter into the baking pans, filling each one a little more than three-quarters full. Bake for 13 minutes, until a toothpick comes out clean. Allow to cool for 5 minutes, then tap the doughnuts out onto a sheet pan and let cool completely.
Cream Cheese Topping:
1/4 pound cream cheese, at room temperature
1/4 cup (1/2 stick) unsalted butter, at room temperature
1 1/2 cups confectioners' sugar, sifted
1/2 tsp. vanilla extract
In the bowl of a stand mixer fitted with a paddle attachment, stir together the cream cheese and butter until well-combined. Gradually add confectioners' sugar, then the vanilla and mix until smooth. Using either a knife or a piping bag, top the doughnuts with the cream cheese icing.