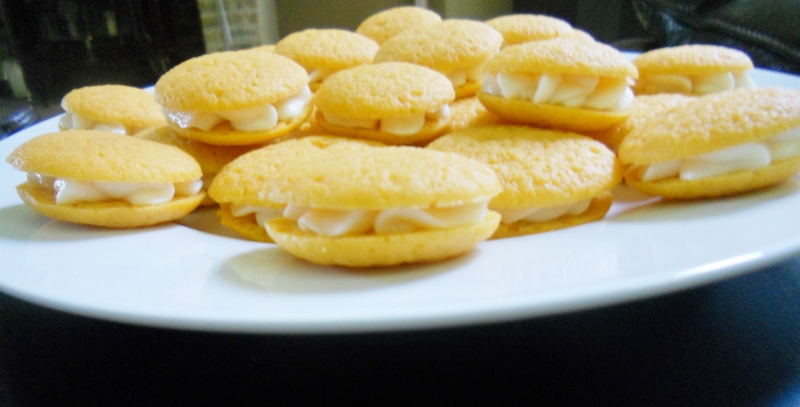 Okay, the name of these little guys literally makes you cheer. And with good reason! They're soft, flavorful, and surprisingly easy to make! In fact, I vote that whoopie pies should become the new Twinkie. Anyone second?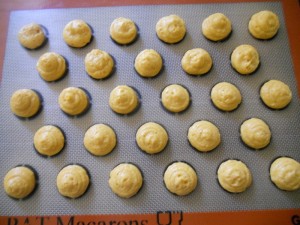 For those of you who are wondering, a whoopee pie is basically a bite-size cookie composed of sponge cake shells and some sort of filling, usually a frosting or ganache. I'm actually pretty proud of these mimosa-flavored ones I dreamed up one night. The shells are infused with tangy, orange juice flavor and then filled with a fruity champagne buttercream. The thing I was most excited about was getting to have Tang (the secret OJ ingredient) again for the first time in several years! I felt like a kid again, except this time I wasn't drinking it at my grandparents' house, I was tossing it into my batter.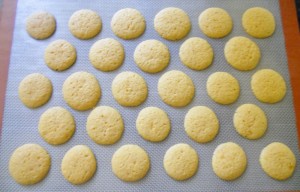 As for the filling, I was really curious to see what champagne would taste like in a buttercream, especially after it's been reduced to such a small, concentrated amount. But after I made it, I was shocked to find out how fruity it tasted! And what's great is that, just looking at the filling, you wouldn't know what flavor it is since it just looks plain and white. But when the flavor (metaphorically) punches you in the mouth, it's one happy surprise.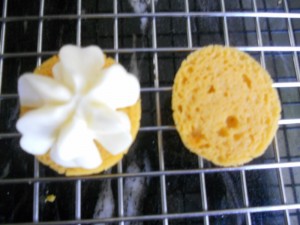 My only note is that these pies should always be kept at room temperature. If they get too warm, they can become too soft and sticky which can make them fall apart easily. So just make sure they're not sitting in the sun or in the backseat of your car. That would make whoopie pies into whoopsie pies.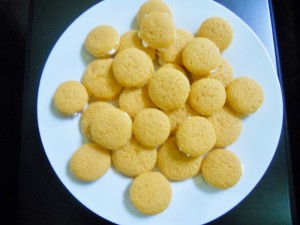 Mimosa Whoopie Pies
Yield: 55-60 pies
Source: adapted from Sprinklebakes' Strawberry Milk Whoopie Pies with Heather Baird's Champagne Frosting
Orange Juice Shells:
2 1/4 cups all-purpose flour
1 1/2 tsp. baking powder
1/4 tsp. salt
8 tbsp. vegetable shortening
3/4 cup powdered orange juice mix (such as Tang)
1/2 cup brown sugar
1 whole egg, at room temperature
1 egg white, at room temperature
1 cup heavy cream
2 tbsp. milk
1 tsp. baking soda
1 tsp. white vinegar
Preheat oven to 375 degrees. Line two baking sheets with parchment paper
In a bowl whisk together flour, salt, and baking powder, set aside. In the bowl of a stand mixer fitted with paddle attachment, combine vegetable shortening, orange juice powder, and brown sugar.  Mix until crumbly. Add the egg and egg white, to the mixture and beat well, then add the heavy cream; mix until smooth.
In a small condiment cup, combine milk, baking soda and vinegar. Stir well, mixture will foam. Pour baking soda mixture into the batter first and then pour flour mixture in on top.  Mix on low speed until thick and combined.  Scrape down sides and bottom of bowl and mix again until well combined.
Transfer mixture to a piping bag or a large zip-top sandwich bag with the corner snipped off. Pipe batter into heaped 1″ rounds on the baking sheet. Bake for 8 minutes until firm. Let cool for 2-3 minutes before transferring to a wire rack, then cool completely before filling with champagne buttercream (recipe follows).
 Champagne Buttercream Filling:
1 cup plus 1 tbsp. champagne or prosecco
1 cup (2 sticks) unsalted butter, at room temperature
2 1/2 cups confectioners' sugar, sifted
Place 1 cup of champagne in a small saucepan. Simmer over medium-high heat until reduced to 2 tablespoons. Transfer to a small bowl or condiment cup and allow to cool.
In the bowl of a stand mixer fitted with the whisk attachment, cream butter and powdered sugar together. Once the frosting is thick and fluffy, pour in the reduced 2 tbsp. champagne plus  1 tbsp. champagne from the bottle and mix well. Fill pie shells with frosting.