Oreo-Stuffed Peanut Butter Cookies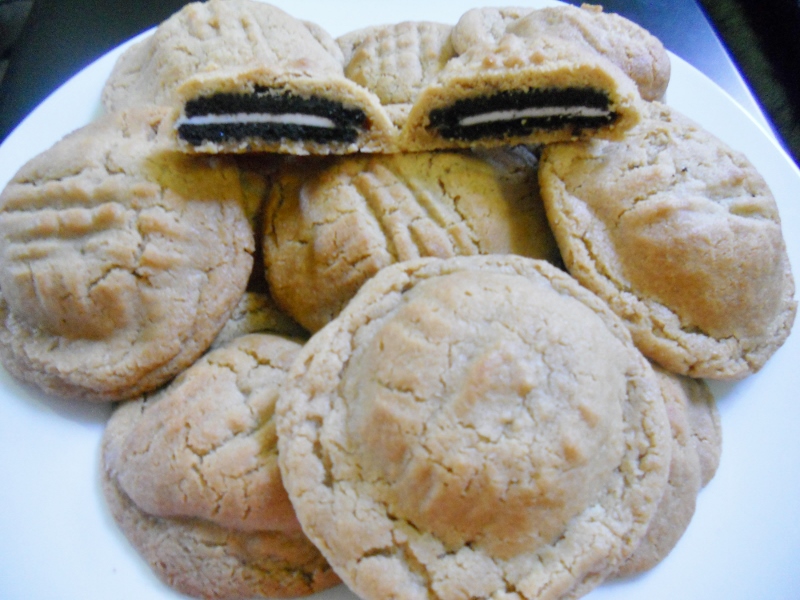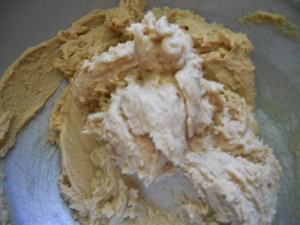 When my sister and I were just a couple of crazy kids, we saw this little movie called The Parent Trap. And that's when we discovered there was such a thing as spreading peanut butter on Oreos. So, obviously we tried it first chance we got (my first shot at baking, perhaps?). To say the least, our 4 and 6-year-old minds were pretty much blown. Therefore, these cookies are an ode to that combination we all know and love. Shout out to 11-year-old Lindsay Lohan: I would send you these cookies if I could.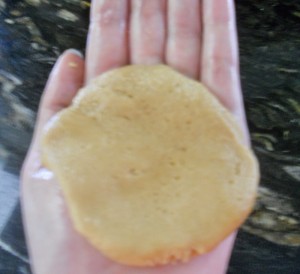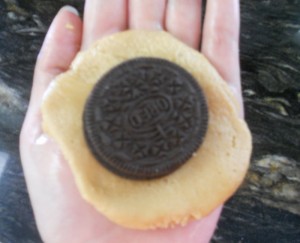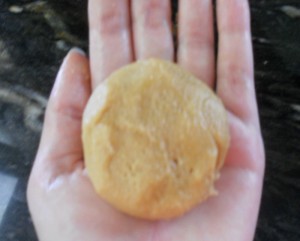 I have to say, peanut butter cookies are one of my favorites due to the fact that the peanut butter makes them super-soft and moist. In fact, those words basically describe these cookies perfectly. They're even made better by the fact that the Oreos become soft as well when they're baked. Know what that means everybody? Biting into these cookies is like biting into a peanut butter-y pillow that instantly melts in your mouth. Even thinking about these cookies pretty much makes me melt.
We all like candies with surprise centers. Cookies with surprise centers are even better since it's so unexpected! If you serve these to people, I can guarantee that finding an extra cookie inside their cookie will put a smile of shock-and-awe on their faces. Now excuse me while I go eat another one . . .
Oreo-Stuffed Peanut Butter Cookies
Yield: about 20-22 cookies
Source: All Things Sweet original recipe
Ingredients:
1 1/2 cups all-purpose flour
1 tsp. baking soda
1/2 tsp. salt
3/4 cup (1 1/2 sticks) unsalted butter, at room temperature
1 cup smooth peanut butter
2/3 cup granulated sugar
2/3 cup brown sugar, packed
1 egg, at room temperature
1 tsp. vanilla extract
1 package Oreo cookies
Preheat oven to 375 degrees F.
1.     In the bowl of a stand mixer fitted with a paddle attachment, beat butter on medium speed for about 30 seconds, then add peanut butter and both sugars; beat until fluffy. Add egg and vanilla and beat again until well-blended. In a medium bowl, combine flour, baking soda, and salt. Gradually add flour mixture to the wet mixture, mixing on low speed until just combined. Cover and chill dough in the freezer until very cold and easy to handle, about an hour.
2.     Scoop out 2-3 tablespoons of dough and, using greased hands (I used cooking spray), flatten the dough between your palms. Place a cookie in the middle of the dough and fold the dough up around the cookie until completely covered. Lightly pat the sides with your fingers to smooth the edges. Using a fork, press a criss-cross pattern into the top of each cookie. Re-grease your hands between each dough piece and repeat until all the dough is used.
3.     Place dough balls about 2 inches apart on a baking sheet and bake for about 14 minutes until puffed. Let cool for about 5 minutes on the pan before transferring to a wire rack.