Patriotic Deep Dish Apple Pie with Great-Grandma's Homemade Ice Cream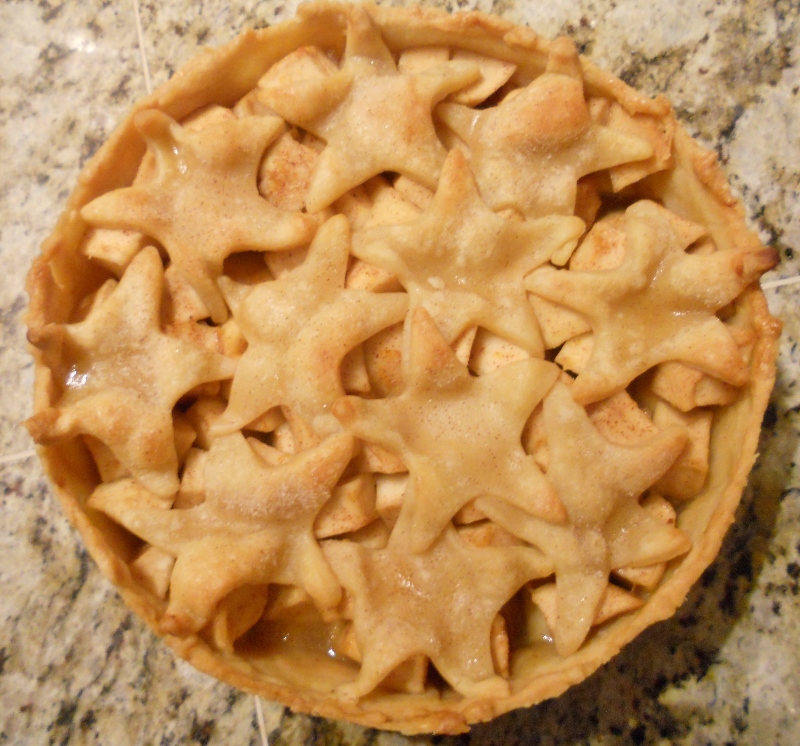 Happy 'Merica Day! Okay, I guess technically that was yesterday. I meant to get this post done yesterday, but, when it came time to write it, my parents decided to spring a spontaneous road trip on me to visit my brother in Seattle to celebrate the 4th with him and his girlfriend. And, after we made the drive up here, we immediately went to dinner, then to see the fireworks show on the water, so by the time we got back to his condo it was 11:30 and nobody was hungry for pie. Therefore, guess what we had for breakfast this morning . . . yep 😉
This is a special deep dish apple pie due to the fact that it's baked in a spring form pan so, when you pop off the collar, the apples are completely surrounded by a tall wall of heavenly crust. And with the smattering of crusty, golden-brown stars on top, this pie is a definite showstopper.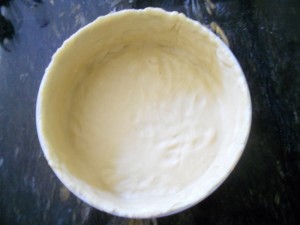 It's hard for me to decide which is more important: the crust or the apples. You eat more apples but the crust is pretty much the foundation that the apples are built on. Plus, crust is just darn good. I actually baked a small, extra one sprinkled with cinnamon-sugar from leftover dough (instant elephant ear!). Well, I guess crust wins here since I used a recipe for it that I absolutely knew would be amazing, whereas with the apple filling I just risked experimenting with my own recipe. They worked perfectly together in harmony!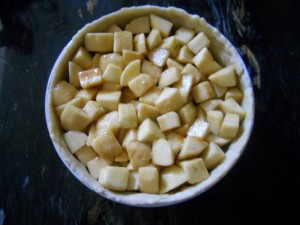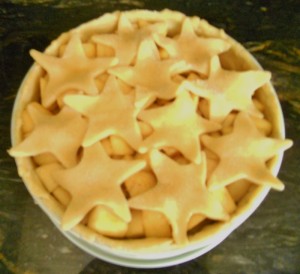 By the way, I also made the most incredible homemade vanilla ice cream and I'm proud to say that it is my great-grandma's recipe that I've watched my mom use several times growing up. It's the creamiest, frostiest ice cream I've ever known; there is seriously nothing like it. My only note about it is that you'll need an old-fashion ice/rock salt maker to create it. It's still a super-easy recipe to make, but if you only have a modern, automatic ice cream maker, you might have to invest in a different one. But, trust me, this ice cream is worth it!
All in all, I am in love with this pie; like head-over-heels. It was really fun to make and truly had that classic crusty/gooey, sweetly delicious apple pie taste that makes you feel proud to be American. And, together with great-grammy's ice cream, this dessert is one that makes you feel home <3.
Patriotic Deep Dish Apple Pie
Yield: 1 (9-inch) pie
Source: Crust recipe from Barefoot Contessa's Perfect Pie Crust
Prep: 2 hours 15 minutes
Crust:
12 tbsp. (1 1/2 sticks) very cold unsalted butter
3 cups all-purpose flour
1 tsp. salt
1 tbsp. sugar
1/3 cup very cold vegetable shortening
1/2 cup ice water
Dice the butter and return it to the refrigerator while you prepare the flour mixture. Place the flour, salt, and sugar in the bowl of a food processor fitted with a steel blade and pulse a few times to mix. Add the butter and shortening. Pulse 8 to 12 times, until the butter is the size of peas. With the machine running, pour the ice water down the feed tube and pulse the machine until the dough begins to form a ball. Dump out on a floured board and roll into a ball. Wrap in plastic wrap and refrigerate for 30 minutes. Prepare the filling in the meantime.
Filling:
4 pounds Honeycrisp apples (peeled, cored, and quartered)
Zest of a lemon
Zest of an orange
2 tbsp. freshly-squeezed lemon juice
1 tbsp. freshly-squeezed orange juice
1 cup light brown sugar, loosely packed
1/3 cup all-purpose flour
2 tbsp. cornstarch
1 tsp. salt
1 tsp. ground cinnamon
1/2 tsp. ground nutmeg
1/8 tsp. ground allspice
Toss the apples with the rest of the ingredients in a large bowl until the apples are well-coated with juice and spices.
Assembly:
1 egg, beaten with 1 tbsp. water, for egg wash
Cinnamon-sugar for sprinkling (2 tbsp. sugar, 1/4 tsp cinnamon)
Preheat the oven to 400 degrees F. Grease a 9-inch spring form pan and set aside.
Cut the dough into thirds. Roll two-thirds of the dough on a well-floured board into one circle, rolling from the center to the edge, turning and flouring the dough to make sure it doesn't stick to the board. Roll the dough up onto the rolling pin and unroll into the spring form pan. Gently press the dough into the bottom and sides of the pan, cutting off any excess around the top edge.
Pour in the apple filling and smooth the top for an even surface. Roll out the last third of the dough until it's about 1/8 inch thick. Using a star-shaped cookie cutter, cut out several stars and place them on top of the apple filling in a decorative fashion. Brush each star as well as the outer ring of crust with egg wash and sprinkle with cinnamon-sugar. Place the pie on a sheet pan lined with aluminum foil and bake for 20 minutes, then place a piece of aluminum foil on top of the pie to prevent over-browning. Bake for another 40 minutes until crispy and bubbly.
Great-Grandma's Homemade Vanilla Ice Cream:
Yield: 24 half-cup servings
Prep: about 35 minutes plus freezing time
Ingredients:
1 1/2 quarts half n' half
1 1/2 quarts whipping cream
2 1/2 cups granulated sugar
1 tbsp. vanilla
Dash of salt
Combine the ingredients together in the container of an ice/rock salt ice cream maker. Turn machine on and let it freeze according to the machine directions. When done, pour ice cream into a container and place in freezer until ready to use.