Ooey Gooey Salted Caramel Chocolate Chip Pound Cake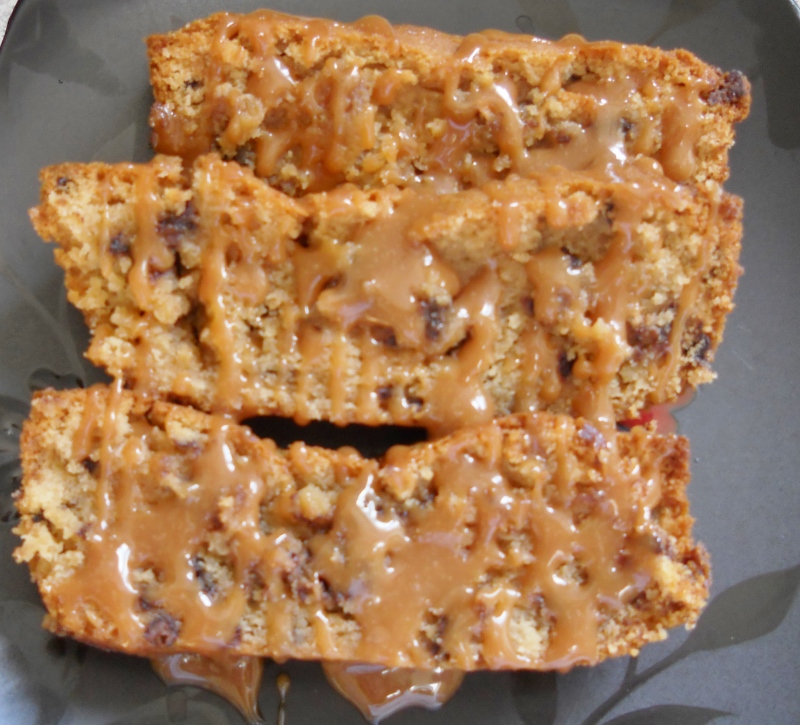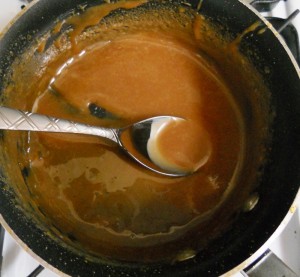 Week 2 of my Pullman vacay! The idea for this baby came about while my sis and I were watching a movie and eating caramel-covered popcorn, enjoying a 3-day weekend of no school or work to be done. Our hands became covered with salty caramel, and so did my thoughts. Hmm salted caramel cookies, bars, ice cream, cake . . . cake . . . pound cake. It'd be something I've never had before and it should be easy. Or so I thought . . .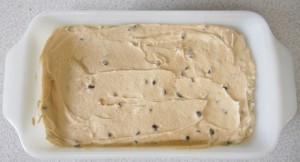 On my first attempt at this cake, my salted caramel turned out amazing, the batter tasted great, and everything was going as planned. But then, as it was baking, I noticed that the outside was browning while the middle was staying wet. So I kept baking it longer and longer until (bad news bears, guys) I burned it. However, I noticed that as it cooled, the center of it hardened. Aha! It keeps cooking as it cools! But it doesn't cook in the oven? This was one weird cake. Anyway, my sis and I just cut that cake in half, scooped the middle out, and ate it, leaving behind a burnt, crusty cake shell.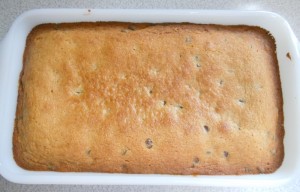 Then, it was Day 2, Round 2! I followed the recipe the exact same way, but this time I baked it for a shorter time and let it cool for a while before turning it out. And, just like the day before, the outer edges were firm and the middle stayed soft. But, at least it wasn't wet! That's when I realized that, being a caramel cake, it was destined to be soft and moist. How could that be a bad thing??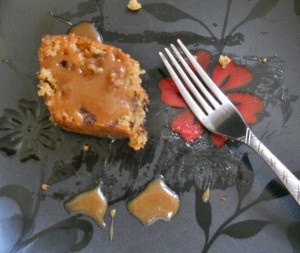 It's perfectly salty and caramely, rich and crumbly, and, especially served warm with extra salted caramel sauce drizzled on top, this cake is the perfect comforting dessert on a rainy day. If you want to make the extra caramel, just cut the salted caramel part from the recipe in half and pour it over some cake slices when it's cooled to warm. You can also adjust the amount of salt to your own liking. By the way, it was very entertaining showing my sis how to make homemade caramel, especially when she demanded that I let her pour in the cream so she could make it foam and go "Spooshhh!" When baking makes people smile like that, you know it's doing its job.
Ooey Gooey Salted Caramel Chocolate Chip Pound Cake
Yield: Serves 7-9
Source: All Things Sweet original recipe
Prep: 1 1/2 hours
Ingredients:
1/2 granulated sugar
1/4 cup water
1/2 cup heavy cream
1 1/2 tsp. vanilla extract
3 tsp. sea salt
1 stick salted butter, at room temperature
1 stick unsalted butter, at room temperature
1 cup brown sugar, packed
2 eggs, at room temperature
1 3/4 cups flour
1/4 cup cornstarch
1/2 tsp. baking powder
1/2 cup miniature chocolate chips
Preheat the oven to 350 degrees.
1.         In a medium saucepan, stir together granulated sugar and water.  Bring to a boil over medium-high heat. Cook without stirring until mixture turns a warm amber color.  Remove from heat and slowly add in cream (mixture will foam), vanilla, and sea salt, stirring until very smooth. Let caramel cool for about 20 minutes, until it is just barely warm and still pourable.
2.         Meanwhile, grease and flour an 8 1/2 x 4 1/2 x 2 1/2-inch loaf pan. In the bowl of an electric mixer fitted with the paddle attachment, cream together the butter and brown sugar on medium speed for 3 to 4 minutes, until light and fluffy. Add the eggs one at a time, stirring after each addition. Pour in the cooled caramel mixture and mix until well-combined.
3.         In a separate bowl, combine the flour, cornstarch, and baking powder. Slowly add it to the batter, mixing on low speed until just combined. Fold in the chocolate chips with a rubber spatula. Pour the batter into the prepared pan and bake for 40-50 minutes until browned and firm around the edges. Let cool for 15 minutes, then turn out onto a baking rack and cool completely. The cake will remain soft in the middle but that's what makes it ooey gooey!