Peanut Butter Cookie Dough S'mores (ft. a bonus tale about my first Pullman baking experience)
Hello from Pullman, Washington! I'm here visiting my sister, Brooke, at Washington State University where she lives and goes to school. So, for the next 10 days, I'll be documenting my experiences of what it's like to have to bake in a completely unfamiliar kitchen in a completely unfamiliar town. In fact, my very first baking experience was so scarring, I added a bonus short story at the end of this post to let you in on the horror of it all. But, anyway, let's talk about these s'mores.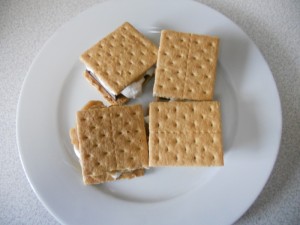 On my first day at sis's house, one of the first things I noticed when I was invading her kitchen was that she had a gas stove (something I don't have at my own house back home). Anyway, when I turned it on and saw that flame go "ploof!," I immediately thought "Okay, we're definitely making s'mores (a. because they'll be super-easy, (b. because I gotta take advantage of this self-contained miniature fire, and (c. because, well, S'MORES!!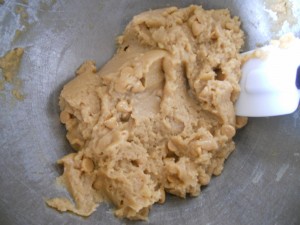 But, of course I couldn't just make plain s'mores because people have been making those since the discovery of fire! So, after a few moments of pacing and staring at the Audrey Hepburn poster on my sister's wall, it hit me. What's something else everybody loves? Cookie dough; that's a no-brainer! And then I found a brand new jar of peanut butter in the pantry and, well, you can guess what happened next. Anyway, I made up a quick peanut butter cookie dough that is eggless (salmonella? not for us!), and even has peanut butter chips in it so, in conclusion, it's delicious and you can eat as much as you want! No regrets.
The most important fact that I learned from making these s'mores: toasting a marshmallow over a gas stove is NOT as easy as it looks. Brooke and I managed to totally engulf our first 4 or 5 marshmallows in a fiery inferno. (See picture at left).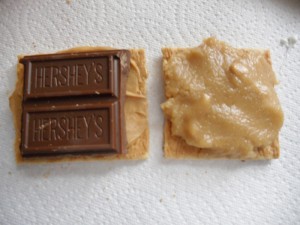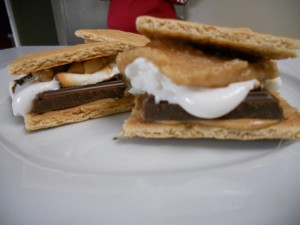 Anyhow, these s'mores are everything you'd dream they'd be. They're ooey and gooey, chocolatey, melty, doughy, and peanut butter-ey. And if you can't handle all that magic, I suggest inserting the toasted marshmallow directly into your mouth. Just not when the fork (yes, I used a fork) is still piping hot. And, again, yes, I did, in fact, make that mistake.
Peanut Butter Cookie Dough S'mores
Yield: 8 s'mores
Source: All Things Sweet original recipe
Prep Time: 5 minutes
Peanut Butter Cookie Dough:
1 1/2 cups all-purpose flour
1/2 tsp. salt
1/2 cup granulated sugar
1/4 cup brown sugar
1/3 cup unsalted butter, melted
1 1/2 tsp. vanilla extract
2/3 cup smooth peanut butter
1/2 cup peanut butter chips
10 tbsp. milk
In the bowl of an electric mixer fitted with the paddle attachment, stir together flour, salt, granulated sugar and brown sugar. Pour in butter and vanilla extract and add the peanut butter.  Mix until a dry dough forms. Add peanut butter chips and stir them in with a rubber spatula. When peanut butter chips are evenly dispersed, add milk 1 tablespoon at a time with the machine on low speed until a spreadable dough forms.
Assembly of S'mores:
16 graham cracker squares (8 whole sheets broken in half)
Peanut butter cookie dough (from above)
Smooth peanut butter
8 milk chocolate squares
8 large marshmallows
1.         Break a graham cracker in half along the middle seam. Spread one half with a dollop of cookie dough and the other half with a dollop of peanut butter. Place a chocolate square on the peanut butter half.
2.         Turn on a gas stove to medium heat. Skewer a marshmallow and toast it over the open flame until it reaches a desired toasted-brown color. Sandwich the toasted marshmallow between the prepared graham cracker halves and slide the skewer out.
3.         Repeat Steps 1 and 2 to make more s'mores.
Bonus Story!
My First Pullman Baking Experience
So, on about my second night in Pullman, I decided that I wanted to make a quick dessert because I was having one of my sugar attacks that I get often. I looked in the pantry and found an opened box of Funfetti cake mix that my parents brought from home. Hmm cupcakes sound good, I though to myself. But . . . Problem #1: No frosting. That's okay, I thought, I'll just make some up from scratch. Let's see, she had butter and now all I needed was powdered sugar, but . . . Problem #2: No powdered sugar. That's okay, I'll just make a cooked frosting with regular sugar. But . . . Problem #3: No regular sugar, either. Ummmmm.
After discovering my massive limitations, I decided to just make the cupcakes without any frosting. They'd still be good, right? So, after preparing the batter according to the package directions and tasting it, a horrible revelation hit me. That . . . wasn't . . . all . . . cupcake . . . mix. See, in that opened box of cake mix were three small bags. And in those three small bags were similar white, powder-like mixes. But in only one of those mixes was actual Funfetti cake mix. The rest of it, I decided, was  . . . Problem #4: pancake mix. So, in an attempt to cover up the vinegar-ey taste of the pancake/cupcake mix, I added some brown sugar Splenda (the closest thing I could find to actual sugar). It seemed to work. Then, I sprayed down the tiny muffin pan that I found because . . . problem #5: no cupcake liners and added the crazy batter. Surprisingly, they turned out great! I have to say, they tasted like cupcakes, looked like biscuits, were made of pancake, and were shaped like muffins! Therefore, I give you . . .
My Funfetti Cupcake Biscuit Pancake Muffins! (or My Personal Frankenstein)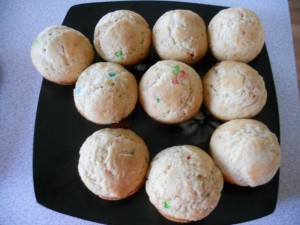 The Closest Recipe I Could Come Up With For These
1 part Funfetti cake mix
2 parts pancake mix? (Bisquick? maybe?)
3/4 water
1/3 cup oil
3 eggs
1/2 cup Splenda brown sugar
Preheat oven to 350 degrees.
Combine all ingredients in a large bowl. Pour batter into a greased muffin pan. Bake for 15-17 minutes or until a toothpick inserted comes out clean.