Visit Vancouver USA's awesome optimism on the Portland commute
A sentence on Visit Vancouver USA's website caught my attention and warmed my heart the other day.
At the bottom of the "Top Employers" page, which is filed under the "Relocation" tab, lives this sentence: "30% of Portland's work force lives in Clark County with a very short commute."
I love that. All at once it's honest and incredibly optimistic.
It's honest because the organization meant to promote Vancouver makes no bones about telling people the city is, for many, a bedroom community to Portland.
It's optimistic like those people in your life that are insanely upbeat no matter what happens.
You know who I mean. The Pollyannas. He's the guy who could, without even the slightest twitch at the corner of his lips, enthuse about getting to save gas by riding the bus even though his car just got stolen. She's the coworker that comes to the office beaming over just how much rain fell last night during the most dour days of January.
I mean, if we're talking in terms of miles, then yes, it is a very short commute. According to Google Maps, the two downtowns are only about 9 miles apart. If you're going the speed limit on the highway you'll be to the office in no time.
But most commuters never reach full speed because the drive is a nightmare. Although I'm sure if you make that trip on the daily, you don't need some guy who works and lives on the same side of the river to remind you.
If you're unaware of what it's like out there, don't take my word for it. Just look at this slide presented by the  Regional Transportation Commission's staff to its board of directors:
That's not a graph of Blockbuster Video's stock values in the years after Netflix launched. It's a graph from the RTC's Regional Transportation Process report showing the travel speeds for people driving from Vancouver to Portland between 6:30 a.m. and 8:30 a.m.
In just four years, southbound Interstate-5 travelers went from driving about 28 mph to 9 mph between state Highway 500 and Jantzen Beach. It's not as bad crossing at I-205, at least between Highway 500 and Portland's Airport Way everyone is doing about 25 — though it's not the 60 mph drivers enjoyed in 2013.
Here's another from the 2015 report showing how long it takes to just travel 3.6 miles between Main Street in Vancouver and Jantzen Beach, Monday through Friday: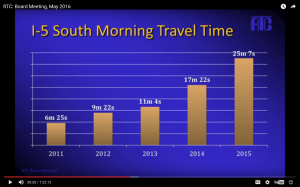 On the weekdays northbound traffic approaching the Interstate Bridge begins to slow down at noon and lasts well into the evening. I'd include the slide but it's way too blurry. If you're interested in seeing it and listening to the presentation, watch this video of the June 2016 RTC meeting.
If you're traveling at off-peak hours — say, driving to Portland at noon and coming back around 8 p.m. — then, sure, the commute is short. If you're comparing the trans-Columbia trip to commuting through metropolitan Los Angeles then it's definitely a short commute.
But If we're being honest with ourselves, like someone who's getting on in years and hasn't hit the gym in a while, maybe we should admit things aren't as lean as we used to be and it it's time to get back to the gym.
Or, in our case, figure out how to improve our traffic congestion.
But as a transportation reporter, I see the political gears moving at a glacial pace toward a remedy. In light of that, I propose that we, as citizens, crowdfund a pair of giant trebuchets and landing pads to be installed near each city's busiest transit centers and we'll use those until the road capacity is improved. Maybe then we can truly make crossing the Columbia River a very short commute.