The city and the county resolving to be pals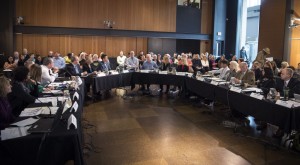 Clark County and the City of Vancouver are getting along better. The members of their respective councils are talking to each other after a period marked by frosty relations. They even held their first joint meeting in 15 years.
At Clark County council's Wednesday afternoon board time meeting, the level of chuminesses between the two councils possibly grew to a new level.
"Does this mean we're pals with the city of Vancouver now?" asked Clark County Councilor Jeanne Stewart, who added. "I actually think we are forming one of the best relationships with the city that has existed in a long time."
The cause of Stewart's remarks was a resolution mentioned by Council Chair Marc Boldt intended to recognize Evergreen Public Schools Superintendent John Deeder who will retire this summer. The resolution is being sponsored by both councils, which Deputy County Manager Bob Stevens said is a first.
Maybe a few more resolutions like this and they'll be on the road to being true besties!