Stewart gets a pay cut and is not happy about it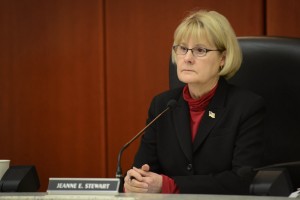 Last year was considered a drag by many people who hope that 2017 will be a better year. But for one Clark County councilor, the new year has already brought a significant cut to her salary.
Jeanne Stewart was elected as a county commissioner in 2014, the same year voters passed the Home Rule Charter. The new charter contains a provision that, beginning in 2015, changed the commissioners, which had legislative and executive duties, to councilors, who have only a legislative role. The charter states that commissioners elected in 2012 and serving through 2016 would earn an annual salary of $102,228.
The charter has a provision that particularly affects Stewart, the only commissioner-turned-councilor currently in office. The charter states that commissioners elected in 2014 would get the full $102,228 for 2015 and 2016, which would be reduced to $53,000 in 2017.
"It was never about the money," said Stewart, who previously served on Vancouver City Council for 12 years.
But Stewart pointed out that under the county charter, the assessor, auditor, clerk and treasurer (all elected positions in the county's executive branch) have salaries of $100,920. She told The Columbian that she questions the logic of paying the elected officials of the executive branch of government significantly more than the legislative when they are, in theory, co-equal.
When asked if her new salary was fair compensation, she flatly said, "no."
"Working a 10-hour day is not unusual at all," she said.
She said that the job requires a great deal of time and energy from someone with the experience to successfully perform difficult board and committee assignments. She said that some mornings she has to be in Portland by 7:30 a.m. for meetings.
"It precludes a person from having another job if you really do what needs to be done," she said.
"In my case, the biggest set back for me now is it will affect my retirement income," added Stewart, 70.
"That's a lot of money," she said of her old salary. "I know that's a lot of money, but if your elected officials are doing what they should be doing, I don't think it's much more to spend on a council than the other equal elected officials."