Stephanie Turlay: Hispanic English-learning students put "undue burden" on tax payers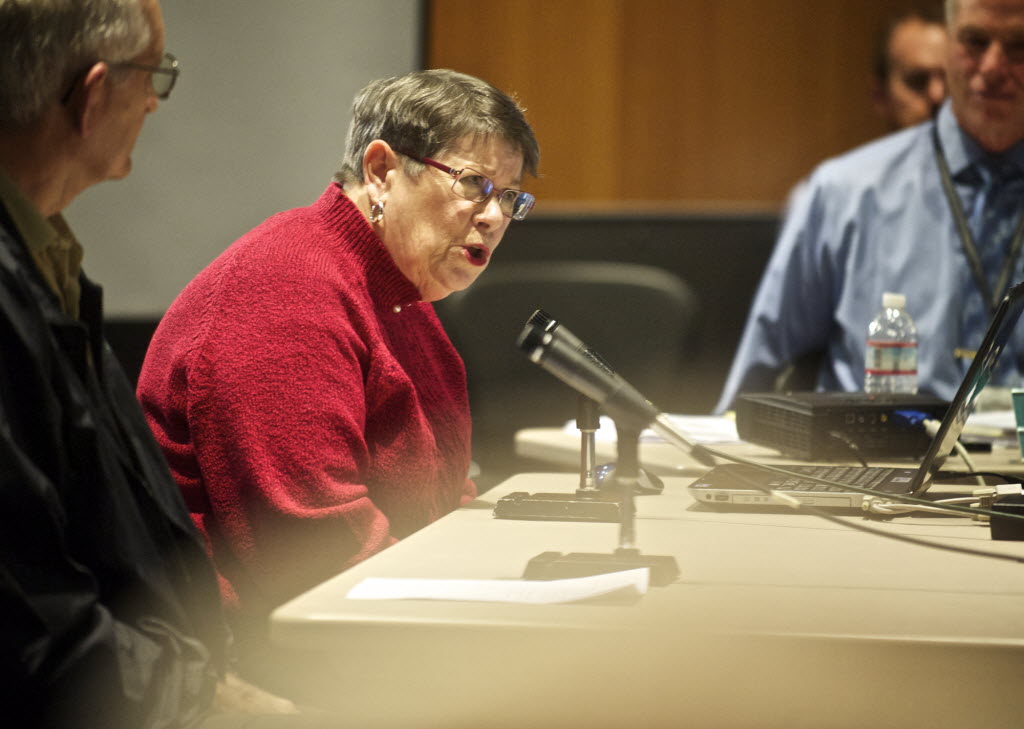 There was a point at The Columbian's Editorial Board meeting with Evergreen Public Schools this week that felt like the punchline of a joke – one longtime readers of this blog have probably heard before.
"We had to go out and find somebody to write an opposition statement (for the voter's pamphlet)," Superintendent John Steach said in the meeting about the district's $695 million bond measure on the Feb. 13 ballot.
"Um, so we went out and I knew of an individual who, who – Stephanie Turlay was willing to write it," he continued to a slight chuckle from the table. "I knew she was going to oppose it."
Turlay, wife of Vancouver City Councilor Bill Turlay, opposes a great deal. She decried environmentalists giving us low-flush toilets, eagle-killing wind turbines and solar panels in the Pacific Northwest. She's no fan of transgender men and women using the bathrooms that match their gender identity. And she didn't like former Columbian reporter Stephanie Rice getting hold of her letters to city council, despite the fact they're subject to public record.
Turns out she's no fan of school districts spending money to provide Hispanic kids with English-language learning programs, either.
Steach at the Editorial Board meeting mentioned the additional need for space that comes with a diverse student population. According to the Office of Superintendent of Public Instruction, 13.5 percent of Evergreen's students in May 2017 were learning English. That means there's an increased need for classrooms for those students.
Following my story about the meeting, Turlay shot me an email criticizing not just the cost of the bond, but also the "'challenges' espoused by Superintendent Steach when he talks about the demographics."
"We are being forced to pay for Hispanic children to learn our English language, and with the increase of these student we are required to build more classrooms, hire special teachers to do get them to the point they can learn in the normal way," she wrote. "This is becoming an undue burden on tax payers now being required to educate half of Mexico/South America. It is a federal mandate that we educate them, but why shouldn't we require that they speak English before we do so? Our school system are becoming a day-care facility/food program instead of an educational institution."
Well then.
By the way, if you're interested in knowing more about English-language learners' right to a bilingual education, Colorín Colorado has a great summary on its website.
I responded to Turlay, telling her the decision to single out the needs of Hispanic children was interesting.
"Note my story described English-language learners," I said. "I did not single out Hispanic or Latino students. But, for your reference, of students in Evergreen in the 2015-2016 school year, 3,620 came from households who primarily speak other languages. Of those, about 53 percent speak Spanish, or 1,925. There are also many Russian, Ukrainian and other Slavic-language speaking children in the district. Should 'these student' also learn 'our English,' as you put it, before starting school?"
I went on, taking issue with her characterization that taxpayers are responsible for teaching half the population of Mexico and South America.
"According to OSPI, 124,663 students in the state of Washington are enrolled in English-language learning programs," I told her. "Bear in mind that is an extremely diverse population of students, Hispanic/Latino and otherwise. But even assuming all those students do speak Spanish – which I will reiterate, they don't – the combined population of Mexico and South America is 550 million. That means, by my calculation, we're providing language support to a group of students that equals 0.022 percent of the population of those countries."
Turlay responded, telling me she's frustrated that the district has painted a "rosy picture of affordability" for the bond that isn't true, then addressed my response to her points about Hispanic and Latino students.
"As far as my comments on the English-language learners, the ESL programs and the high costs of same, voters are never given any idea of how expensive this is and what it entails or what it adds to our taxes," she wrote. "I don't care how many students there are, nor where they come from, it still adds to the requirement of staff, rooms, time and a ton of money that people pay out to accommodate them. Have you looked into the TOTAL costs involved in that endeavor? Plenty! How many of these children actually graduate? Go on to college? This program has been treated very casually and never really gone into meaningful detail to the public. This has absolutely no bearing on the percentage of the South American population!"
Indeed, Mrs. Turlay. The population of Mexico and South America really doesn't matter in the discussion of this bond, does it?
Turlay's initial email is reprinted in full below:
I wrote the No Position on the Evergreen School Bond Ballot.

I would like to refute some of the position taken by Superintendent Steach.:   A home valued at $250,000 with "estimated" taxes of $1540 was used as an example of school taxes under the new bond. What about a $300,000 home with taxes of $2156, a $350,000 home, $2165, a $400,000 home $2464 and so on. The name of the game is for the ESD to give the public all lower numbers to make the cost look good and affordable when in actuality, their home assessed value rises, so does their tax obligation!!! This magical/slight-of- hand omission needs to be fully disclosed! The ESD has set the example of a home artificially low. Property values have been increasing 10% per year, and the assessed values have moved up with them. Assessed value determines the amount of taxes we pay, therefore a $300,000 home this year can easily go up to $330,00 next year and your taxes right along with it.

Washington State School Superintendent of Public Instruction, Chris Reykdal is going to ask the State Legislature to increase the current assessed cap of $1.50 tax rate for schools to an estimated $2.31 per thousand of assessed value. This means that the $1.77 we are supposed to pay on this bond could have a ceiling of $2.31 per thousand of assessment.

The other elephant in the room are the "challenges" espoused by Superintendent Steach when he talks about the demographics. We are being forced to pay for Hispanic children to learn our English language, and with the increase of these student we are required to build more classrooms, hire special teachers to do get them to the point they can learn in the normal way. This is becoming an undue burden on tax payers now being required to educate half of Mexico/South America. It is a federal mandate that we educate them, but why shouldn't we require that they speak English before we do so? Our school system are becoming a day-care facility/food program instead of an educational institution.

Finally, based on the projected student growth report that they commissioned, ESD is a "mature" district with little growth.

Voters need to know this before voting!

Stephanie Turlay
No on Evergreen School Bond