State mandates being lifted, what it means for city council meetings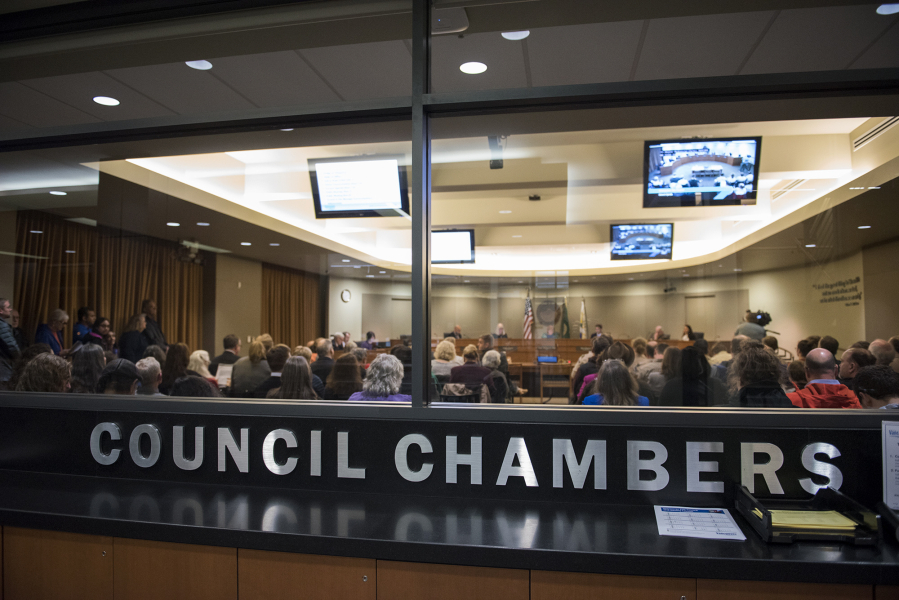 Despite recent changes to Washington's mask mandates, the date for in-person city council meetings may arrive later than expected.
Gov. Jay Inlsee announced Monday that Washington's indoor mask mandates would be lifted March 12 – nine days earlier than previously described by state officials. The move reflected a federal guidance update on Feb. 25 that relaxed face covering requirements.
Both sighs of relief and concerns about future health risks ensued.
The decision sparked questions regarding when other COVID-19-related requirements will be lifted and which ones would remain. Among them, people questioned when government entities' public meetings would be held in a physical space again.
The Vancouver City Council has yet to identify an exact day they anticipate transitioning from remote video conferences to in-person meetings, as remaining state proclamations provide nuances to the prospective gatherings at city hall.
Under Proclamation 20-28 and its application to the Open Public Meetings Act, government agencies must conduct its public meetings virtually to prevent the spread of the coronavirus.
"I think we're all eager to return to in person meetings in a way that ensures that they're productive and safe for everybody," City Manager Eric Holmes said Monday during council communications. "There's still a little bit of ambiguity as to what the standards are that would apply."
As an employer, the city of Vancouver has a responsibility to adhere to the state's Labor and Industries regulations on masking. He emphasized that, although public meetings are open to the community, Vancouver City Hall is still considered a workplace for government employees.
In the meantime, council community communication remains accessible to those who wish to testify or comment on agenda items, and all public discussions are broadcast live on Clark/Vancouver Television.
The absence of in-person city council meetings continues to serve as a source of frustration for some who attend. They assert that their reliance on a good phone and internet connection hinders them from conveying their thoughts — others perpetuate unfounded conspiracy theories about democracy being at stake.
Regardless — until state regulations are changed — the local government must comply with the standards.
"Things are going to happen very quickly around here," Mayor Anne McEnerny-Ogle said.