Remaining billboard sounds (alarm clock) bells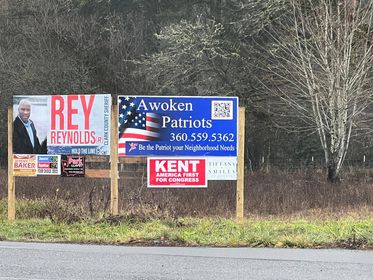 The election is over and chosen officials — incumbents and fresh faces alike — are already prepared to begin their terms. Still, former candidates' signs remain scattered throughout neighborhoods and roadways.
But one continues to grab more attention than others, and it isn't related to a political contender.
Among the billboards advertising runs from former candidates stands a bright blue sign urging locals to "be the patriot your neighborhood needs." The plea – accompanied by a QR code, phone number and an image of an American flag — was made by the elusive political group, "Awoken Patriots."
So, who are Clark County's mysterious, wide-awake loyalists and what's their post-nap goal?
Upon calling the provided number, I was immediately met with a voicemail, which said my "call must mean you are tired of being taken for granted, are angry about it and are ready for change."
The disembodied voice said the call would be returned within 24 hours. Unfortunately, my attempts to speak with a representative or the group's founder for my story were unreciprocated.
Luckily, they have a website.
Awoken Patriots' site, created in August following the primaries, is an aspiring local and national news platform for its titular base (who are never clearly defined). However, its purpose is clearer: providing viewers with the tools to become an active patriot, notably touching on becoming a precinct committee officer for the Clark County GOP.
The organizer's videos are scattered throughout the website, and it is stock footage heaven.
One pitches how to decipher a good candidate from a bad one. Spoiler: it's like leaving a restaurant review but, instead of rating the food and service, you rate a candidate's small government and anti-corruption status. Another provides a walkthrough on canvassing during elections.
Multiple drop-down menus lead viewers to a wide assortment of topics ranging from opinion pieces about Clark County officials to patriot-specific resources; the latter involves a list of Donald Trump's accomplishments during his presidency, Thanksgiving conversation tools and the Constitution.
It's made more complete with a dedicated entertainment page that provides multiple old Western movie clips, classic cartoons and partisan political memes.
Admittedly, perusing "Awoken Patriots" was fascinating, as each click brought me down a different and amusing rabbit hole. There seemed to be an endless amount of resource pages.
Though, I still don't know the organizers' exact definition of what an "awoken patriot" is.