Protections for city employees, working toward constructive town halls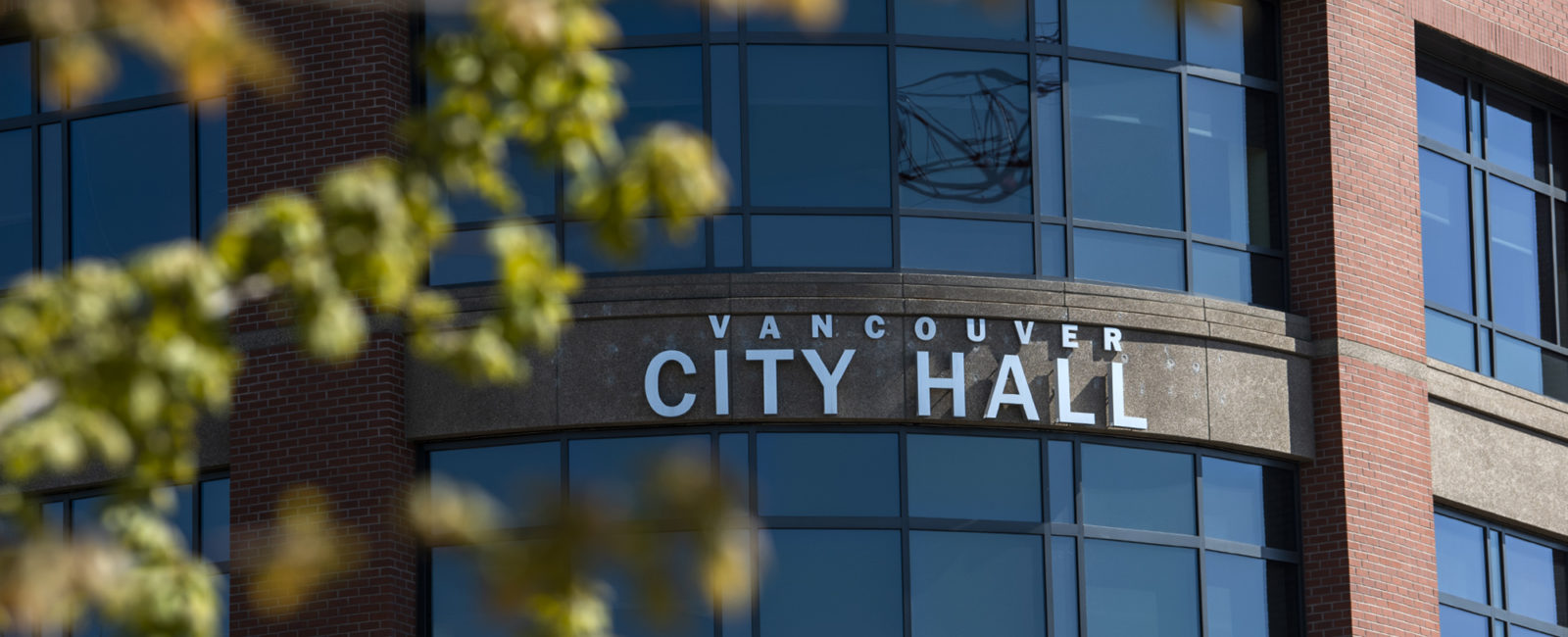 Multiple members of the Vancouver City Council shared their concerns regarding protecting staff when they are negatively impacted outside the office for the work they're doing for the city.
The discussion during council communications Monday evening addressed updating municipal code VMC 2.46 to defend city officials, employees and volunteers against provocation from the public. Council member Sarah Fox proposed making minimal changes to the code to protect city of Vancouver employees.
"(A revision is needed) to better support our staff, especially when they're adversely targeted for actions that they take on behalf of their job working at the city," she said. "If it's not safe for that committee member, volunteer or staff to return to their home, then we should have a remedy."
Staff may be harassed for their involvement in upholding city regulations whether delivering parking citations or cleaning up litter. Fox added that this negative behavior can affect an employee's neighborhood, not just the individual.
Council members supported comparing Vancouver's ordinances and standard practices to other jurisdictions to assess the proposal.
"Whenever possible, I take very seriously our duty as a council to protect our staff from any abuse of a community of any kind," Council member Erik Paulsen said. Changing or adding language to offer greater protection to city staff should be a priority for the council.
Town hall
The issue came on the heels of another hot topic relating to a virtual town hall Jan. 12 on increased property crime.
Vancouver Citizens Against Property Crime, a community group, organized the town hall to address concerns about increased crime. Law enforcement officials, including Vancouver Police Chief James McElvain and Clark County Sheriff Chuck Atkins, and several state legislators spoke at the Zoom meeting.
McElvain and Atkins presented data that depicted an increase in property and lower-level crime in recent years. The officials said staffing shortages and a lack of jail space area are contributing factors to increased crime rates. They also pointed to police reform legislation House Bill 1310, passed last year, as an impediment to police action.
Some of attendees later criticized the meeting because it seemed dedicated to law enforcement's stance on the topic and lacked a diversity of viewpoints. Council member Diana Perez said the community-led initiative to start a conversation is valuable but was not done effectively.
"Where I struggled was that it was such a one-sided conversation, and I was hoping to hear other perspectives," she said. "It was very much an attack on the police reform (HB) 1310."
Fox recommended future forums include advocacy groups' involvement to provide more insight on the nuanced issue.
Mayor Pro Tem Ty Stober and council member Bart Hansen said a deeper dive into a single issue would be more constructive. A forum can serve as an open-ended way to have a conversation between the council and public, Hansen said, but it can turn into a one-sided conversation without the city moderating it.