Not everyone is so optimistic that Trump will solve county's bridge problem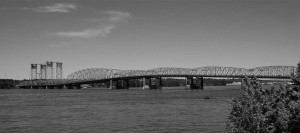 Earlier today, Donald Trump was officially sworn in as president of the United States. While Trump was being sworn in, there was almost certainly some commuters who were still making their commute across the Interstate 5 bridge.
Some Clark County politicians are optimistic that Trump's call to increase spending on infrastructure could solve the area's bridge problems.
Last month, outgoing county Councilor David Madore expressed his optimism that the Trump presidency could mean two toll-free bridges across the Columbia River.
Earlier this week, I was on Clark County Focus and asked county Councilor Julie Olson how optimistic she was about getting new bridges from the Trump administration.
"I think it's going to be more complicated than that," she replied. "But I would welcome that if that's going to be the case, sure."
Olson explained that the complicating factor would be Congress, as well as what would almost certainly be intense competition for federal funds.
Earlier this week, state Sen. Ann Rivers, R-La Center, told OPB that she wasn't so optimistic either, but for different reasons. According to OPB, Rivers is concerned  about Trump's proposal to have private companies finance and infrastructure, an arrangement that would likely mean tolls on any new bridges.
"He's doing business in a different way than we are accustomed to," Rivers told OPB.
Her remarks are a departure from the optimism she expressed a month ago at a legislative breakfast.