Murray addresses climate concerns at roundtable events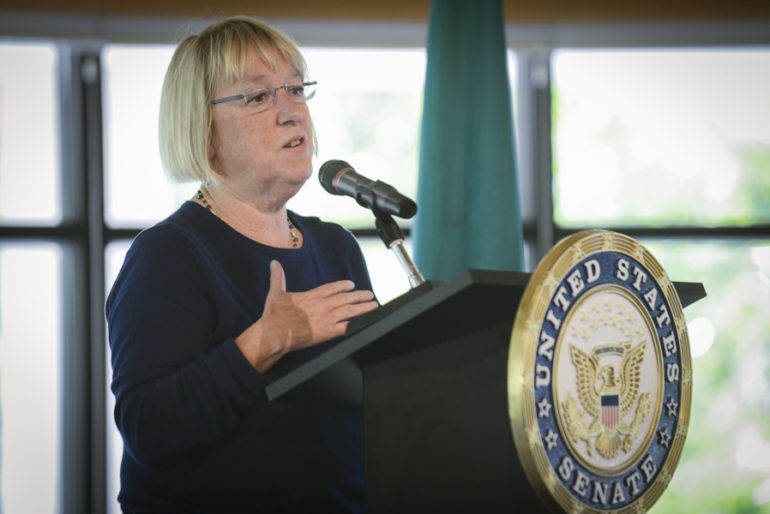 This week, Sen. Patty Murray, D-Wash., toured Central Washington to meet with firefighters, forest service officials and agriculture leaders and address the growing effects of climate change on Washington state.
At a roundtable Wednesday in Wenatchee to discuss the upcoming Farm Bill, Murray met with state agriculture officials to discuss the state's needs for increased climate support.
"Agriculture is a crucial part of our state's economy, especially in our rural communities. It's not just a way to make a living for people—it's a way of life," Murray said in a press release. "And what grows in Washington state goes all over the world … Agriculture supports jobs across our state and spurs billions of dollars in economic activity — to say nothing of how many people it feeds!"
At the roundtable, Murray stated that her priorities for the Farm Bill include supporting domestic programs and helping rural communities access resources to keep them competitive and profitable.
"We need to support robust voluntary conservation programs that preserve our local ecosystems and the sustainable practices already happening on farms across Washington," Murray said. "We need a strong rural development title that will support so many of the rural communities represented at this table."
Earlier in the week, Murray and U.S. Secretary of Agriculture Tom Vilsack visited Washington State University for the groundbreaking of a  new agriculture and plant research facility.
Murray previously worked to provide $125 million in federal funding to the new facility, which will be operated by the Agricultural Research Service.
"I am honored to stand alongside Senator Murray as we celebrate this collaboration between USDA and Washington State University," Vilsack said at the groundbreaking.
On Thursday, Murray visited Leavenworth to meet with forest service officials and firefighters. There, the group discussed recent wildfire activity and the Bipartisan Infrastructure Law, which allocated federal funds for wildfire prevention.
— Carlos Fuentes