Madore asks Clark County to cover his attorney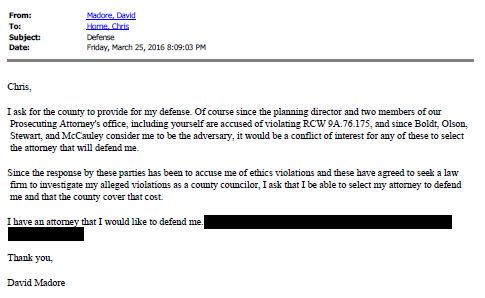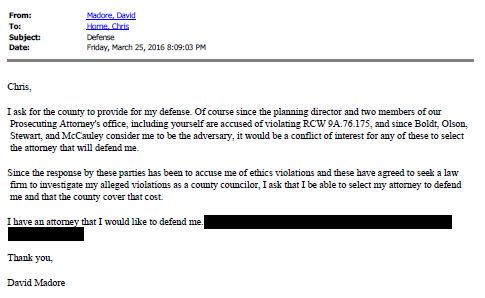 Clark County Councilor David Madore, never shy to attack those he deems tax-and-spend liberals, is asking the county to pony up for his legal defense in the wake of various allegations leveled against him.
In an email Madore sent to Deputy Prosecutor Chris Horne late last month obtained through a public records request, the Republican councilor asked that Clark County — otherwise known as the taxpayers — pay for his attorney.
"I ask for the county to provide for my defense," he wrote. "Of course since the planning director and two members of our Prosecuting Attorney's Office, including yourself are accused of (making false statements to a public official, and since (Marc) Boldt, (Julie) Olson, (Jeanne) Stewart and (Mark) McCauley consider me to be the adversary, it would be a conflict of interest for any of these to select the attorney to defend me."
Madore goes on to reference the investigation by Seattle attorney Rebecca Dean, who Clark County's Human Resources department has hired to conduct three separate investigations. Dean is investigating Madore's allegations against Community Planning and the Prosecutor's Office that both have lied about the impact of his controversial Alternative 4 zoning proposal.
Dean also is investigating Community Planning Director Oliver Orjiako's whistle-blower and harassment complaints against Madore, in which the director accuses the councilor of violating the Growth Management Act as well as of racism and discrimination.
In a third investigation, Dean is looking into allegations by public service employee union AFSCME that Madore violated state labor laws by doing work on the Comprehensive Growth Management Plan update.
And all that, by the way, comes at a cost of $240 an hour to the county.
"Since the response by these parties has been to accuse me of ethics violations and these have agreed to seek a law firm to investigate my alleged violations as a county councilor, I ask that I be able to select my attorney to defend me and that the county cover that cost," he said.
Madore went on in his email to indicate that he has selected an attorney, but the rest of the email is redacted.
So, just to recap, Madore has accused county staff and attorneys of lying about the Comprehensive Growth Management Plan update. Remember, he authored Alternative 4 despite having no planning experience.
And now he's now asking a county attorney, among those he's accused of lying, that Clark County pay for his attorney's fees.
OK.
Remember that just because Madore has asked for an attorney doesn't make it so. I asked Horne Thursday whether an attorney had been hired to represent Madore, and he confirmed that the county still only has three existing contracts with attorneys for their services.