Loose leads on conspiracy website, further confusion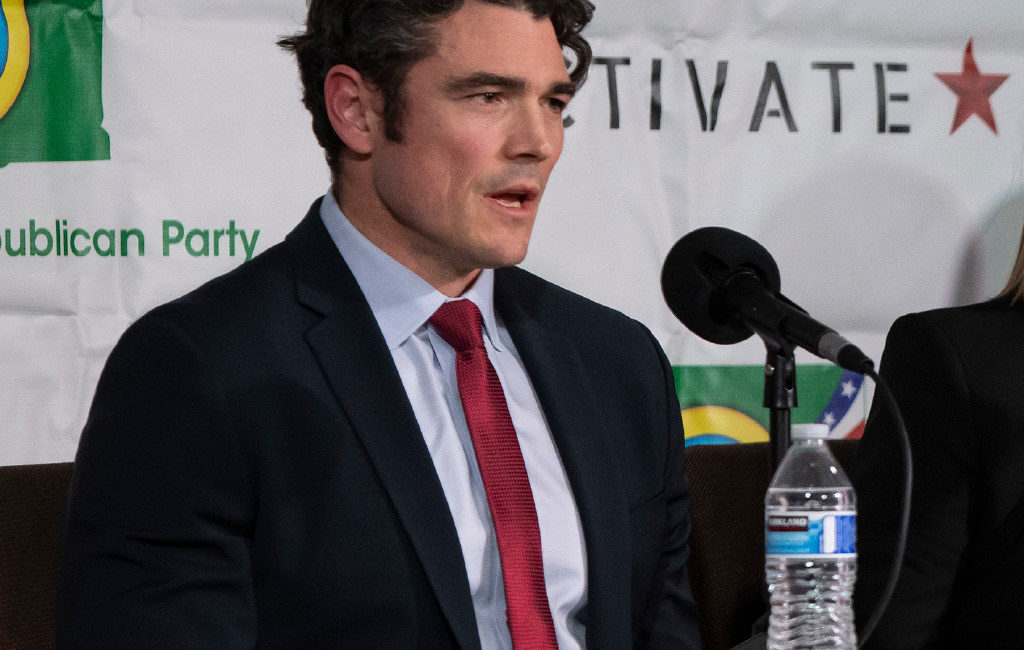 "Joe Kent is a Marxist Democrat."
"JoeKentIsCIA," a website launched in June, listed a variety of similar claims – the congressional candidate is a member of the deep state, a carpetbagger and a lifelong socialist.
I blinked a few times, astonished by the claim on the screen. Silence engulfed my workspace, and I secretly hoped divinities bestowing powerful currents of logic and reasoning would spill them unto me. How did someone come to this conclusion? Were their brain synapses simply functioning at a higher rate because of the aforementioned heavenly judgment juice?
Through my election coverage and general understanding of political beliefs and allegiances, this statement is a misnomer.
The stillness, although deafening, was extremely unhelpful. Left to my own devices, I stared at the computer screen and scanned side-by-side photos of Kent from early in his campaign and Karl Marx, attempting to derive morsels of knowledge through a favorite childhood game of "Spot the Difference." Aside from having shaggy hair and a beard to match, the candidate running for Washington's 3rd Congressional District and the German philosopher don't have much in common.
Furthermore, the website wrote that Kent is a Democrat Republican In Name Only, or a RINO – a term he commonly weaponizes against the "establishment" and incumbent, Rep. Jaime Herrera Beutler. From my understanding, a Democrat cannot be a RINO. Then again, my understanding of rhinoceros species is slim.
Unfortunately, in my attempts to glean who was behind this, I hit a roadblock.
I first reached out to, assumably, one of the website hosts, "Glow Kent," who was dodgy when arranging a phone interview. Instead, we had a brief email exchange.
According to Glow Kent, the website's creators began establishing its foundation in March when the candidate "attacked Christian Nationalism" and posed a threat to Christian right-wing politics. An assault such as this would guarantee a Republican's failure, they added.
"I'm not sure who they're advocating for," the real Kent said in an interview with The Columbian.
Who did the site's organizers support to represent Southwest Washington instead? Well, any good Christian.
"If Kent succeeds, his win will be paraded around by bad actors in the Republican party and his Marxist platform will be validated. Therefore, we support anyone BUT Kent winning," Glow Kent wrote. "Furthermore, once Kent loses, we plan to find someone who actually represents WA-03 to run in 2024. Specifically, we hope to find a true Christian Nationalist leader that actually calls Southwest Washington their home and isn't CIA or a 10 year registered Democrat RINO."
The website appears to be professionally made, meaning there must be a solid chunk of money behind its operation. Glow Kent said it was designed by passionate Southwest Washingtonians for free, yet a footnote on the site says it's paid for by the "Republicans Against RINOs PAC." According to the Federal Election Commission, the political action committee does not exist.
A Delaware address was included in parentheticals following the PAC's name, leading to my enduring befuddlement. A quick search said the address belonged to Delaware Registered Agent, a business that offers a variety of services, including mail forwarding and a business address to ensure a client's privacy.
My rabbit hole could easily become deeper. Perhaps even leading me to Earth's core (not to be hyperbolic or anything), so it's best to leave this path alone.
There is still a looming question: is Joe Kent CIA?
Yes.
"It's kind of funny because they make it seem like it's a revelation," Kent said. "Me working at the CIA has been part of my stump speech since day one."