Here's what we know about how well Benton managed county Department of Environmental Services
In case you haven't heard, Don Benton is "very excited."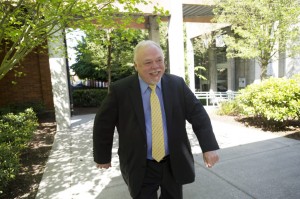 The cause of his excitement was the confirmation of former Oklahoma Attorney General Scott Pruitt as the new head of the U.S. Environmental Protection Agency. Benton, a former state senator from Vancouver, is also undoubtedly very excited that President Donald Trump decided to keep him as a senior White House EPA adviser after initially serving in a temporary role in the new administration's "beachhead team" at the agency.
Earlier this month, the EPA posted a video that announced that Benton would be staying on. It didn't give any specific reason why he was offered the job. The last gig Benton held related to the environment was director of Clark County's Department of Environmental Services, a position he lost when the county reorganized last year. Benton was hired over concerns he wasn't qualified for the job and his appointment was criticized as act of "political cronyism."
I've been trying to figure out what kind of a manager Benton was at DES. A records request yielded a heavily redacted document with virtually no usable information. I also made another request looking for "specific instances of misconduct," which produced no responsive records.
However, I obtained a copy of a survey the county conducted in 2014 that examined employee attitudes about their workplace. The survey reveals that employee had mixed feelings working at the department lead by Benton. Using a scale of 1 to 5, employees were asked a series of questions regarding working conditions. The department received high remarks for workgroup productivity and manager, according to the results of the survey. However, only 31.6 percent of employees reported a good "person-organization fit" and the survey found that 57.9 percent experienced  "organizational cynicism," a belief that management isn't interested in what the average employee thinks or feels.
It's a massive document, but here are a few pages: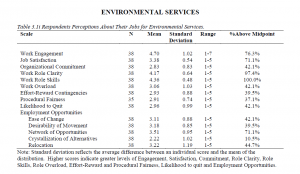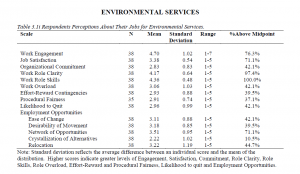 For what it's worth, the lawsuit Benton brought against the county does reference the positive performance evaluations he received from County Manager Mark McCauley"
"On February 12, 2014, Benton received a performance evaluation from McCauley, who rated Benton 'successful' and 'exceptional' in all categories."
"On June 1, 2015, Benton received a performance evaluation from McCauley, who reviewed Benton with an overall rating of 'exceptional.'"
"On February 19, 2016, Benton received a performance evaluation from McCauley, who rated Benton as 'successful' and 'exceptional' in all categories. McCauley commended Benton for bringing in new hires and saving the County about $130,000 annually in salary costs. McCauley noted the County is better for DES's efforts and that he looked forward to more success from Benton and his department in 2016."