Golf carts as far as the eye can see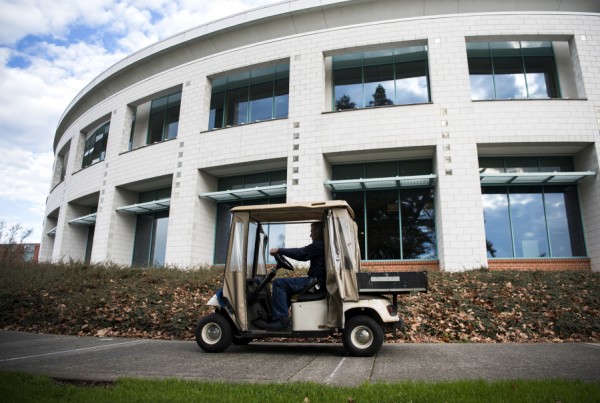 As some astute Vancouverites may know, the city council approved a golf cart zone for Clark College this week. The ordinance lets Clark College staff dust off their golf carts and drive them once again across Fort Vancouver Way.
However, one Vancouver resident has a different vision. He presented it in great detail Monday before the council.
Steve Tubbs wants the city to let golf carts roam free across the city, specifically for the low-income and senior communities who may not otherwise have access to the grocery store or the ability to get from point a to point b.
"It would be great to jump into an electric golf cart and solve that," Tubbs said.
He's also concerned about climate change, which tops his list of concerns during his "twilight years." Allowing more electric golf carts on the street would reduce carbon dioxide emissions.
What he's asking for isn't totally unheard of. Ridgefield approved a golf cart zone for streets where the speed limit is 25 mph or less in 2015.
Tubbs said his vision features a parade of golf carts come December 2019 — literally a parade.
He proposed dressing up 20 or 30 golf carts with lights and festive regalia. Then, led by the mayor, make their way from the green lot at Clark College to East McLoughlin Boulevard, heading west to Main Street where the parade would hand out little peppermint canes to children and take another right to head past Esther Short Park.
He hasn't decided if the parade the newspaper deemed better than the Christmas ships — something Tubbs said would have happened — would stop at the park or make its way out to the new waterfront pier.
"I was thinking about buying a hot chocolate and when nobody was looking spiking it a little bit for (City Attorney) Bronson Potter," Tubbs said.
Vancouver Senior Civil Engineer Eric Hahn said he doesn't have any specific objections to creating a more expansive golf cart zone similar to Ridgefield, but they want to take it one small step at a time, "if for no other reason than to ascertain the larger safety issues in introducing yet another vehicle type to the public right of way system."
No word however on Tubbs' specific parade vision for December 2019.