Fact-checking campaign fliers, take two

How do you fact-check campaign promises?
In recent weeks, a rush of campaign mailers and fliers have made their way to Clark County residents, full of the kind of flowery language and emboldened buzzwords that usually accompany campaign mailers. As promised, I'll fact check what I've got from the Clark County chair and District 2 races.
The problem is, unlike Councilor David Madore's campaign fliers, there aren't many facts/non-facts to check on other campaign mailers. I mean, I guess I could ask Mike Pond, a Democrat running for District 2, for his birth certificate, but who am I, Donald Trump? Anyway, it's a very different campaign strategy, and we'll find out what the winning one is soon enough.
Today I'll start with Mike Dalesandro, a Democrat running for chair, Mike Pond, a Democrat running in District 2, and Mary Benton, a Republican running in District 2. I'll start up again next week.
Dalesandro
Claim: Lives in Battle Ground with wife Angie and their two daughters.
Reality: True.
Yes, Mike Dalesandro and his family live in Battle Ground. Dalesandro is a city councilor for Battle Ground Position No. 5, and also served on the city's planning commission from March 2008 to Dec. 2013.
Claim: Currently serving on Battle Ground City Council
Reality: True.
Dalesandro was elected to the Battle Ground City Council in 2013, where he garnered 66.53 percent of the vote over his opponent Lisa Walters, who received 33.47 percent of the vote. Dalesandro, if elected, will have to give up his seat on the Battle Ground City Council.
Claim: Supports various non-profit organizations.
Reality: True.
Dalesandro was board president of the Arc of Southwest Washington for the 2013-2014 period. He was also a member of the Battle Ground Rotary Club starting in 2010.
Claim: Two-time General George C. Marshall Public Leadership Award Nominee
Reality: True.
I checked in with Cara Cantonwine, program director for the Fort Vancouver National Trust, and she confirmed that Dalesandro was nominated in 2013 and 2014 for the leadership award, which goes to local leaders with a commitment to public service who are 35 years old or younger.
Claim: Vancouver Business Journal Accomplished Under 40
Reality: True.
Yup. Dalesandro was a member of VBJ's Class of 2012 for its Accomplished & Under 40.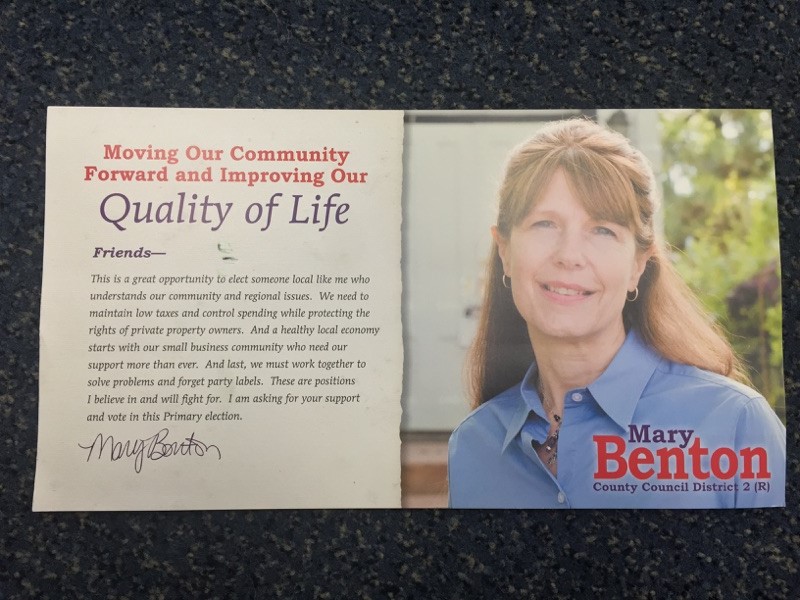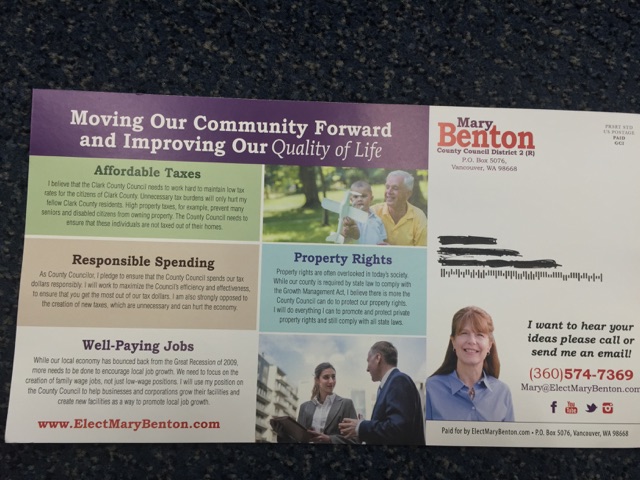 Benton:
Benton's campaign flier has a lot going on here, I don't think there's much to check. We'll only find out if she fulfils on her campaign promises if she's elected. But, for those of you interested, here is the flier.
Pond:
Again, there's very little meat to this flier. Like Benton's, it says a lot but there isn't much to check.
Feel free, as always, to let me know in the comments below if you think I missed something or if you want something else double-checked.