Efforts to improve city staff, volunteer safety moves forward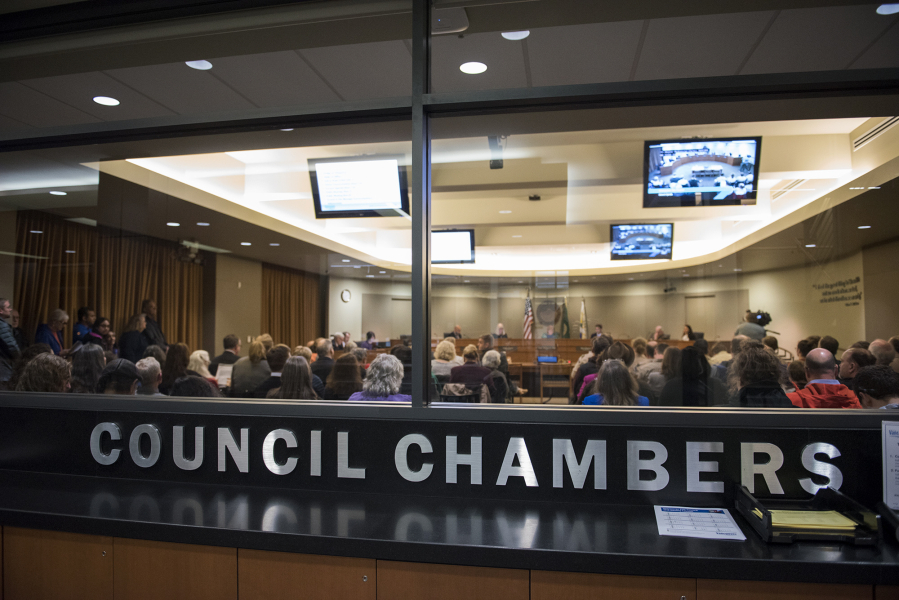 Vancouver City Council unanimously approved of minor changes to its city code Monday that would protect government officials, staff and volunteers from targeted noise-related incidences.
A second reading and public hearing for the ordinance is scheduled for June 6.
The alterations, originally brought to the council's attention by council member Sarah Fox, outline what noise is permissible in residential districts. It prohibits the use of noise makers, airhorns and other sound amplifying tools in these areas. Updates also address infrasound – or vibrations that aren't detected by sound monitoring tools – as a noise to include in the ordinance.
Booms, hooting, yelling and honks are still allowed in public spaces throughout Vancouver.
Changes would allow the city to submit a claim or lawsuit on behalf of effected government officials, staff and volunteers to obtain restraining and protective orders. The definition of pedestrian interference would also be expanded on to ban picketing or protests at someone's residence.
Past protests outside of a Vancouver official's home sparked internal conversations to protect government employees. At the meeting, a member of the household announced her support for the amendments, directing her statement to both the council and those who previously shared their opposition to the motion.
It caused quite a stir.
Those who challenged the proposal argued that their First Amendment rights were being threatened. However, the modifications are legal.
Changes to the codes would constitutionally balance an individual's free speech while simultaneously limiting potential attacks, according to Nina Cook, Vancouver chief assistant city attorney. The First Amendment ensures a person's right to free speech, but the city may establish restrictions on speech if it's content-neutral, serves a significant interest and leaves other channels for communication, Cook wrote in a memo.
Monday's city council meeting can be viewed at CVTV.org.