David Madore gets a new job
Former Clark County Councilor David Madore has a new job, according to Facebook (of course).
A Facebook page for Madore, who lost his bid for reelection and stepped down from the council last month, previously identified him as "Newspaper," likely a reference to an online news venture he's funding. Now, as pointed out by Chris Prothero, an activist and critic of the once-embattled councilor, Madore recently changed his Facebook page to identify him as a  "Lobbyist."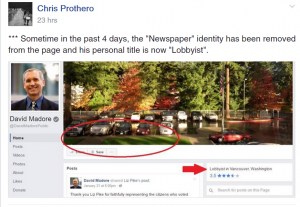 Madore doesn't specify who he will be lobbying and what issues he'll be taking up. A search of the state and federal lobbyist registrations didn't turn up any filings mentioning Madore.
However, last month Madore took to Facebook to note he would be "working to help our community to prepare for the Trump Administration working with Congress to build $1 trillion ($1,000 billion) in
new infrastructure to make America great again. That includes fulfilling a vision and building the momentum for an additional toll-free East County Bridge and an additional toll-free West County Bridge."
Madore ally and former state Sen. Don Benton recently landed a job supervising the Trump administration's transition of the U.S. Environmental Protection Agency. Maybe Madore can start there.