County council continues debate over 179th Street project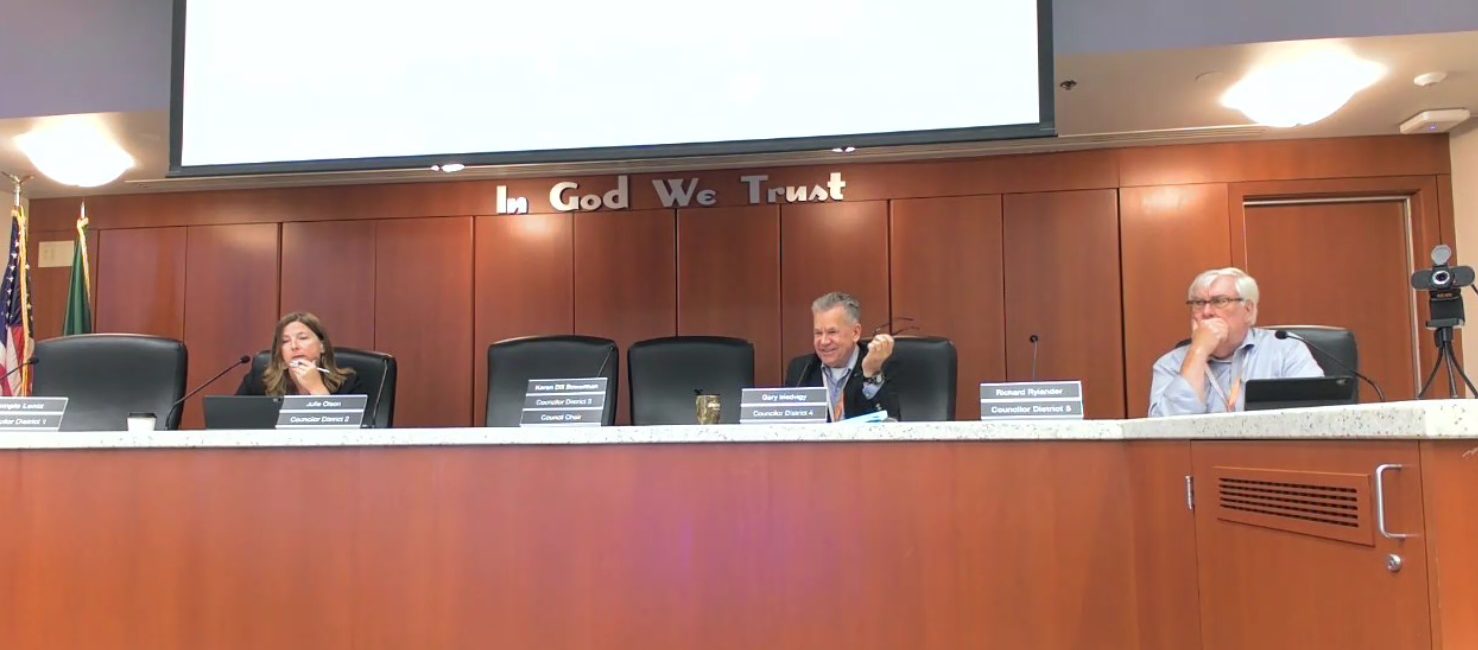 The Clark County Council is trying to decide how much public notice and participation is needed before Public Works' Northeast 179th Street project can move forward. The council held a work session on the project Wednesday.
Public Works began readying to move forward with road improvements along Northeast 179th Street after holding a virtual open house Jan. 27. The move set off alarm bells for some residents living in the area. Although construction isn't expected to begin until 2024, residents said they weren't advised the project was moving forward and weren't included in the planning process.
After residents complained to the council for months about being excluded, the council directed staff in May to revisit and redouble its public outreach efforts. The council also removed the project from the 2022 review cycle.
Public Works' plans call for new roundabouts, widening the road to four lanes and leveling some of the steeper sections along a two-mile stretch of the road between Delfel Road near the Interstate 5 overpass and Northeast 50th Avenue. Public Works officials said the road improvements are needed to keep pace with growth, which had been limited by an urban holding designation that was lifted in 2020.
Councilor Gary Medvigy said during Wednesday's work session that he was surprised residents didn't know about the project.
"It was among the most publicized work that the county was doing back in 2019," Councilor Gary Medvigy said during the work session. "Yet, recently, all the neighbors there said, 'Geez, we didn't know anything about this,' even though it was in the local press, and we had a number of very large, open public meetings about all the work that was being done."
Residents Andrew Bauman and Vanny Him said during the council's May 3 meeting there's a big difference between knowing a project is planned for some time in the future and knowing the specific details of that project.
"Ourselves and our neighbors were completely blindsided by this. We haven't had meaningful representation in this process," Bauman told the council. "We received almost no notification of this. In fact, I never received any mailings about it."
In response to the council's request to revisit its public outreach efforts, Public Works held another open house on Aug. 11. Medvigy asked if any changes had been made to the project plans based on feedback or requests from residents.
"There have been some changes in the approaches we're looking at," said traffic engineer Rob Klug.
For example, Klug said, Public Works is now looking at how to build the road – on an interim basis – so left turn access is still allowed until the roundabouts are installed.
Councilor Richard Rylander Jr. said many of the residents who've contacted him feel Public Works already has decided on its plans and that concerns raised by the neighbors will just be ignored.
"The perception is the county continues to make a presentation on this what we're going to do… people don't believe there's anything on the table, except maybe a few tiny little tweaks," Rylander said.
County engineer Ken Lader said changes have already been made to the plans "that are the direct result of listening to the community and the concerns."
Rylander suggested holding another public meeting to highlight and notify residents about the changes that were made based on community input.
"I think it would serve everyone well if there was an opportunity to have a follow up and say, 'We've made changes and is there anything else you want to say that we need to hear.' I know it takes more time and there are costs. I would just much rather bend over backwards to make sure that we're showing that we are really listening to what they're saying," Rylander said.
Chair Karen Bowerman said there was still a lot of work to do to address all of the issues raised by residents, including complaints that communications from Public Works are too "one sided." Bowerman said that wasn't the fault of current staff but goes "way, way back" to the start of the project.
Project Manager Gary Albrecht said responses to residents' questions have been posted on the county website but wasn't sure what more Public Works could do. He said staff have already considered all aspects and the proposed design is the best option available.
Medvigy suggested Public Works give another presentation to the council during a public meeting that highlights what changes were made as a result of public input.
"I just think that's a prudent thing to do," Medvigy said.
A date for the public meeting is expected to be announced next week.
— Shari Phiel