Clifford sees complaint against Seattle mayor dismissed
Remember Chris Clifford? I don't because I didn't work here when he was around.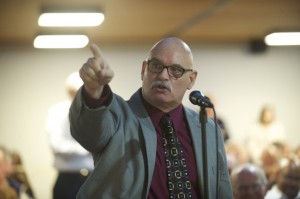 But he was the outspoken activist that Don Benton, the then controversial pick to head the county's Department of Environmental Services, hired as an environmental compliance coordinator.
After the department was dissolved under a county reorganization, Benton lost his job as director. Clifford also left his position. Now, Clifford, along with Benton and fellow employee  Susan Rice, are suing the county for alleged mistreatment.
Now, Clifford is back in the news after filing a civil complaint with the state's Public Disclosure Commission that alleged that Seattle Mayor Ed Murray improperly used leftover money in a campaign fund to fight allegations of sexual abuse. Earlier this week, The Seattle Times reported that the PDC won't investigate the claim because the five-year statute of limitations has passed.
I decided to call up Clifford about his recent complaint. He was disappointed by the PDC's decision and doesn't quite buy the rationale that the agency dropped the complaint because the statute of limitations is up.
"If they want to cover for the mayor because he's a democrat just admit it and let's not bother, he said. "I don't know why you'd wanna protect this guy."
He also criticized the PDC for aggressively investigating anti-tax initiative mogul Tim Eyman and former legislator Pam Roach while not giving Murray the same treatment.
"It's clearly a double standard and it's disgusting," he said.
But he's not giving up. Among the actions he said he's considering filing a writ of mandamus against the PDC, a legal maneuver intended to compel a public agency to uphold the law.