Candidate Brett Simpson files suit against Elections Office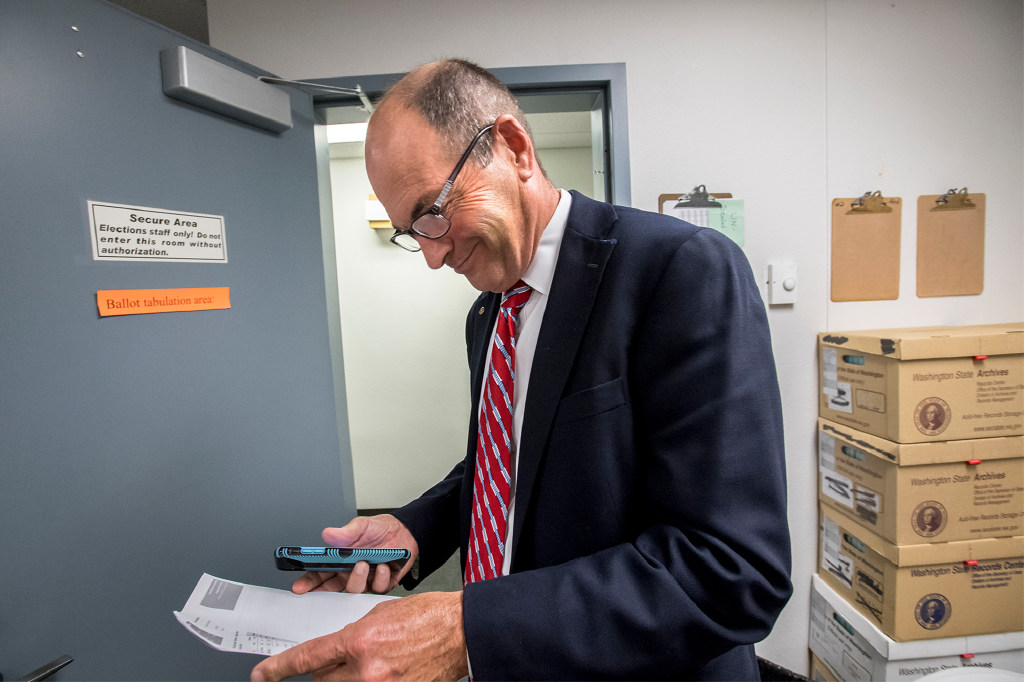 Clark County Auditor Greg Kimsey is facing another lawsuit, this time by the candidate challenging him for his office in the November general election. Candidate Brett Simpson filed suit against Kimsey and Elections Supervisor Cathie Garber Thursday in Clark County Superior Court. Simpson is seeking an injunction to bar the Elections Office from tabulating, recording, counting, certifying, retaining records or publishing, distributing, communicating or otherwise disclosing any results related to the improper primary race between himself and Kimsey.
In his suit, Simpson claims the Elections Office sent incorrect primary ballots to over 300,000 voters throughout Clark County when it included races that should not have been on the ballot.
"Election integrity matters," Simpson said in a press release Thursday. "When our county auditor openly violates state election laws in his very own election, citizens must stand up and demand transparency and accountability. Washington courts have long defended the integrity of our local elections stating, 'What higher interest can anyone have in an election and its result than the citizen and voter?' "
Kimsey confirmed Friday that five races with only one or two candidates were included on the primary ballot. The other races are the county offices of assessor, clerk, prosecuting attorney and treasurer.
While these races are left off the primary ballot in some cases, Kimsey said there was a reason these five were included.
"In November 2021, Clark County voters approved an amendment to the County Charter that made the offices of council member, assessor, auditor, clerk, sheriff, treasurer and prosecuting attorney non-partisan and requiring that 'Elections for the offices shall be conducted in the manner provided for partisan local elections under state law.' Under state law candidates for partisan local offices appear on the primary ballot whether there is one candidate or more than one candidate," Kimsey said.
Ballots for the Aug. 2 primary election were mailed out starting on July 15 and can be returned by mail or dropped off in any one of the 22 ballot dropboxes in the county by 8 p.m. on election day. For a list of dropbox locations, go to https://clark.wa.gov/elections/ballot-deposit-locations.
Kimsey was last in Superior Court on July 13 when Vancouver resident Carolyn Crain filed suit over 18th Legislative District candidate John Ley's name being included on the ballot. Crain had successfully challenged Ley's eligibility to run in the district and wanted the court to force the Elections office to reprint the ballots without his name. Superior Court Judge David Gregerson denied the request but later ruled any votes cast for Ley would not be included in determining which two candidates moved on to the general election.
— Shari Phiel