Blom holds fundraising lead in District 3 race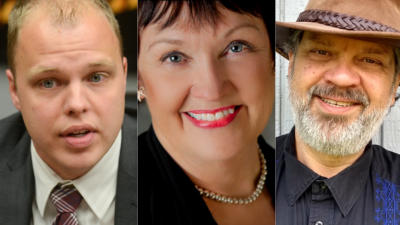 Clark County Councilor John Blom is leading his challengers in fundraising efforts two weeks ahead of the primary election for the council's District 3 seat.
Karen Bowerman, a Republican, and Jesse James, a Democrat, will appear with Blom, who filed for re-election without a party preference, on the Aug. 4 primary ballot. The two candidates who earn the highest numbers of votes in the primary election will advance to the general election on Nov. 3.
Blom had raised $25,266.51 in cash contributions by Tuesday afternoon, according to the state Public Disclosure Commission. 
Bowerman's cash contributions totaled $5,957.71 Tuesday. James has selected the state's mini-reporting option, meaning he has agreed not to raise or spend more than $5,000 or accept more than $500 from any individual donor.
Despite his fundraising lead, Blom has spent $3,888.47, while Bowerman has spent $9,823.86. 
But in addition to the cash contributions, Blom reported $9,425.40 in third-party expenditures. Bowerman had taken $6,087.91 in loans as of Tuesday and had a $5,000 balance to start her campaign, unlike the other two candidates.
Blom's fundraising lead has steadily grown since the start of the campaign. 
His largest individual donors have been local philanthropists David and Patricia Nierenberg, who contributed $2,000 each. The Washington Realtors Political Action Committee has given $2,000 to Blom, while the Building Industry Group chipped in $1,000. 
Blom's other individual donations include $1,000 from Steven Horenstein, a Vancouver attorney who represents the operator of the Washougal Pit gravel mine. The 120-acre pit has been a point of legal friction and neighbor complaints for several years. 
Blom's endorsements include the Clark County Association of Realtors; UA Local 290, a labor union that represents plumbers and steamfitters; and Young Democrats of Clark County. Individual endorsements include former Camas Mayor Nan Henriksen, Port of Vancouver Commissioner Jack Burkman; state Rep. Paul Harris, R-Vancouver; Clark County Treasurer Alishia Topper; state Sen. Ann Rivers, R-La Center; Betty Sue Morris, a former Clark County councilor and state legislator; and Craig Pridemore, CEO of Columbia River Mental Health Services.
Bowerman made a $1,087.91 in-kind donation to her campaign. One of her biggest cash donations, $1,000, came from Eric Temple. Temple is the president of Portland Vancouver Junction Railroad who is currently involved with several lawsuits with the county over the future of the railroad.
Bowerman has earned the endorsement of the Clark County Republican Party and Clark County Republican Women. Individual endorsements include former state Rep. Liz Pike, who currently serves as the chair of Clark County Republican Women; Anna Miller, a former Republican state committeewoman and local GOP chair; and several current party officials. 
James' endorsements include the Sierra Club, Clark County Democrats and progressive organizations Our Revolution and Fuse Washington.