Are the apple-throwers back?
A strange chronicle continues for Sen. Patty Murray supporters. For the last several years, mysterious letters have been left on doors either alluding to picking up litter and wanting to meet as a group or calling for like-minded people to throw apples at Murray-supporter's houses.
Members of the Vancouver Heights neighborhood received a new letter last week.  A small group allegedly picked up garbage on North Andresen Road near Mill Plain Boulevard and left notes signed "Peaseblossom," "Cobweb" and "Moth." The notes were also strangely pinned to bushes with clothespins.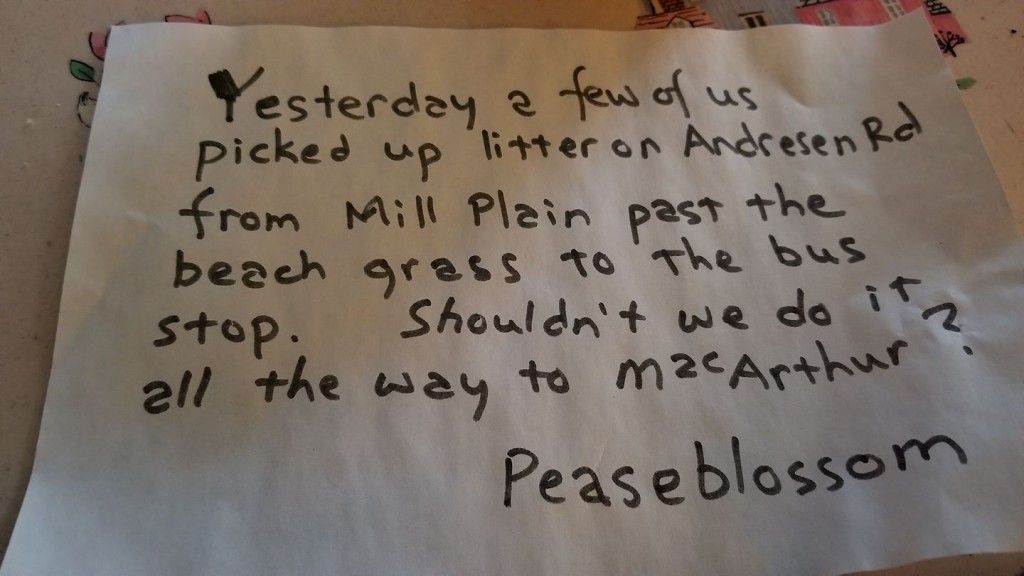 For those who wonder why the names found familiar, they're characters from A Midsummer Night's Dream. Last year, notes signed by "Titania" — another Midsummer character — popped up accompanied by apples thrown at the rooftops of Murray supporters.
The most recent note only asks neighbors if litter should be picked up "all the way to MacArthur" for some reason nstead of stopping "past the beach grass to the bus stop."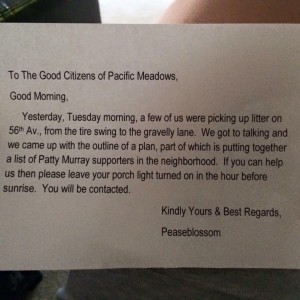 But the last several years, these mysterious letters often negatively targeted Murray supporters.
The 2016 letters resulted in damage to a few buildings, including the Vancouver Education Association building.
This year's letter also closely resembles a note that circulated two years ago addressed to the "Good Citizens of Pacific Meadows." That letter alluded to picking up litter in the area and then asked Murray supporters to leave their porch light turned on in the hour before sunrise.
Those with lit porch lights "will be contacted," according to the printed note.
So far this bout of mysterious communication seems harmless, but "in the night, imagining some fear,
How easy is a bush supposed a bear!"