Anti-fascist group creates parody Joey Gibson candidate site
In case you missed it, Joey Gibson is running for U.S. Senate. Yes, I do mean the same Joey Gibson who founded the conservative group Patriot Prayer and is often associated with rallies that attract white nationalists and alt-right groups. (Gibson disputes the characterization.) He announced Feb. 25 that he's running as a Republican against incumbent Democratic Senator Maria Cantwell.
His announcement began with some fanfare after needing to relocate his $40-a-plate event  from the Heathman Lodge to the Red Cross Building at Fort Vancouver.
As one might expect from a candidate seeking office, especially a federal position, Gibson created a website and started spreading the word on social media. He's even changed his Twitter name from Patriot Prayer to Joey Gibson For the US Senate.
He did not however buy joeygibsonforsenate.com. The official campaign site is gibsonforfreedom.com. While the URL may be more in line with his character and ideals, the former follows a fairly standard formula and makes it easy for anyone vaguely interested in a candidate to find their website.
It appears Pacific Northwest Antifascist Workers Collective  purchased joeygibsonforsenate.com. They are at least linked to the social media embeds on the site. Visitors to the page will note it strikes a different tone than gibsonforfreedom.com. Gibson didn't respond to request for comment.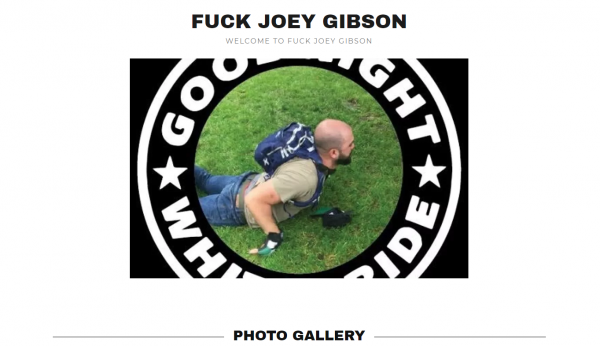 The site features what some might describe as salty language, as well as a few meme-like images, some of which include language inappropriate for me to include here. You'll have to check it out for yourself.